Published By:
Join Our Team!
The San Diego Participant Observer

The City of San Diego is home to one of the most vital and culturally diverse populations to be found anywhere in America. The Participant Observer is a web magazine dedicated to discovering and showcasing the wide variety of culturally interesting events, people, places, and organizations our city has to offer. Our continuously updated Events Calendar provides comprehensive information about current and forthcoming events in San Diego. In addition to covering local events, The Participant Observer publishes features and articles about cultural events and phenomena happening around the world. We urge you to explore the many other resources our site provides.
Also on this Site...
Your Window to the World
All Articles: Guardian News & Media Ltd 2013-19, New York Times Inc.
Please note: The New York Times allows non-subscribers to read five articles a month for free.
(Read: 178 times)
---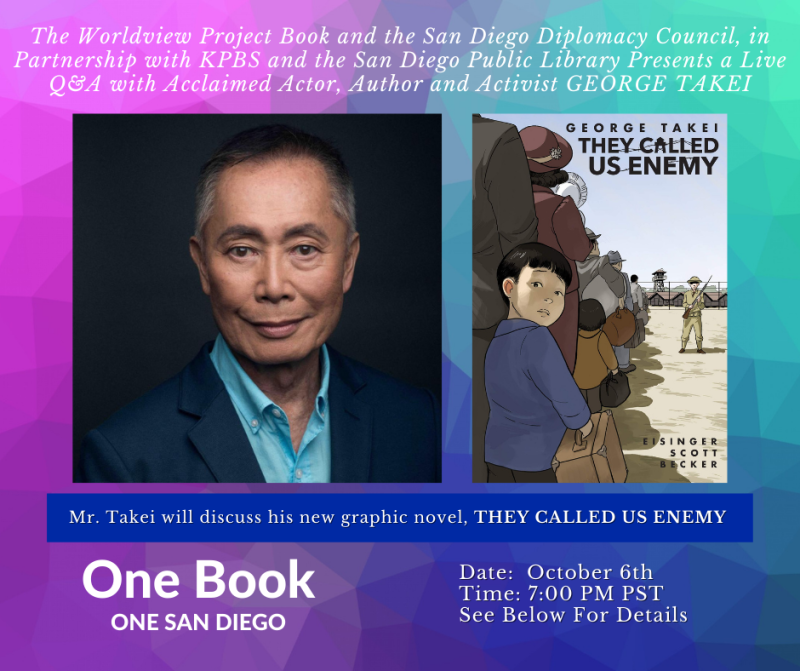 Join Join The Worldview Project and the San Diego Diplomacy Council for a book discussion and exclusive question and answer session with author, activist, and actor, George Takei. Takei is the author of the KPBS One Book, One San Diego 2020 selection, They Called Us Enemy, a graphic memoir in which he revisits his haunting childhood in American concentration camps, as one of the 120,000 Japanese Americans imprisoned by the U.S. government during World War II. Register Here: https://www.eventbrite.com/e/george-takei-a-discussion-of-his-new-book-they-called-us-enemy-tickets-122425667467
(Read: 57 times)
---

(View Social Justice Resources by Category)



Hello San Diego!

Welcome to the September edition of the San Diego Participant Observer. In this issue you will find a new recipe for the ultimate Chinese comfort food, Chinese Scrambled Eggs and Tomatoes. Our Book of the Month selection is a collection of short stories: Kitchen Curse by Indonesian author Eka Kurniawan. And our international music CD of the month is Territoires by the Canandian band Le Vent du Nord.

Special Note: Due to the Pandemic, the Worldview Project, like many other organizations, is focusing more on virtual content than ever before. We have a very dedicated and talented team producing interesting and important content for our Facebook and Instagram channels. Please give them a look and if you like what you see, click the "Follow" button on our Facebook and Instagram pages to ensure that you won't miss any posts!

Events, Happenings and Resources Virtual and Live

Sharon, who leads the Worldview Project's wonderful bookclub has created a Google World Map showing the places where the book club has virtually visited along with information and links for each book. Give it a look, and if you aren't already member of the book club, consider signing up! Links to do so can be found on the page. The book club meets the first Tuesday of every month. The Worldview Project is proud to partner with both KPBS and the San Diego Public Library. The selection for this year is They Called Us Enemy by George Takei, and we will be zooming with George (if the dilithium crystals allow!) on Tuesday October 6 at 7:00 PM - 8:30 PM! As Mr. Takei is fond of saying, "Oh My!"

As you may know, we have a strong working organizational and personal (Shari and I are board members) relationship with the inspiring Center for World Music. This week the CWM Executive Director (and WVP boardmember!), Monica Emery, shared the following announcement:

As we embark on another school year, the Center for World Music (CWM) is working hard to bring world music and dance to students and young people learning at home. Living Room Learning is composed of 8 to 15-minute world music and dance videos with study guides. The modules contain vocabulary, songs, storytelling, movement, clapping rhythms, background on the music, language and culture, and more from seven different regions of the world. These interactive learning videos are available free of charge, but donations in support of the artists are always welcome. The Participant Observer will spotlight one episode each month for the next eight months.

This month, as a nod to Hawai'i's Aloha Festival, we share the Music & Dance of Hawai'i with Anthony Ka'uka Stanley with an accompanying study guide.


Hawai'i: Music & Dance with Anthony Ka'uka Stanley
Are you curious about the artistry and deep history of Hawai'i? Enjoy this introduction to Hawai'ian music and culture by singing along to a song called Pi 'a Pa, (the Alphabet Song), tap traditional rhythms, and try the hula noho.

Upcoming Sessions:


* All links to videos and study guides can be found on our Living Room Learning webpage.


South Africa: Music & Culture with Nomsa Burkhardt
Sanibonani ("I see you!"); Yebo ("Yes, I am here!"). We have so much to learn from this simple exchange. Join Nomsa for an introduction to South African music and culture through Zulu singing and clapping along with African percussion.

Ireland: Music & Culture with Máirtín de Cógáin
Join Máirtín at his house to sing along with a famous song in Irish Gaelic, clap and tap along to infectious port (jig) and ríl (reel) rhythms, and learn the chorus of the song An Poc Ar Buile (the Mad Puck Goat)!

Native American Drumming & Song with Windwalker Dorn
Join Windwalker and her sister Loyal Bear on their ranch for a virtual journey of drumming, song, rhythm, and culture from some of the native Eastern Woodland tribes. You will be invited to sing along to some traditional songs.

The Cayman Islands: Kitchen Band Music with Natasha Kozaily
Join Natasha as she takes you to her home Caribbean country of the Cayman Islands. She will introduce you to Caymanian history and culture through the music and life of Julia Hydes, a legendary traditional folk musician.

Brazil: Music & Storytelling with Claudia Lyra
Join Claudia in keeping her oral tradition alive through this fun, interactive adaptation of a Brazilian folktale through Brazilian capoeira rhythm. Viewers will sing and clap along to a traditional Brazilian song.

India: Odissi Dance with Shibani Patnaik
Journey to India with Shibani to learn about an ancient classical dance form called Odissi. You will be introduced to postures, stances, and movements, and explore the use of hand gestures that convey an action or tell a story.

Brazil: Music and Rhythm with Stefanie Schmitz
Have you ever been swept away by the rhythm and melodic sway of a song? After years of study and immersive travel, Stefanie shares her love of Brazilian music with young audiences. Clap and sing in Portuguese to a Brazilian samba rhythm.

Mexico: Music & Dance with Son de San Diego
Join Cindy, Eduardo, and Chris on a journey through the musical traditions of Veracruz, Mexico. They introduce the traditional instruments of son jarocho and invite you to sing the lyrics and dance the traditional steps, or zapateado.

• The captivating Shibani Patnaik performing Classical Odissi (Indian) Dance at the Udayraga - Festival of Dance (Houston). Originally aired August 27.

• The San Diego Italian Film Festival is presenting a number of online screens with live Q&As. Visit their site for more details, and while there, sign up for their email announcement to keep up to date!

• The Taste of the IRC As they do every year, the International Rescue Committee in San Diego's signature event will feature "tastes" from around the world catered by local refugee and immigrant-owned businesses while also raising much needed funding for IRC programs. Starting on Saturday, September 12 and running for 10 days, "A Taste of the IRC" is an online culinary adventure that will delight your palate and fill your heart (all without leaving your home). Check out their website to see what events they will have each day!

• The Media Arts Center's DG@HOME Series continues with notable Latinx films to enjoy on an ongoing basis.

• The La Jolla Playhouse's Digital WOW series continues with the mysterious Portaleza which promises to be a "a one-of-a-kind experience that takes you through an online portal to experience an inventive, multi-sensory journey without ever leaving your living room."

• The UTC Westfield Mall is transforming one of its parking lots into a drive-in theater. Most of the films are popular American films, but on Saturday, September 26th they will screen Danny Boyle's Yesterday.

• King Lear from Shakespeare at Home from the San Francisco Shakespeare Festival. The free screening of the play will take place on Saturday, September 12 at 7:00 PM.

• Tackling Your Family History Free online webinar, "A walk through of the different kinds of family history projects there are and how to take each one head on." Tuesday, September 22 at 8:00 AM.

• Mastering The Queen's English A free online seminar in which you can "learn about the evolution of the quintessential English accent and how it has changed since the mid 1800s to today." Wednesday, September 30 at 7:30 AM.

• La Jolla Playhouse presents The Totally Fake Latino News with Culture Clash, 10-minute doses of levity, poetics and payasadas (clowning) from their homes and streets of SoCal and beyond. Free episodes online until September 30th.

• Join exhibition curator Alana Hernandez and Julio César Morales for a conversation on Instagram Live. Tijuana-born Julio César Morales's practice focuses on issues of migration, labor, and informal economies, on both a personal and a global scale. Thursday, September 17 at 11:00 AM

• The Archaeology and History of Torrey Pines Virtual lecture. People have lived on or near Torrey Pines State Natural Reserve for at least 10,000 years. What does the archaeological record tell us about how they survived? Thursday, September 17 at 5:30 PM.

• La Mesa Oktoberfest Online The 2020 La Mesa Oktoberfest will bring you all of the festivities you know and love in formats that are safe for the current season. Friday, October 2 to Sunday, October 4.

• Stop seeing discrimination as "their" problem. It's "our" problem - that we all play a role in solving. A PMI/Ted talk by Wale Elegbede (Mayo Clinic) for the PMI Action-Impact Virtual Conference. Friday, September 25 and Saturday, September 26.

• Concert of Colors The Concert of Colors is metro Detroit's free annual diversity-themed music festival. Global music at its finest at this colorful, festive, upbeat coveted summer event.

• Balla Kouyaté And Yacouba Sissoko - Music Of Mali virtural concert. On demand streaming begins on September 23 at 4:00 PM and runs until September 26 at 7:00 PM (EDT). Produced by the World Music Institute.
(Read: 3159 times)
---
San Diego's immigrant population has been greatly affected by constant changes to immigration policy under the Trump Administration and, more recently, by the COVID-19 pandemic. Two local non-profit organizations focused on immigration-related services that have maintained their steadfast support for this community, despite immense challenges, are Casa Cornelia Law Center and Survivors of Torture, International.

By Ian A. Lutz (i.lutz@thewvp.org)

(Read: 725 times)
---
Juneteenth, a holiday that commemorates the freeing of slaves in America, has been celebrated by Black Americans since news of emancipation reached the last slaves to be freed in Galveston, Texas in 1865. Despite the holiday's historic importance, it has never been widely recognized in the U.S. However, that appears to be changing, as calls to recognize Juneteenth on a larger scale have emerged against the backdrop of the murder of George Floyd.

By Ian A. Lutz

(Read: 911 times)
---
Less than one half of all Americans have a passport. People without passports not only can't go to far away places like Asia, Africa, Europe or South America, without a passport you can't even travel to Mexico or Canada. An important step in becoming a global citizen is actually getting out there and experiencing other cultures first hand. Don't limit your options! Passports don't expire for 10 years, think ahead and apply for or renew yours today! The steps to apply for a passport are not as daunting as they may seem. Whether you are looking to apply for a new passport or to renew your current passport, follow the steps in our handy guide!

Compiled by Julie Tran

(Read: 6309 times)
---
| | |
| --- | --- |
| | The Center for World Music is a unique nonprofit organization whose mission is to foster awareness and understanding of the world's diverse performing arts and cultures through public performances and teaching. Its primary purpose is to draw public attention to the diversity of the world's performing arts traditions: Asian, African, European, Latin American, and American. |
(Read: 20784 times)
---
| | |
| --- | --- |
| | Today San Diego's Little Italy is a bustling commercial, dining and entertainment district. But more than a half century ago, it was a largely residential area populated by Italian families, most of which were involved in San Diego's thriving tuna industry. Over the next few decades, Little Italy became a self-contained neighborhood with its own grocery stores, bakeries, restaurants, a Catholic church, an elementary school, a drugstore, and a fire department. Then a half century ago the community was cut in half by the expansion of San Diego's freeway system, devastating a once thriving community. Read about Little Italy's rich past and about local efforts to preserve the neighborhood's unique ethnic character and identity. |

By Tony Rocco

(Read: 10268 times)
---
| | |
| --- | --- |
| | A stone's throw from the Gaslamp Quarter, on the corner of 3rd Avenue and J Street, lies the San Diego Chinese Historical Museum. The museum offers San Diegans an artifactual, pictorial and interactive look into the history of San Diego's Chinese-American inhabitants. Admission is an affordable $2. The museum features numerous cultural, historical and artistic displays as well as regularly held educational programs for children and adults. For a small extra fee the museum also offers docent-lead tours of the permanent collection and featured exhibits as well as tours of the remnants of San Diego's former Chinatown. |
(Read: 10722 times)
---
| | |
| --- | --- |
| | Kourosh Taghavi, instrumentalist, vocalist and Persian classical musician boasts a passionate approach to music that has impacted audiences around the world. His collaborative projects with master musicians and local cultural organizations work to fulfill his lifelong dream to promote Persian classical music. More recently, his ongoing efforts with the Center for World Music bring the setar and Iranian culture to San Diego school districts through hands-on instruction in Persian classical music. |

By Amanda Kelly
(Read: 11659 times)
---
Today's Date
IN PRINT SINCE 2006
Music From Everywhere!

Orgs and Causes in San Diego