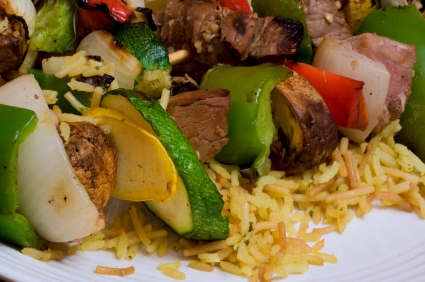 "Shish" (or sis) simply refers to any grilled meat. Kabob (kebap) is a skewer. Shish Kabab is not only popular in Turkey but it is also extremely popular throughout Europe, particularly in Germany and the UK where Kabobs are a readily available "fast-food." Variations of "kabobs" can be found throughout the Middle-East, Europe and South Asia. In Turkey, traditionally lamb has been the meat of choice for kabobs but nowadays chicken, beef and fish have become very popular. Due to the large number of Muslims in Turkey, pork is not used. Shish kebabs are typically made of both meat and vegetables. Perhaps the most favored vegetable is eggplant, but onions, tomatoes and bell peppers. Actually a wide variety of vegetables are suitable for grilling, including tomatoes, zucchini and even marinaded artichoke hearts. If tomatoes are used, it is best to use 1 1/2 - 2 inch tomatoes as cherry tomatoes will cook much faster than the other vegetables and meet. Unless you enjoy rather crunchy bell peppers, it is a good idea to parboil the cut up pieces for 2 minutes before skewering them (after they have cooled a bit). If you use bamboo skewers, be sure to soak them in water 30 minutes before using them otherwise they will burn and even catch fire! Actually I my experience metal skewers are preferable as they usually have flattened points that generally prevent vegetables like zucchinis and mushrooms from splitting when you skewer them. Bamboo skewers are perhaps more appropriate for Asian treats like Japanese yaki-tori or Indonesian, Malaysian and Thai sate.
Ingredients:
2 pounds of Lamb, Beef, Chicken or Firm Fish
1 lb of each vegetable (more or less according to your desires).
Preparation:
Cut the meat into bite-sized pieces and then marinade it for 4-24 hours (the longer the better) in your refrigerator.
Marinade Ingredients:
Please note that this is a rather "all-purpose" marinade with somewhat authentic ingredients. There are an enormous number of possible variations, additions and subtractions. As the old Cole Porter song says EXPERIMENT! You can even buy pre-marinaded meats which make everything easier and quicker! Google "Shish Kebab Marinade" if you want to try what others have tried.
1 medium red onion, finely chopped (1/2 cup)
1/2 cup finely chopped fresh flat-leaf parsley
1 medium tomato, diced finely (3/4 cup)
1 teaspoon dried oregano
1/4 teaspoon thyme
1/4 tablespoon pepper
1/2 cup olive oil
3/4 teaspoon salt
Preparation:
Before cooking, brush your charcoal or gas grill with a light coating of oil to prevent sticking.
Cut vegetables into large bite sized pieces.
Skewer the marinaded meat and vegetables in any order you desire, but it helps to figure out a pattern (zucchini, meat, tomato, mushroom, meat, eggplant, bell pepper, meat etc.)
Barbecue over a medium level heat until the meat is lightly browned on all sides.
*If you wish to brush marinade on during cooking, make sure that you cook your skewered meat and vegetables for an extra two minutes on each side after the last brush of marinade.

Serve with Basmati rice, Lavash or Pita Bread. A mint/yogurt dressing is also a nice addition.
Details

Hits: 1294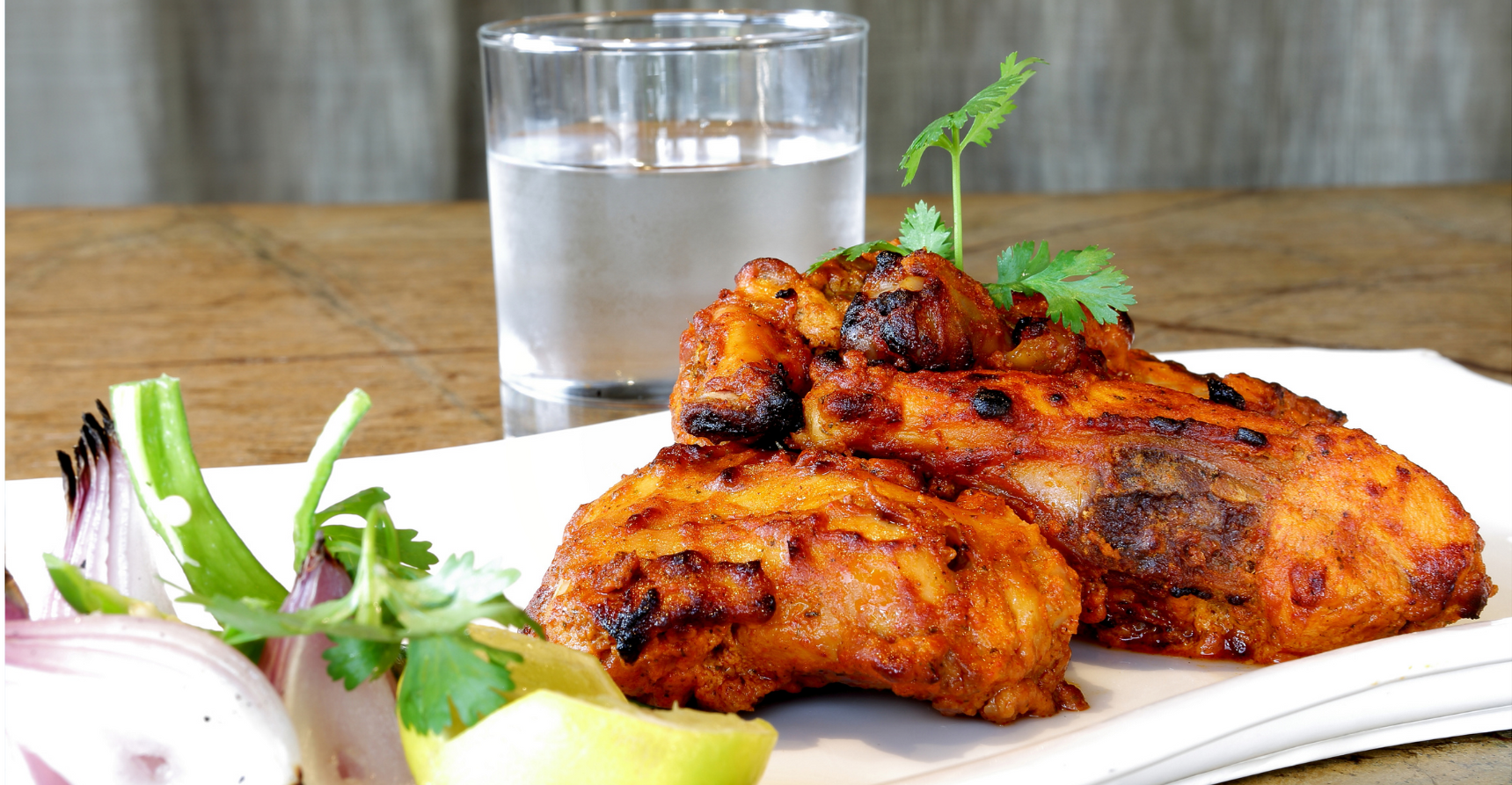 Ingredients:
1 (4 to 4 ½ pound) chicken, cut into 8 pieces, skin removed
2 tablespoons vegetable oil
½ cup chopped white onion
2 tablespoons chopped garlic
2 tablespoons chopped ginger
1 teaspoon finely chopped Serrano or Jalapeno pepper, stem and seeds removed
1 tablespoon paprika
1 ½ teaspoons salt
1 teaspoon cumin
1 teaspoon turmeric
1 teaspoon coriander
1 teaspoon garam masala
½ teaspoon cayenne
½ cup yogurt
1 tablespoon fresh lemon juice
Note: This recipe requires that the chicken be marinated for 4 or more hours.
Preparation:
Cut diagonal slices 1-inch apart, and 1/2-inch deep into the larger chicken pieces. Poke holes in smaller pieces with a fork.
Place the chicken in a baking dish.
In a blender, combine the oil, onion, garlic, ginger, pepper and process on high speed until mixture becomes a paste.
Add paprika, salt, cumin, turmeric, coriander, garam masala, and cayenne to blender and process until well mixed.
Add the yogurt and lemon juice to blender and mix thoroughly.
Pour the marinade over the chicken pieces. Turn to coat evenly, rubbing the marinade into the holes and slits.
Cover tightly with plastic wrap, refrigerate for at least 4 to 24 hours.
Preheat a grill. (even cooking in oven, set note below)
Grill chicken for 10 minutes and then turn chicken over and grill for an additional 10 minutes.
Turn and continue cooking as until the chicken is fully cooked.
Note: You can also bake or broil the chicken in an oven. To bake, preheat oven to 425 degrees F and cook chicken pieces on a baking sheet for 35 minutes, turning once.
Details

Hits: 1432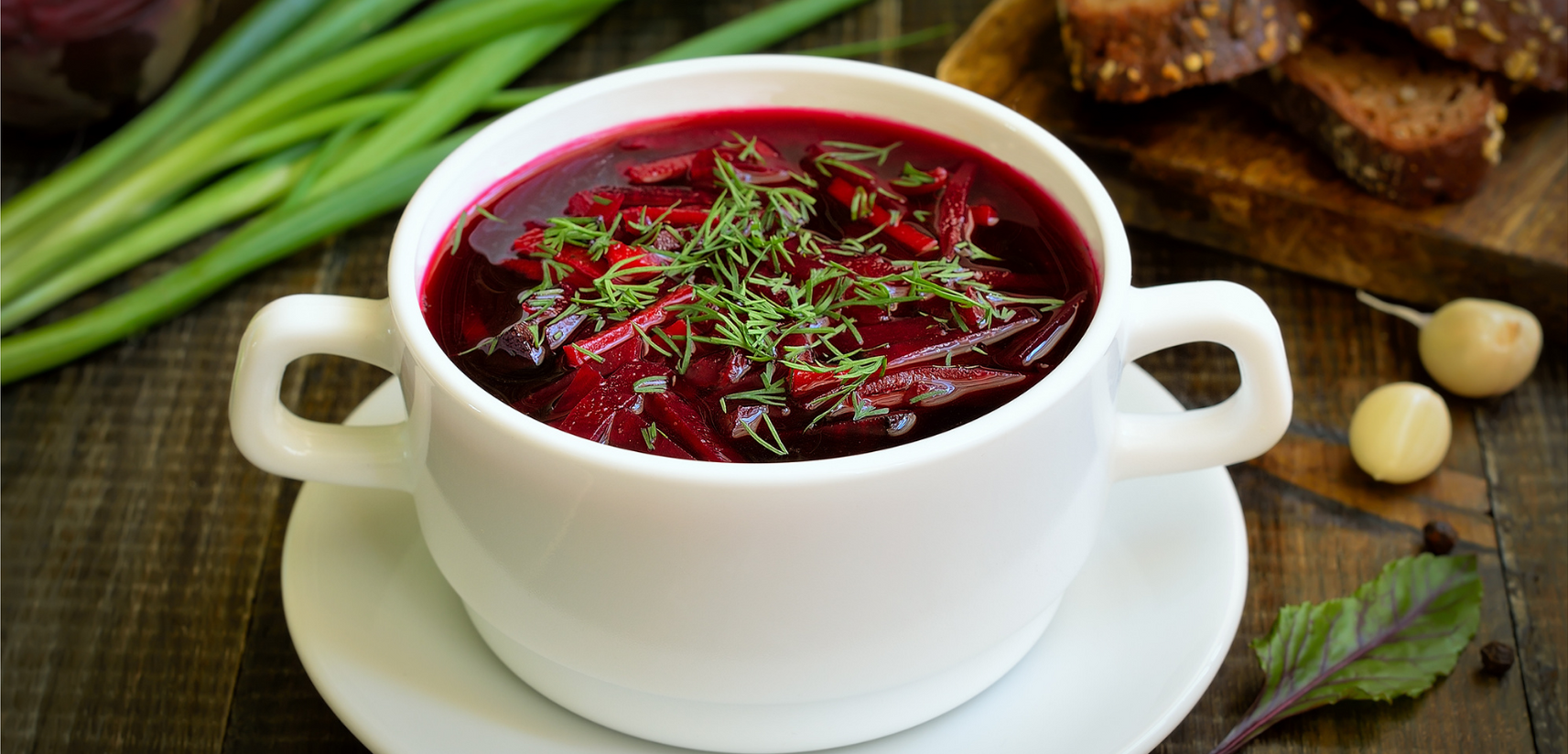 Ingredients:
8 cups beef broth
1 large onion, peeled, quartered
1 1/2 lbs of beef(cheap cuts are good, but trim fat)
1 stalk celery, minced
4 large beets, peeled, chopped (can be sliced or shredded) Fresh beets are best!
4 carrots, peeled, sliced
1 large russet potato, peeled, cut into 1/2-inch cubes
2 cups thinly sliced cabbage
3/4 cup chopped fresh dill
3 Tbsp red wine vinegar
1 cup sour cream
Salt and pepper to taste
some parsley for a garnish
Preparation:
Bring 4 cups of the beef broth, the beef, and onion to boil in large pot.
Reduce heat, cover, and simmer until meat is tender, about 1 hour 30 minutes.
2 Spoon fat from top of chilled broth and discard.
Add remaining 4 cups broth, beets, celery, carrots, and potato; bring to boil.
Reduce heat, cover, and simmer until vegetables are tender, about 30 minutes.
Stir in meat, cabbage and 1/2 cup dill; cook until cabbage is tender, about 10 minutes.
Season to taste with salt and pepper. Add vinegar and stir.
Ladle soup into bowls.
Top with remaining dill, sour cream and a sprig of parsley for a garnish. Eat with a hearty bread.
Note: For a much quicker to prepare meal, the beef can be omitted in this recipe. If so, start with step 2 and use all of the broth and onions.
Details

Hits: 1447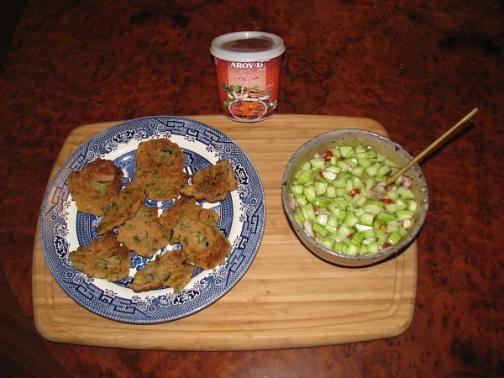 Savory Thai Fish Cakes These tasty fish cakes can be enjoyed as an appetizer or snack.
Ingredients:
1 pound fish cake (a paste, preferably fresh, but frozen is okay - just be sure to thaw)
1 tbsp Thai red curry paste
1/2 cup chopped fresh green beans (uncooked)
1/3 cup Kaffir lime leaves chopped fine
1/2 teaspoon salt
2 tablespoon sugar
1 egg
1/2 cup oil (peanut)
Preparation:
Mix all ingredients except oil.
Heat oil in a large frying pan or wok.
Drop teaspoonful sized dollops of the mixture into hot oil and pat down the spoonful with the bottom of the spoon to make a flat patty.
When bottom becomes golden brown flip the patty.
When fish cake is golden brown on both sides remove and place on plate lined with paper towels.
Cucumber Sauce
Ingredients
1 cup water
1/2 cup vinegar (rice or white)/li>
5 tablespoon sugar
1 teaspoon salt
2-3 Persian cucumbers, peeled, quartered lengthwise and sliced. If using American cucumbers, remove seeds after quartering./li>
3 shallots (fewer if large)
1 Thai chili pepper sliced in thin rounds (optional)
Preparation:
Bring water and vinegar to a boil.
Dissolve sugar and salt in mixture.
Let mixture cool.
Add chopped cucumbers, shallots, and Thai chili.
Chill in refrigerator.
The chilled cucumber sauce may be spooned over warm fish cakes before eating.
Notes: All the ingredients for this recipe can be obtained from the 99 Ranch Market.
Recipe submitted by Kristina Lersbuausin
Photo by Shari K. Johnston-O'Neill
Details

Hits: 1422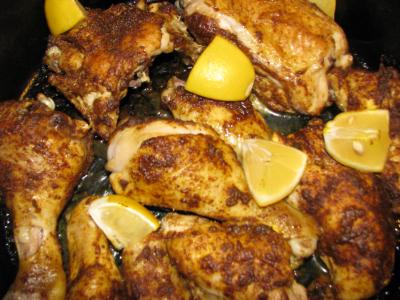 This is a delicious recipe that we've adapted from a Martha Stewart recipe. As such we can't vouch for the "cultural authenticity" (although the spices do seem spot-on). But if you like superbly spiced chicken that will tantalize your taste buds, this is it! We used a cast iron skillet to cook the chicken. Don't forget to drizzle the pan juices over the couscous, they will make you swoon! You should be able to find all the ingredients for this meal at most any grocery store.
Spiced Chicken Ingredients:
Ingredients:
1 teaspoon ground cinnamon
1 teaspoon ground coriander
1/2 teaspoon ground turmeric
1/4 teaspoon ground cardamom
1/4 teaspoon ground cumin
Coarse salt and freshly ground pepper
2 tablespoons extra-virgin olive oil
1 whole chicken (4 pounds), quartered, skin on
1 lemon, quartered
Spiced Chicken Preparation:
Place a rimmed baking sheet (or cast iron skillet) on the center rack of oven and preheat oven to 450 degrees.
Mix spices, 2 teaspoons salt, 3/4 teaspoon pepper, and the oil in a small bowl.
Rub spice paste all over chicken.
Carefully arrange chicken in a single layer on hot sheet (or skillet), and arrange lemon wedges around chicken.
Bake until chicken registers 165 degrees on an instant-read thermometer and juices run clear, 30 to 35 minutes.
Remove from oven and let stand for 10 minutes.
Season with salt and pepper, and serve with pan juices and roasted lemon wedges on the side.
Couscous Ingredients:
Couscous is a coarsely ground semolina pasta. For this recipe use the "parboiled" or "pre-steamed" couscous.
Cook Time: 10 minutes
1 1/2 cup couscous
2 3/4 cups chicken stock or water
1/4 teaspoon salt
Couscous Preparation:
In a saucepan, bring water to a boil.
Add salt and stir.
Add couscous and remove from heat
Allow to sit for about 5 minutes.
Couscous should be light and fluffy, not gummy. Be sure to allow the couscous to absorb the water. You can add all sorts of goodies to couscous; sautéed onions, raisins, currants, sliced almonds, "craraisins", cilantro and whatever else suits your palate.
Enjoy!
Photo by Shari K. Johnston-O'Neill
Details

Hits: 1428
The Joomla! content management system lets you create webpages of various types using extensions. There are 5 basic types of extensions: components, modules, templates, languages, and plugins. Your website includes the extensions you need to create a basic website in English, but thousands of additional extensions of all types are available. The Joomla! Extensions Directory is the largest directory of Joomla extensions.
Components are larger extensions that produce the major content for your site. Each component has one or more "views" that control how content is displayed. In the Joomla administrator there are additional extensions such as Menus, Redirection, and the extension managers.
Modules are small blocks of content that can be displayed in positions on a web page. The menus on this site are displayed in modules. The core of Joomla! includes 24 separate modules ranging from login to search to random images. Each module has a name that starts mod_ but when it displays it has a title. In the descriptions in this section, the titles are the same as the names.
Content modules display article and other information from the content component.
User modules interact with the user system, allowing users to login, show who is logged-in, and showing the most recently registered users.
These modules display information from components other than content and user. These include weblinks, news feeds and the media manager.
Utility modules provide useful functionality such as search, syndication and statistics.
Navigation modules help your visitors move through your site and find what they need.
Menus provide your site with structure and help your visitors navigate your site. Although they are all based on the same menu module, the variety of ways menus are used in the sample data show how flexible this module is.
A menu can range from extremely simple (for example the top menu or the menu for the Australian Parks sample site) to extremely complex (for example the About Joomla! menu with its many levels). They can also be used for other types of presentation such as the site map linked from the "This Site" menu.
Breadcrumbs provide users with information about where they are in a site.
Templates give your site its look and feel. They determine layout, colours, typefaces, graphics and other aspects of design that make your site unique. Your installation of Joomla comes prepackaged with three front end templates and two backend templates. Help