The Participant Observer Recipe of the Month is Greek Revithia Soupa. It's a savory vegetarian stew that is easy to prepare and perfect for a summer lunch or dinner.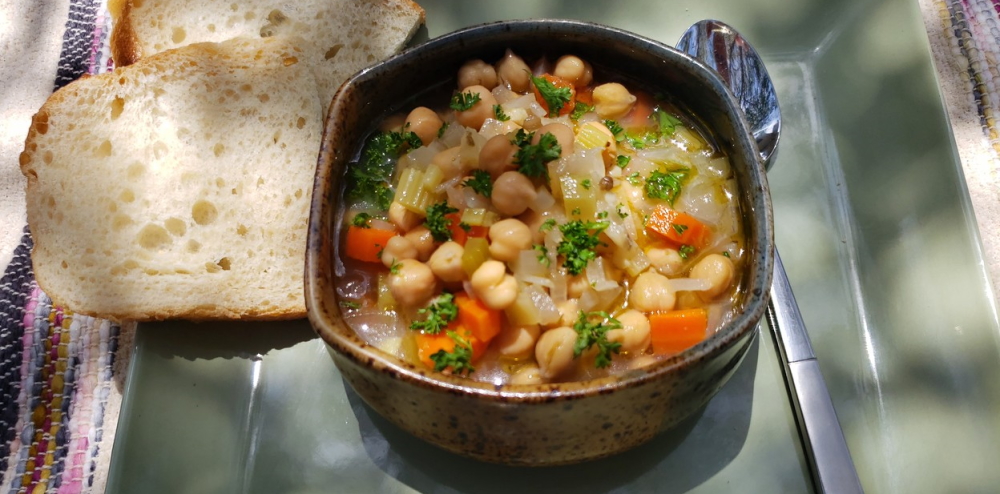 Revithia Soupa is thought to have originated on the island of Sifnos in the Aegean Sea. On Sifnos, Revithia is known as "Sunday Soup", but of course, it can be enjoyed any day of the week. Traditionally, Revithia is made in clay pots in which chickpeas were cooked with water in an oven overnight. You can approximate this manner of preparation by using a slow cooker or a Dutch oven. Although it is called a soup, its texture is more like a stew. Regardless of the method of cooking, the chickpeas should be very soft, almost, but not quite, to the point of mushiness.
The foundational ingredients for Revithia are chickpeas (aka garbanzo beans), vegetable stock, olive oil, and lemon. Some recipes substitute carrots, onions, garlic, and celery for the vegetable stock and some have both diced vegetables and vegetable stock. Common spices for this soup are oregano, rosemary, thyme, bay leaf, salt, and pepper. Onion flavor is achieved with either yellow onions, shallots, or scallions.
Chickpeas (garbanzo beans) come in two forms, dry or canned. You can use either for this dish, but if you use the dried beans, you must soak them in cold water for 8 or more hours and then cook them. As they will triple in size, you need to soak them in plenty of water (try 3 cups of water for every cup of beans). Alternatively, you can add the beans to a large pot with lots of water, bring them to a boil, turn off the heat and cover the pot for an hour. After the beans are soaked, they must be simmered on the stove for 1 1/2 to 2 hours. You want them tender but not mushy for Revithia. If you used canned chickpeas, you need only drain them or use them with the water they are packed with.
Making your own vegetable stock
The most common ingredients for vegetable stock are onions, carrots, celery, and garlic. Leek tops (the green parts), fennel and mushrooms are also sometimes added. Thyme, parsley, bay leaves, salt, and pepper are common seasonings. Simply chop the vegetables up and boil them with the spices and herbs in 2 quarts of water for an hour or so.
Vegetable Stock
Ingredients
2 quarts of water
1 larger onion
1 cup of diced celery and celery leaves
1 cup of diced carrots
3-4 garlic cloves crushed, pressed or sliced thin
2 teaspoons dried thyme
4 sprigs of parsley
Salt and pepper to taste
Preparation:
Wash all the vegetables.
Coarsely chop the vegetables.
Add all the ingredients to a pot of boiling water.
Turn down the heat to a simmer.
Simmer for 1 hour.
Strain all the ingredients to obtain the stock.
Revithia Ingredients:
2 cups of cooked or canned chickpeas
4 cups of vegetable stock
1 large onion diced
2 carrots diced
2 celery sticks diced
3 garlic cloves
1/4 cup of extra-virgin olive oil
2 lemons
1 bay leaf
2 teaspoons dried oregano
1 teaspoon dried thyme
1 tablespoon flour
Preparation:
In a good-sized pot, gently sauté the onions and garlic in the olive oil minimally until translucent, or for extra flavor, sauté until caramelized.
Add the remaining ingredients.
Bring everything to a boil and then turn the heat down to a simmer.
Simmer for 20 minutes.
Thoroughly mix the flour in a half cup of water and then mix into the soup.
Simmer for an additional 5 minutes.
Garnish with chopped parsley and serve with crusty bread.
καλή όρεξη! (kalí̱ órexi̱)
Recipe and Photo: T. Johnston-O'Neill