Our recipe of the month is for Tori no Karaage or Japanese Fried Chicken. Relatively easy to prepare, crispy, juicy, savory and mouth-wateringly tasty, it can be eaten as a snack or with a full meal. There are many kinds of fried chicken in the world, and this is one of the best!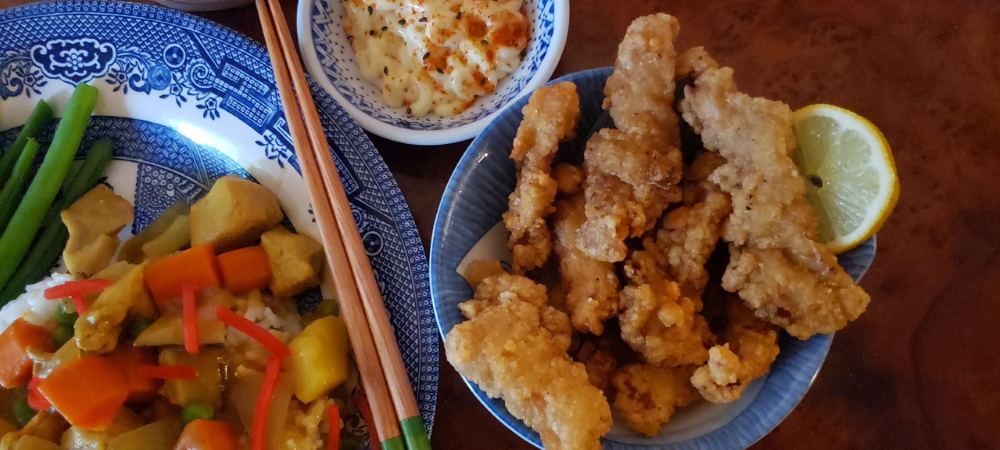 Although Japanese restaurant dishes often list this fried chicken as Karaage, the term actually refers to a cooking technique of frying starch-covered food that has been previously marinated. So you can have fish or vegetables can be cooked by the same technique. But the original Karaage in Japan was fried chicken. It is believed that the first incarnation of the dish was served at the Toyoken restaurant in the "hot spring" city of Beppu in the Oita on the Island of Kyushu in the late 1920's. However, there seems to be some mystery about this because the Toyoken restaurant's own webpage claims that it is the home of "Toriten" which is tempura-style chicken. However, the nearby city of Oita holds an annual Karaage Festival each September (but probably not during Covid) where you can get many versions of Karaage including Karaage chicken ice-cream! Karaage is a popular bento-box inclusion.
Today, Karaage can be found nearly anywhere in Japan including festivals, street food stands, restaurants and home. Again, not only is it delicious, it is very easy to make requiring few ingredients and no specialized techniques or equipment. Karaage is often served with Japanese mayonnaise as a dip, sometimes spiced up with Shichi-mi tōgarashi (aka, just "shichimi"). In Japan the starch used for the covering is typically potato starch, but corn starch also works well. Sprouts sells potato starch. Our Vons had everything else we needed.
Unlike other sorts of fried chicken, Tori no Karaage uses boneless dark meat chicken which is cut into bite-sized pieces. White meat doesn't taste as good in this recipe and won't be a juicy. If you want to use white meat, marinate the chicken for several hours instead of 30 minutes. You can buy the chicken with or without bones. You should trim away all the fat as it will not have time to render.
Important Note: It is essential that after you dredge the chicken pieces in the potato or corn starch you wait until the moisture on the chicken seeps into the starch. You do this by letting the "breaded" pieces rest for 5 minutes before frying. After resting it might look like there is no coating at all, but fear not, it's there. Importantly, if there are any dry white areas, lightly dab some of the unabsorbed marinade on them. I learned the hard way that if there are white patches or the coating is still dry, no amount of cooking will turn them the desired golden brown, and, rather astonishingly, (I fried a couple of pieces for a very long time to test) those areas will remain white. Also if the overall coating is still dry, you will never have any indication that the Karaage is fully cooked and the surface might end up white and dark brown (overcooked). The white patches don't taste grand and the Karaage will not look appetizing. An American Test Kitchen video for making Karaage that suggests doing this (see here), but the show's host says this is to ensure the crust is infused with the flavors of the marinade. I was skeptical since no other recipe mentions this step, but my experimenting confirmed its necessity.
Cook's Note: It is easiest to prepare this recipe in batches. "Bread" enough chicken pieces to cover an area the size of a dinner plate and then fry the pieces in batches. While they are frying you should have enough time to bread the next batch.
Ingredients:
1 1/2 - 2 pounds boneless skinless chicken thighs cut into strips the length of the thigh and a half-inch wide.
1 1/2 tablespoons grated fresh ginger, with its juice
1 tablespoon grated or crushed garlic
3 tablespoons dry sake
2 teaspoons sesame oil
3 tablespoons soy sauce
2 tablespoons Mirin (optional)
1 cup potato or corn starch
1 teaspoon salt
½ teaspoon black pepper
Japanese mayonnaise for dipping (optional)
Shichi-mi tōgarashi chili blend (optional)
Preparation:
For the marinade: in a bowl mix together ginger, garlic, sake, soy sauce, salt and pepper.
If necessary, de-bone and skin chicken thighs.
Cut the chicken thighs into 1/2 inch strips that are the length of the thigh.
Put the potato or corn starch into a shallow bowl and mix in pepper and salt.
Marinate the chicken in the marinade for a minimum of 30 minutes.
Cover a plate in parchment paper.
Heat 1 quart of oil in a pan or pot to 350°F.
Dredge the chicken pieces in the starch, shake off the excess starch and let rest on the parchment paper for 5 minutes.
Dab with some marinade any dry white patches on the chicken. The idea is to moisten, not soak; a little bit will do. You can use your finger to do this.
Fry the chicken pieces in the hot oil, turning if necessary, until they turn golden brown. Don't crowd the pan; work in batches.
Remove the cooked pieces and place them on a wire rack to drain. It's ok to place on paper towels, but you will lose crispiness.
Serve as a snack or as an accompaniment to a Japanese main course (Kari Raisu is shown). You can use a dip of your choosing, but the tradition is to dip in Japanese mayonnaise seasoned with Shichi-mi tōgarashi.
Itadakimasu (いただきます)!
Recipe by T. Johnston-O'Neill
Photo by Shari Kay Johnston-O'Neill