Calendar
<
February, 2020
>

Recommended
Coming Soon...
Friday, Feb 28
All Day
Ongoing and Extended Events
5:00 AM
28th Annual Kuumba Festival
3:30 PM
Talk: Black Studies and the making of Communities
6:00 PM
Music: Antonio Carlos Jobim Tribute
7:00 PM
Música En La Plaza: Los Montaño
7:00 PM
Stage: Dream Hou$e
7:30 PM
Stage: Orestes 2.0
8:00 PM
Film: Jojo Rabbit
8:00 PM
Stage: Hurricane Diane
8:00 PM
Stage: She Loves Me
Saturday, Feb 29
All Day
Ongoing and Extended Events
11:00 AM
28th Annual Kuumba Festival
2:00 PM
Stage: Safa's Story
2:00 PM
Stage: Orestes 2.0
2:00 PM
Spoilers Book Club: Native Son
3:00 PM
Stage: Little Rock
6:00 PM
Music: Dromia & Trio Zheni
7:00 PM
Stage: Safa's Story
7:00 PM
Stage: Dream Hou$e
7:30 PM
Stage: Orestes 2.0
8:00 PM
Film: Jojo Rabbit
8:00 PM
Stage: Hurricane Diane
8:00 PM
Stage: She Loves Me
9:00 PM
Music: Los Pericos, Los Estrambóticos & Ecno
9:00 PM
Spanglish At Finest City Improv
Sunday, Mar 1
All Day
Ongoing and Extended Events
11:00 AM
28th Annual Kuumba Festival
12:00 PM
7th Annual Mariachi Festival
1:00 PM
Music: Kembang Sunda Gamelan
2:00 PM
Acting Shakespeare Panel
2:00 PM
Stage: She Loves Me
3:00 PM
Los Angeles Balalaika Orchestra
7:00 PM
Music: Irving Flores Afro-Cuban Jazz Quartet
7:00 PM
Stage: Dream Hou$e
7:00 PM
Stage: Hurricane Diane
7:30 PM
Music: Miguel Zenón Quartet
Monday, Mar 2
All Day
Ongoing and Extended Events
7:30 PM
Stage: Winston Churchill
8:00 PM
Music: iLe
Tuesday, Mar 3
All Day
Ongoing and Extended Events
6:30 PM
Talk About Series: Venezuela - What Does It Mean To Live in a Failed State?
7:00 PM
Stage: Hurricane Diane
7:30 PM
Stage: Winston Churchill
Wednesday, Mar 4
All Day
Ongoing and Extended Events
7:00 PM
Film: Platform
7:00 PM
Stage: Hurricane Diane
7:30 PM
Music: ABBA Mania
Thursday, Mar 5
All Day
Ongoing and Extended Events
3:00 PM
Kumeyaay Rock Art in the San Diego Region
6:00 PM
Talk: Diversity in Medicine Lecture
7:00 PM
USD Mariachi Showcase Opening Night
8:00 PM
Stage: House of Joy
8:00 PM
Stage: Hurricane Diane
Friday, Mar 6
All Day
Ongoing and Extended Events
9:00 AM
Amnesty International Annual Human Rights Conference
5:00 PM
A Celebration of Persian Arts and Culture
5:00 PM
Contemporary Chinese Photography in Conversation
6:30 PM
USD Mariachi Student Showcase
7:00 PM
12th Annual Brasil Jazz Festa
7:30 PM
Stage: Orestes 2.0
8:00 PM
Stage: House of Joy
8:00 PM
Stage: Hurricane Diane
8:00 PM
Stage: She Loves Me
Saturday, Mar 7
All Day
Ongoing and Extended Events
9:00 AM
Amnesty International Annual Human Rights Conference
6:00 PM
Stage: The Cabinet of Tia-Juana
6:30 PM
USD Mariachi Professional Showcase Grand Finale
7:00 PM
Italian Film: Investigation of a Citizen Above Suspicion
7:30 PM
Stage: Orestes 2.0
8:00 PM
Stage: House of Joy
8:00 PM
Stage: Hurricane Diane
8:00 PM
Stage: She Loves Me
9:00 PM
Stage: The Cabinet of Tia-Juana
Sunday, Mar 8
All Day
Ongoing and Extended Events
9:30 AM
Amnesty International Annual Human Rights Conference
11:00 AM
National City International Mariachi Festival
1:00 PM
Finding Difficult Passengers on the Eillis Island Manifests
2:00 PM
Documentary Film: Beyle
2:00 PM
Stage: She Loves Me
7:00 PM
Stage: Hurricane Diane
Monday, Mar 9
All Day
Ongoing and Extended Events
4:00 PM
Talk: A Journey Through Turbulent Times - China and America
Tuesday, Mar 10
All Day
Ongoing and Extended Events
7:00 PM
Stage: House of Joy
Wednesday, Mar 11
All Day
Ongoing and Extended Events
7:00 PM
Stage: House of Joy
Thursday, Mar 12
All Day
27th Annual Latino Film Festival
All Day
Ongoing and Extended Events
8:00 PM
Stage: House of Joy
A delicious rice dish from the Southeast of India.
By: Lakshmi Appachar
Photos by: Jayanth Mandayam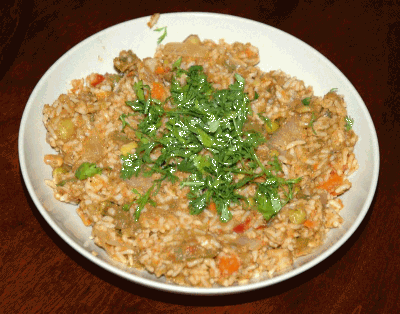 Bisi Bele Bath - A South Indian Delight
Many readers may be used to eating Naan, Paratha and Panneer at Indian restaurants. These foods mostly belong to the Eastern and Northern part of India. Other parts of India have equally enticing specialties. One of the dishes that Southern India is famous for is Bisi Bele Bath which is often served with the yoghurt side dish, Raita.

Bisi Bele Bath is very popular in Karnataka, a region of Southeastern India. It is served in almost all wedding receptions, festivals, buffets and parties. If you may have ever eaten at a South Indian buffet, Bisi Bele Bath is almost always served. It is a wholesome meal that contains rice, lentils (Thuar Dal) and vegetables.

Bisi Bele Bath is literally translated as

Ingredients:
Rice

3 cups of white rice.
6 cups of water

Dal:

3 cups yellow Thuar Dal (a type of lentil)
6 cups of water
2 teaspoons of cooking oil
1/4 teaspoon of turmeric

Sauce:

5-6 teaspoons of Bisi Bele Bath powder
3 chopped Roma tomatoes
3 teaspoons of fresh Coconut

Vegetables:

5 carrots peeled and chopped.
8-10 green beans cut 2 inches long
3/4 cup of peas
2 Bell peppers (green or red) chopped small
1/4 of an Indian white pumpkin, chopped small
3/4 cup of Papdi Liva (Indian beans) about 25
2 medium sized yellow onions, chopped

Additional Ingredients:

2 teaspoons of tamarind paste Tamcon
1 teaspoon of black mustard seeds
3 dry Indian red chilies. Chopped very fine
7-8 curry leaves
1 tablespoon of ghee (clarified butter)
Chopped cilantro as garnish

Sauce Preparation:

Blend the Bisi Bele Bath powder or paste with a few pieces of tomatoes and chopped coconut. The tomato gives a nice red color to the dish.
When everything is cooked and prepared according to the above instructions, gently mix all of the ingredients together in one pot or a very large skillet and heat well.

Add salt and tamarind paste which will add a nice sour taste to the dish. Stir the pot or skillet constantly so that the dish does not burn.
In a small pan heat 2 tablespoons of cooking oil to the smoke point and add the black mustard seed and chilies, and cover quickly. Shortly thereafter you will hear a popping sound which is the sound of the seeds hitting the pan lid. In India we call this phenomena
Raitha

Ingredients;

1 1/2 cup of plain yogurt.
1 grated carrot
2 medium sized chopped tomatoes
1 finely chopped cucumber
I/4 medium sized onion, chopped
1/2 teaspoon of cumin seeds
1/2 teaspoon of mustard seeds
4 teaspoon of cooking oil
2 chopped Jalapenos peppers
Several stems of chopped cilantro (as garnish)
4-5 curry leaves (garnish)




Raitha Preparation

Add grated carrots, chopped cucumbers, onions and tomatoes to 1 1/2 cup of plain yogurt.
In the same method as described above,
Keep informed about San Diego Events!
Sign-up for our weekly Eblast by clicking here:
Sign Me Up!
Today's Date
IN PRINT SINCE 2006
Music From Everywhere!

Published By:
Music of the Month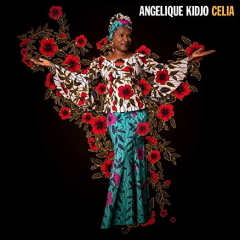 Celia
by Angelique Kidjo
Participant Observer Staff
Section Editors, Writers and Contributors: Sharon Payne, Ana Alvarez,
Cecilia Xinyu Cai, Jaehyeon Ahn
Spanish Translations: Ana Alvarez, Programming: Rachel Duncan
Associate Editors: Christa Parrish, Katie Tonellato
Editor in Chief: Tom Johnston-O'Neill
Orgs and Causes in San Diego
Join Our Team!