Published By:
Calendar
<
April, 2021
>

Recommended
Coming Soon...

Ongoing/Extended Events

Click to View

Tuesday, Apr 20
4:30 PM
Zoominar: Abenomics and the Japanese Economy
6:30 PM
Talk: Myanmar: Development, Democracy, and Despair
Wednesday, Apr 21
12:00 PM
Poetry Reading with Kazim Ali
4:00 PM
Book Talk: Yellow Wife
7:00 PM
Shakespeare Trivia Night
Thursday, Apr 22
12:30 PM
3 Italian Films
6:30 PM
2021 Women PeaceMakers Event
Friday, Apr 23
10:00 AM
Virtual Tour of Umbria, Italy
12:00 PM
iCafé – Your Passport to Culture!
4:00 PM
The Shadow of El Centro: a History of Migrant Incarceration and Solidarity
Saturday, Apr 24
11:00 AM
Book Talk: Kate Quinn
11:00 AM
16th Annual Student Shakespeare Festival
7:00 PM
San Diego Opera: the Barber of Seville
Tuesday, Apr 27
7:00 PM
San Diego Opera: the Barber of Seville
Wednesday, Apr 28
11:30 AM
Talk: Confronting Racism. Embracing Diversity
3:30 PM
Radicalism at the Crossroads: Black Women Activists in the Cold War
4:00 PM
Talk: the Ripple Effect of Racial Bias in the Toy Industry
6:30 PM
Film: Innocence
Thursday, Apr 29
1:00 PM
Talk: a Third Way - the Origins of China's Economic Strategy
Friday, Apr 30
10:00 AM
10th Annual International Jazz Day
12:00 PM
iCafé – Your Passport to Culture!
12:00 PM
Talk: Jillian Hernandez
7:00 PM
San Diego Opera: the Barber of Seville
Saturday, May 1
10:00 AM
Old Town Cinco de Mayo
7:00 PM
San Diego Opera: the Barber of Seville
Sunday, May 2
10:00 AM
Old Town Cinco de Mayo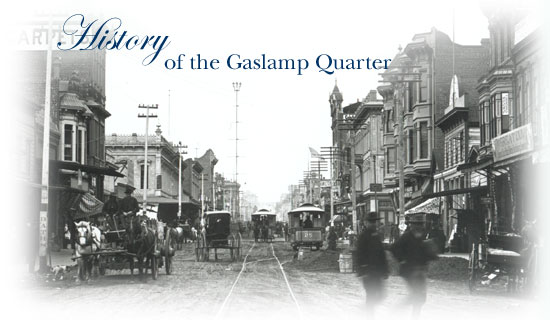 The Gaslamp Quarter Historical Foundation (GQHF) is the "curator" of the Gaslamp Quarter - a 16 1/2 block district listed on the National Register of Historic Places. Through its operation of the William Heath Davis House Museum and Park, the GQHF promotes the educational, historical and cultural development of the historic Gaslamp Quarter.

The William Heath Davis House is significant for an amazing number of reasons, including the fascinating life of its original owner, William Heath Davis, the man who first tried to develop modern San Diego, and the fact that it is the only known structure left standing that was home to Alonzo Horton, the man generally credited with being the San Diego's founder. Also, the facts that its original use was a pre-civil war soldiers officers quarters, that it was operated as San Diego's county hospital, that it is the oldest wooden structure standing in San Diego and the fact that it was lived in until 1981 but was never modified or electrified, all add to importance of the building and its significance to history. There is even an unverified story of a German Spy who lived in the attic during World War I! Nowhere else in San Diego can you find a structure that has such history over such a long time span.

Location:
410 Island Ave.
San Diego, CA 92101
MAP

Hours:
Tuesday - Saturday, 10:00 AM to 6:00 PM
Sunday, 9:00 AM to 3:00 PM
Gaslamp Guided Walking Tour - Saturdays, 11:00 AM

Admission:
Museum
General Admission - $5.00
Seniors - $4.00

Walking Tour
General Admission - $10.00
Seniors, students and military - $8.00

For more information, please visit: www.gaslampquater.org or call: (619) 237-1492
Keep informed about San Diego Events!
Sign-up for our weekly Eblast by clicking here:
Sign Me Up!
Today's Date
IN PRINT SINCE 2006
Music From Everywhere!

Orgs and Causes in San Diego
Join Our Team!