Ready to expand your culinary and cultural horizons? You might try 99 Ranch Market, located on Claremont Mesa Boulevard, just east of the 805. Larger than your average Vons or Ralphs, 99 Ranch Market is the largest Asian grocery store in San Diego. While most of the clientele is Asian, the store is also a culinary mecca for gourmet cooks and anyone else who is interested either in Asian cuisine or in finding the best deals and the widest selection of fruits, vegetables, meats, and seafood. The center aisles of the 99 Ranch Market overflow with imported canned and packaged foods, everything from hundreds of different sauces, a large selection of frozen foods (like ice cream mochi!), a whole aisle of rices, as well as a generous assortment of Japanese, Indonesian, and Thai specialty items. The store also has a large bakery and an always bustling deli/fast-food counter where you can get the cheapest good lunch in town.

By Jackie Hwang
Photos by Nuelma Patio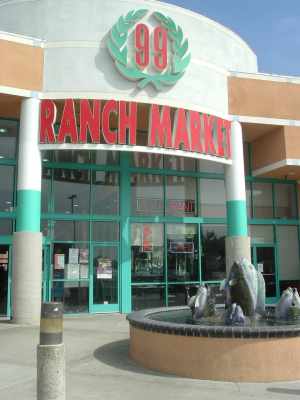 Store Front
A little over a year ago, a popular supermarket opened down the hill from my neighborhood. It is just about a fifteen minute walk and slightly over a two minute drive away. They provide everything from deli meats to fresh flowers, as well as produce and pharmacy services. Yet, nearly every other day my mother travels over twenty minutes to purchase her groceries at Claremont Mesa's 99 Ranch Market. With fresh authentic Asian ingredients at the most reasonable prices this side of the hemisphere, the market allows her, as well as hundreds of others, to adequately cook and share their most cherished recipes. While I personally benefit from this by being able to eat the delicious food my mother cooks, most importantly, 99 Ranch Market allows the tradition and memories of my family and heritage to be passed on and to be continued over five thousand miles away from where my parents were born.

Since it opened more than ten years ago, 99 Ranch Market has provided a convenient gateway to pan-Asian groceries for the San Diego public. The store belongs to a chain of 99 Ranch Markets with twenty-two in California, two in Seattle, Washington and single stores in Las Vegas and Honolulu. The chain started in 1984, when Roger H. Chen launched the first store in Westminster, CA. Although the store's name in Chinese actually translates to Big China, and specializes in Chinese items, the store also offers a wide variety of products from Japan, Vietnam, Taiwan, Korea, Thailand, Indonesia, as well as the Philippines. Many common products found at your local grocery stores are also available at the market, creating a one-stop market for nearly all your needs. 99 Ranch Market embodies a complex, interesting, exotic, and above all else, delicious world of Asian food. Here you will find both the building blocks of an infinite variety of Asian culinary delights, and an assortment of sumptuous take-out, snacks, baked goods, and ready-to-eat fruits. Let's take a tour of the market!
Fruits Galore!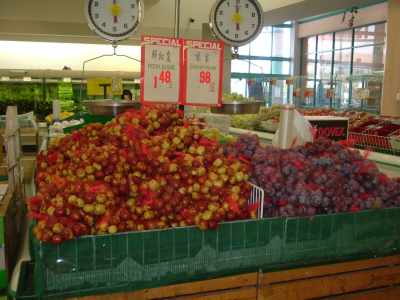 Jujubes and Sugar Plums
Full of both local and exotic fruits and vegetables, the produce department is both exquisite and extensive. Fruits abound! Not only can you find Washington Red Delicious apples, but also jujube fruit (used in Chinese medicine to sooth sore throats, among other medicinal purposes), and the sugar plum (yes, it's an actual fruit!). Don't be frightened by the abundance of seemingly unfamiliar fruits; while they may appear strange and unusual, they are often coveted Asian varieties of your familiar favorites. Such is the case with the delightfully crisp and satisfyingly sweet Asian pear. Also referred to as nashi (meaning Japanese apple-pear in Japanese) pears, these fruits are rounded like apples but bear a spotted tan skin similar to bosc pears. These golden gems, harvested in sizes ranging from an orange to a grapefruit, are intensely juicy. One bite results in a powerful, refreshing overflow of sweet, succulent juice that can quench any thirst and is an inexplicable snack during hot, humid summer days. Be sure to look for smooth, firm skins, then be prepared to come rushing back for more!

You may also come across the spiked jackfruit. At first you might not know what to think about this enormous bulky mass with seeds the size of golf balls. The jackfruit's skin is covered with lots of painful prickles. If you want to try it our before buying a whole fruit, look for the smaller packages of pre-cut slices. Jackfruit tastes somewhat like a milder pineapple. The produce bins are also brimming with lots of fruits that are more familiar to American shoppers such as mangos, papaya, bananas, oranges, grapefruits, lemons, and limes which can be bought at a very reasonable price.
Veggie Heaven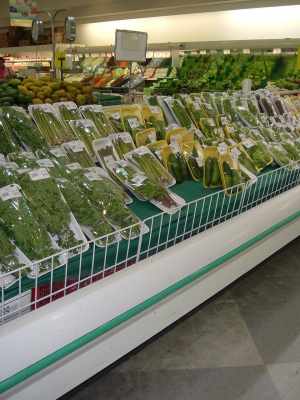 Hundreds of Vegetables
With excellent deals and garden-fresh quality, you may need to move quickly to snatch up the vegetables, as they are often grabbed by other shoppers as soon as they are set out. In addition to many vegetables that you can find in regular American grocery stores, 99 Ranch market also has a seemingly endless variety of vegetables and herbs that are favored by Asian cooks. Some Asian vegetables are becoming more familiar in America, such as Chinese broccoli (slightly bitter, with a thinner, more leafy stalk than American broccoli) and Taiwanese cabbage (with a more tender and rounder head than the American cabbage). If you eat the American varieties of these vegetables, you might add a twist to your recipe by replacing them with their Asian counterparts. With their slightly different flavor and textures, these new ingredients may revolutionize an everyday dish. At 99 Ranch Market, Asian varieties are often cheaper than their American equivalents. For example, the last time I visited the market, Taiwanese cabbage was 33 cents per pound while the rounder-headed American variety was 49 cents per pound.

Shoppers can also buy Asian eggplants, used in Chinese, Japanese, Thai, and Indian cooking. Asian eggplants are rather small and more oblong compared to the giant bright purple North American eggplant, but they are more tender and have a more delicate flavor. One produce item with no analogue in American cooking is taro root. With a stringy, thick, brown skin, they are rather unsightly; it's hard to imagine that they are edible, much less good tasting. However, once peeled and boiled, then sliced or mashed, the taro root provides the flavor for many sweet (as a luscious purple paste found in many Chinese pastries) and savory dishes (as Japanese tempura) throughout Asia and its tropics. I will admit that initially I was hesitant when it came to the taro root; it was like nothing I had ever seen before, much less desired to eat. However, since trying the taro cake from 99 Ranch, all my apprehensions have melted away.
At the rear of the produce department are bins filled with a colorful collection of yams. While you might normally associate yams with turkey, family get-togethers, and (let's just say it) a well-deserved long weekend, candied yams are popular year-round with Asians. Yams with a bright orange flesh can be cooked, sliced, and sugared, making a delicious snack, capable of satisfying any sweet tooth. Also in the back bins, you can find another sort of root called a daikon. Distinctly different, whether baked, broiled, or boiled, daikon is very versatile and can be prepared in many ways. These giant, brilliantly white roots can be sliced and used in soups or grated and mixed with sauces in Japanese cuisine. They can be combined with shrimp to make Chinese mooli cakes for dimsum, and even pickled to make a particular type of Korean kimchi. With their slightly sweet and zesty bite, you might try adding some slivers to stir-fries or tossing a few slices in stews. You can also slice daikon into stick shapes and add them to a vegetable party platter. Not only will they invigorate everyone's taste buds, but they will also garner gracious compliments from your guests. These are but a few of the hundreds of kinds of vegetables that can be found in the produce section at 99 Ranch.

In addition to its large collection of Asian produce, many common American vegetables like celery, green onions, and carrots, and fruits, such as bananas, oranges, and apples, are sold at 99 Ranch for very reasonable prices. As fresh and inexpensive as the produce is, it is no wonder that local gourmet restaurants, many of which do not even serve Asian cuisine, purchase their ingredients from 99 Ranch Market.
Under the Sea and On the Range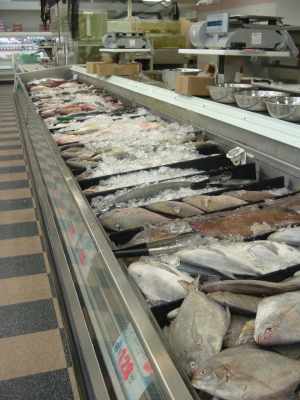 Fish, Fish, and More Fish!
At the very back of the store, stretching nearly the entire width of the store (and 99 Ranch is a big store!) are the meat and seafood counters. In the afternoons and on weekends, there is often a large bustling crowd of shoppers jostling for position in front of these counters. Cruise along the counter, weaving through the carts and customers, and you can revel in the wide expanse of fresh iced fish and meats of every imaginable cut and kind, piled high behind glass cases. When you're ready, take a number to stake your claim on that steak or salmon. However, in addition to all the usual cuts of meat found in a regular grocery store, at 99 Ranch you can also find thinly sliced beef, ground pork, and ground chicken. Along with these common cuts, the counter also offers specialty items that can only be found in Asian markets. Such delicacies include chicken feet, pork tendon, and ox tail. Nothing goes to waste in Chinese cooking!

Offering over two dozen varieties of freshly frozen fish, the seafood counter is a spectacle in itself. The seafood section also has numerous large tubs of live shellfish including clams, oysters, conch, and several varieties of crabs. All the tubs are directly accessible to shoppers, enabling you to personally sort through and handpick the shellfish that looks best to you. Above the shellfish are huge tanks filled with live catfish and tilapia. If shrimp or prawns are your fancy, the seafood counter also sells several varieties of raw shrimp shipped from countries such as Ecuador, Venezuela, and Indonesia.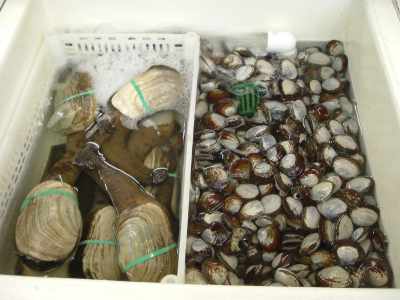 All Sorts of Shellfish
The fish counter offers complimentary cleaning and frying services. Shoppers who are pressed for time, or perhaps don't want to hassle with all the cleaning and cooking, can have their choice of fish cleaned and then "crispy-fried" on the spot. The seafood counter also has a number of other items which are quite popular in Asian cooking, such as colorful fish, squid, shrimp, and fish roe balls, which can be used in the traditional "hot pot" meal sometime referred to as "Chinese fondue." If you are unfamiliar with them, hot pots are specially designed soup pots in which a meal is cooked right on the dinner table. Diners plunge various kinds of vegetables, thinly sliced meats, and the aforementioned "fish balls," into a savory simmering broth. Usually eaten during the winter months and often as part of Chinese New Year celebrations, the hot pot symbolizes family unity or close friendship, as everyone is sharing food from a single pot and enjoying each other's company and conversation. Alongside the fish counter is a cold case filled with fresh pre-packaged fish fillets, beautiful sashimi, packages of luminous roe, and masago for the sushi and sashimi aficionados.
Baked Bliss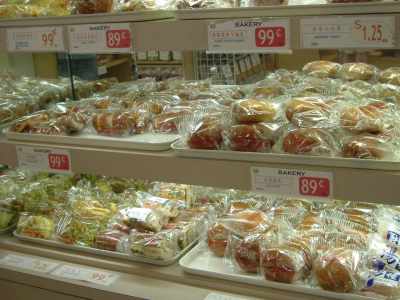 Yummie Desserts
Now onto my favorite section of the market: the on-site bakery. This covetable corner of baked goodies contains a vast assortment of freshly baked delights, including the store's signature vanilla, coffee, mango, and taro cakes. Light and fluffy, these delectable cakes are sold by the slice or whole. If you are planning a party, you can also pre-order them. The taro cake, which has layers of taro-hinted spongy cake and sweet, creamy taro paste, and is frosted with a vibrant purple whipped cream, is a wonder to behold and tastes even better than it looks! Other delicious treats include the sweet and buttery sun cakes. These little yellow circles of flaky crusts are filled with a variety of luxuriously rich fillings such as sweet red bean paste, peanut, mung bean, lotus paste, or taro. If you find these sun cakes to your liking, be sure to try a similar mochi variety, which has a sweet glutinous mochi core. Another lush find are melt-in-your-mouth little steamed cheesecakes, which are denser, softer, and unusually cheesier than the average cheesecake. They should come with their own warning label, because I can assure you, based on personal experience, that it is possible to eat more of them at one sitting than one should. Fortunately, they can be frozen (if you can muster the self-control) and you might even find them more tasty as a cool treat! The bakery section also sells miniature egg custard-filled tarts as well as fried glutinous mochi balls rolled in sesame seeds and filled with a sweet red bean or sweetened taro.

The pasty section has so many scrumptious treats that you will surely feel you have found pastry heaven. There you will also find numerous trays of dollar-priced snacks. My personal favorite (and, as they are usually snapped up as soon as they are put out, I'm not alone in this) are the pineapple milk cream buns. Comforting and filling, these little buns have a moist, sweet, milk-based center and a crusty, rough, pineapple-looking shell. Not all bakery items are sweet, however. If you're craving something savory, try the salad bun, a bread mixed with chopped green onions, or the hot dog bun,
Scrumptious Steals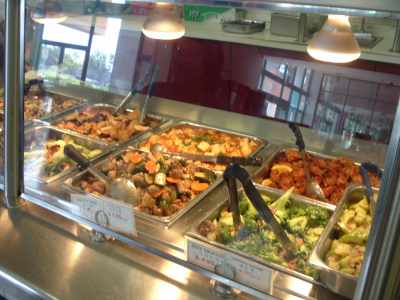 Deli Delights
If all your shopping makes you hungry, don't worry, you are in luck. Inside the store you will discover a wonderful Asian-style cafeteria that serves Chinese, Hong Kong, Taiwanese, and Vietnamese fast-food
Aisles of Asian Agora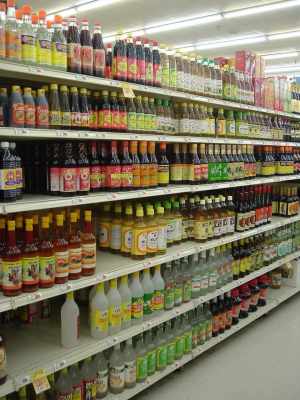 Sauces of Every Flavor and Color
As tantalizing as their specialty departments are, the 99 Ranch Market central grocery aisles cannot not be missed. From canned jackfruit and lychee to an entire aisle dedicated solely to a wide variety of types and brands of rice, all the basic food groups are covered and then some. The snack and cookies aisle is a boulevard of tasty treats, including creamy milky candy chews, squid jerky, and every flavor of the cute and portable Pocky sticks. If comforting, soft, and chewy foods are your passion, be sure to look for the sachima, a slightly sweet, soft, flour and egg square that bears a similar resemblance to a rice crispy treat. You can also find mango, apple, and pineapple gummy candies in this aisle. If you want to taste something really unusual, you might try a sugared corn gummy, shaped and flavored like the real thing!

The aisle of Asian sauces is mesmerizing. Sectioned off by type, this aisle features every brand and kind of pre-made sauce for Asian cooking imaginable. Be sure to try Lee Kum Kee's sweet chili sauce as a light yet tangy dip for your eggrolls (dilute a bit with water first). Their Char Siu sauce, commonly referred to as Chinese barbecue sauce, is rich and sweet; it is used as a marinade for Chinese spare ribs. Next to the sauces you will find the soy sauces, and the choices are many, everything from double black
Frozen Finds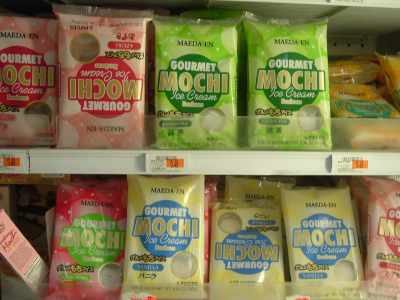 Mochi Ice Cream!
When you visit 99 Ranch, don't forget to visit the freezer isles to pick up some pre-made gyoza dumplings or egg rolls and grab a tub of durian, plum, or even avocado ice cream along the way. Mochi ice cream is a wonder not to be missed. Mochi is a sticky, translucent, glutinous rice cake used in Japanese desserts, such as the sweet bean-filled daifuki. Mochi ice cream is a small, round ball of mochi filled with ice cream. The contrast between the chewy and gooey consistency of the mochi, combined with the cold, smooth sweetness of the ice cream, results in a lush explosion of texture and tastes. Available in vanilla, chocolate, or strawberry flavors, you can also find more radiant tastes such as mango, green tea, and red bean. If you're feeling extremely adventurous, you might look for the black sesame-flavored mochi.
Thai and Indonesian Specialties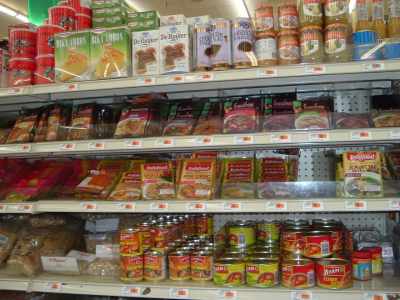 Indonesian Specialties
If you are looking for either Indonesian or Thai food or ingredients, there are small sections devoted to these cuisines. Of course, many ingredients found in these cuisines are also found in Chinese cooking. The Indonesian section includes several kinds of peanut sauce mixes, sweet soy sauce (kecap manis), soy bean sauce (tauco), shrimp crackers (krupuk), and other sorts of common Indonesian sauces and mixes. The smaller Thai section has a few kinds of canned curry pastes and a couple of other canned items like Tom Yum Soup and Green Curry Sauce.

Although the chain initially opened to meet the needs of immigrants from overseas, 99 Ranch Market is now frequented by all kinds of people who seek to widen their palates and partake in the innumerable delights of Asian food and cooking. In Mandarin Chinese, the number "nine" has the same sound as "long in time," and therefore it is believed that there is a strong connection between these words, according to Chinese numerology. With its boundless offerings and scrumptious eats, surely the 99 Ranch Market will continue to serve the culinary needs and passions of the public for a long time to come.

By Jackie Hwang
Photos by: Nuelma Patio
Keep informed about San Diego Events!
Sign-up for our weekly Eblast by clicking here:
Sign Me Up!
Today's Date
IN PRINT SINCE 2006
Music From Everywhere!

Published By:
Participant Observer Staff
Section Editors, Writers and Contributors: Sharon Payne, Ana Alvarez,
Cecilia Xinyu Cai, Jaehyeon Ahn
Spanish Translations: Ana Alvarez, Programming: Rachel Duncan
Associate Editors: Christa Parrish, Katie Tonellato
Editor in Chief: Tom Johnston-O'Neill
Orgs and Causes in San Diego
Join Our Team!