Published By:
Calendar
<
April, 2021
>

Recommended
Coming Soon...

Ongoing/Extended Events

Click to View

Tuesday, Apr 20
4:30 PM
Zoominar: Abenomics and the Japanese Economy
6:30 PM
Talk: Myanmar: Development, Democracy, and Despair
Wednesday, Apr 21
12:00 PM
Poetry Reading with Kazim Ali
4:00 PM
Book Talk: Yellow Wife
7:00 PM
Shakespeare Trivia Night
Thursday, Apr 22
12:30 PM
3 Italian Films
6:30 PM
2021 Women PeaceMakers Event
Friday, Apr 23
10:00 AM
Virtual Tour of Umbria, Italy
12:00 PM
iCafé – Your Passport to Culture!
4:00 PM
The Shadow of El Centro: a History of Migrant Incarceration and Solidarity
Saturday, Apr 24
11:00 AM
Book Talk: Kate Quinn
11:00 AM
16th Annual Student Shakespeare Festival
7:00 PM
San Diego Opera: the Barber of Seville
Tuesday, Apr 27
7:00 PM
San Diego Opera: the Barber of Seville
Wednesday, Apr 28
11:30 AM
Talk: Confronting Racism. Embracing Diversity
3:30 PM
Radicalism at the Crossroads: Black Women Activists in the Cold War
4:00 PM
Talk: the Ripple Effect of Racial Bias in the Toy Industry
6:30 PM
Film: Innocence
Thursday, Apr 29
1:00 PM
Talk: a Third Way - the Origins of China's Economic Strategy
Friday, Apr 30
10:00 AM
10th Annual International Jazz Day
12:00 PM
iCafé – Your Passport to Culture!
12:00 PM
Talk: Jillian Hernandez
7:00 PM
San Diego Opera: the Barber of Seville
Saturday, May 1
10:00 AM
Old Town Cinco de Mayo
7:00 PM
San Diego Opera: the Barber of Seville
Sunday, May 2
10:00 AM
Old Town Cinco de Mayo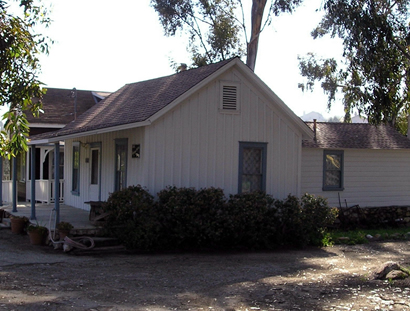 The Alpine Historical Society owns two historic houses. The John DeWitt Museum and Library is located in the Dr. Sophronia Nichols House. The Nichols House was built in 1896 at its current location. Dr. Nichols was Alpine's first medical doctor and held California Medical License #26. She was the sister of Carrie Foss, the matriarch of one of Alpine's pioneer families, and came to Alpine in 1888. The old Alpine Schoolhouse was added on to the rear of the original building making it a significant historical building. Dr. Nichols' carriage house is located to the rear of the museum.

The mission of the Alpine Historical Society is to encourage the community in an effort to retain structures and sites of historical significance, conserve natural resources and parkland, make available the visible evidence of the history of our community and develop historical programs which emphasize the contributions of the various cultural, ethnic, religious and social groups that comprise the Alpine area.

Location:
2116 Tavern Road
Alpine, CA 91903
MAP

Hours:
Open on the last Saturday and Sunday of every month from 2:00 PM to 4:00 PM or by appointment

Admission:
Admission to the John DeWitt Museum and Library is free to all its visitors.

For more information, please visit: www.alpinehistory.org or call: (619) 659-8740
Keep informed about San Diego Events!
Sign-up for our weekly Eblast by clicking here:
Sign Me Up!
Today's Date
IN PRINT SINCE 2006
Music From Everywhere!

Orgs and Causes in San Diego
Join Our Team!