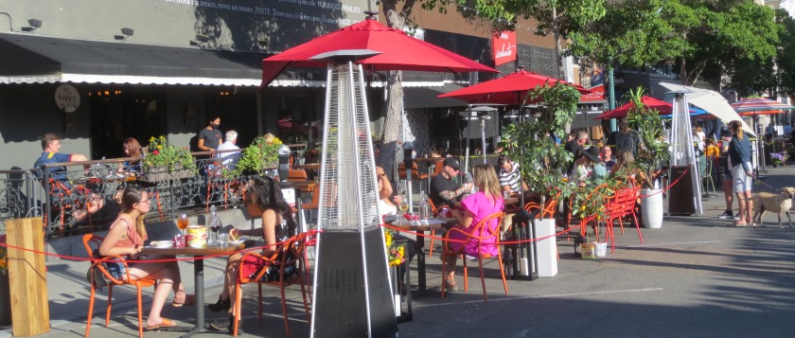 Dining al Fresco in Little Italy (Little Italy Association)
One of the most powerful tools in fighting the spread of Covid-19 is social distancing. Also it is believed that being outside is safe than being inside. Breifly sit down restaurants were permitted to serve diners indoors, but very soon afterwards a state-wide ban on indoor restaurant dining was instituted. To find our more about that, please visit https://www.calrest.org/coronavirus/reopening-what-you-need-know. What is still permitted is outdoor dining (with specified restrictions). Many restaurants have opened outdoor dining areas, some have done this in their parking lots and some areas have allowed such dining on sidewalks. We believe that social distancing and wearing masks in public are hugely important and if you do venture forth to dine outside you do so with as much caution as possible!

30 Local Restaurants That Serve International Cuisine al Fresco:



Amardeen Cafe - 8915 Towne Centre Drive Suite 103, San Diego (Lebanese)
Barrio Star - 2706 Fifth Ave., San Diego (Mexican)
Bencotto Italian Kitchen - 750 W Fir St, San Diego (Italian)
Blade 1936 - 401 Seagaze Drive, Oceanside (Neopolitan pizza)
Buon Appetito - 1609 India St, San Diego (Italian)
Cafe Athena - 1846 Garnet Ave, San Diego (Greek)
Casa De Pico - 5500 Grossmont Center Dr #404, La Mesa (Mexican)
Casa Guadalajara - 4105 Taylor Street, Old Town (Mexican)
Civico by the Park - 2550 Fifth Avenue, Bankers Hill (Italian)
Dae Jang Keum Korean BBQ - 7905 Engineer Road, San Diego (Korean)
Dumpling Inn - 4619 Convoy Street, San Diego (Chinese)
Et Voila - 3015 Adams Ave, San Diego (French)
Filippi's Pizza Grotto - 1714 India St., San Diego (Italian)
Harney Sushi - 3964 Harney Street San Diego (Japanese)
Kai Sushi and Sake Bar - 8650 Genesee Ave Suite 105, San Diego (Japanese)
Mille Fleurs - 6009 Paseo Delicias, Rancho Santa Fe (French)
Mimmo's - 1743 India St., San Diego (Italian)
Muzita Abyssinian Bistro - 4651 Park Blvd., San Diego (Ethiopian/Eritrean)
Ponce's Mexican Restaurant - 4050 Adams Avenue, San Diego (Mexican)
Pueblo - 877 Hornblend Street, Pacific Beach (Cal/Mex)
Puerto La Boca Argentinian Restaurant - 2060 India St, San Diego
Robata-ya Oton - 5447 Kearny Villa Rd Suite D, San Diego (Japanese)
Royal India - 329 Market Street, San Diego (India)
Royal India - 8990 Miramar Road, #200A, San Diego (Indian)
Sab Lai Thai Kitchen - 500 5th Ave., San Diego (Thai)
Shimbashi Izakaya - 1555 Camino Del Mar Ste. 201, Del Mar (Japanese)
Sochi Sushi - 2121 Adams Ave, San Diego - (Japanese)
Solare Ristorante - 2820 Roosevelt Rd, San Diego (Italian)
Taegukgi Korean BBQ House - 7655 Clairemont Mesa Blvd Ste 501, San Diego (Korean)
Tofu House - 4646 Convoy Street, Kearny Mesa (Korean)

Remember, be super careful or stay at home! If you know of any other restaurants that have outdoor dining, let us know and we will add them to the list!
Keep informed about San Diego Events!
Sign-up for our weekly Eblast by clicking here:
Sign Me Up!