The 26th Annual San Diego Latino Film Festival (SDLFF), which begins on Thursday, March 14, features 170 short and feature films, galas, parties, music, food and more. A number of the film screenings will include Q&A sessions with directors, writers, producers and actors so you can get the inside story on production and shooting.

This year, films will screen at the Fashion Valley AMC and at the Media Arts Center's Digital Gym. Latino bands will perform in front of the theaters each day of the festival and the Sabor Latino Food, Wine and Beer Festival will return on Saturday, March 16, with offerings from over 30 restaurants, wineries and breweries. All the films at the festival have English subtitles or are in English, so if you are not fluent in Spanish, no worries! For the complete schedule of films and locations, visit our Participant Observer Calendar Listing.

There are many Latino filmmakers that live in or near San Diego so unlike other film festivals, the SDLFF hosts a media kick-off party each year. This year, our team attended the party and got the lowdown on the festival from some of the featured producers and filmmakers. Here's what we found out!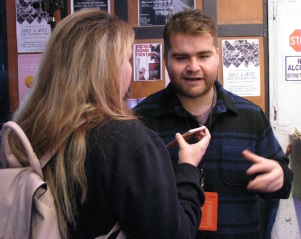 The feature films that make it into the festival are selected by a team led by Moises Esparza. He says the 26th year of the festival will represent Latinos in a completely original way — a way that breaks stereotypes. To be part of the festival, Esparza says the films needed to have "a new perspective of being Latino." From over 900 films that the festival received this year, 170 short and feature films were chosen. The SDLFF also hold a competition for short films about a specific topic, and this year the topic was the border and the recent caravan.

Esparza believes this year's spectacular films counteract the negative stereotypes that present Latinos as "porquerías" (trash). Two stand-out films for him are Belmonte and Las Herederas. Belmonte is a Uruguayan film about an artist going through a life crisis. He tries to connect with his daughter, while living as an artist. Esparza says, "It is a tender story, and very emotional; I think it will become a festival favorite for many people." Las Herederas, on the other hand, shares the story of two women who experience a crime as a couple before separating. Later, one of the women finds a new partner who gives her a new purpose in life. Esparza hopes these films and the other films at the festival will show a different perspective toward Latinos.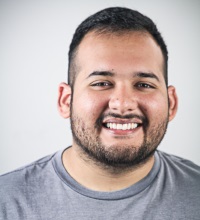 Juan Lopez
Juan Lopez is the festival's short film programmer. Before he receives any films, a committee divides them up by community and members watch the films they are assigned two or three times. The whole committee then comes together to watch all the films and discuss them at length. Lopez says this year, the films are more politically inclined than in previous years. Although they share some of the same themes, Lopez believes they are told in different ways. For example, Dreameris a sci-fi film about Latinos being replaced by advocate counterparts of themselves to fit the status quo. Lopez is also excited about the Somos LGBTQ+ Showcase: "A lot of times it's stories about coming out. Now, we see characters telling their own living stories."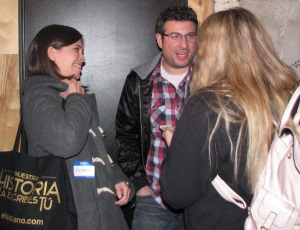 Film Makers Simon & Gomez
We were also able to talk to several filmmakers and actors who attended the kick-off party.

The documentary And Here They Are, a finalist in the Migrant Voices Film Challenge, was directed by Christopher Simon and Viviana Gomez. The film focuses on the recent migrant caravan in Tijuana. Simon and Gomez both live in Tijuana and talked about how incredible it was that their film was selected as a finalist in the competition. They started their project with little to no money and produced the film in about a month.

The documentary focuses on the experiences of Juanita, who migrated from Honduras to Tijuana 20 years ago, but highlights the experiences of more recent migrants as well. The film seeks to understand the migrants on a human level and discover the difficult conditions that led them to flee their home countries. Juanita stayed in Tijuana instead of migrating to the United States, but has great empathy for more recent migrants and currently provides shelter to six migrants in her own home.

Director Simon has a strong emotional attachment to these issues: he made the reverse journey, moving from Ohio to Los Angeles and eventually to Tijuana. Aware of other American views of Mexico, he says people shouldn't be hesitant to move to Mexico: "Don't allow fear and other people's words to sink in and scare you. Anything is possible! Do what you have to and the rest will follow."

| | |
| --- | --- |
| Olicer Munoz's drama, Nathan's Kingdom, is a dark fantasy about an autistic man and his pill-abusing sister who come from a broken family and seek to end their shared misery. To prevent Nathan from being taken by social services, the pair embark on an adventure to find a utopian kingdom that has only ever existed as a safe place in their imagination. The actor who plays Nathan, Jacob Lince, is autistic in real life, which adds to the emotional authenticity and compelling draw of the film. Munoz wanted to tell a story that shows how autistic individuals can accomplish a lot when they are given the chance. First released in 2018, the emotionally-charged film has already won several awards on the film festival circuit, including the Director's Choice Award at the Sedona International Film Festival. | |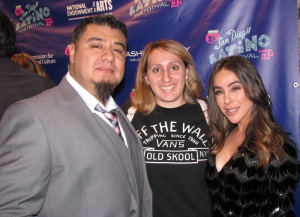 Fernando and Lucia with Ana
Directed by Fernando Fisher, El Amor No Existe (Love Does Not Exist) is a short film about a family crisis after a homosexual man comes out to his father. Fisher feels that everyone should be entitled to love whomever they want, but sometimes family members and society do not agree. Lucia Argut, who plays the role of the mother, says she can relate strongly to the film as she came from a dysfunctional and abusive family. She believes the character of the mother is very bitter and demonstrates all the ways you should not act in this kind of situation. El Amor No Existe screens for the Frontera Filmmaker Shorts program on Monday, March 18, at 6:15 PM at the AMC Fashion Valley.

| | |
| --- | --- |
| Director Sergio Lopez spoke to us about his 93-minute drama, Silhouette. The film is about a couple who split up because the woman, Jonah, has to move far away to care for her ailing father. The drama, he said, came to him as he pondered the vicissitudes of love and the roller coaster of emotions that accompany a love lost. | Heather with Sergio Lopez |
| | |
| --- | --- |
| Filmmaker Karla Duarte | Karla Duarte's short documentary In Tune promotes the freedom and exploration of living in the present moment. The production took her 4 years (5, according to her husband!), and is filmed in Valle de Guadalupe and Tijuana. The narrative focuses on Aide Jimenez, who shares her observations about the benefits of being in the present moment. Duarte believes that immersing yourself in a peaceful place can be helpful and most of the film was shot in the tranquil Valle de Guadalupe — a place she feels is less consumed by technology, information overload, fake news and noise. Duarte considers sound (or rather, quietude) essential to experiencing the transformational effect of living in the moment and allows us to appreciate nature more directly. Her film will screen as part of the Frontera Filmmaker Shorts program on Monday, March 18, at 6:15 PM at the AMC Fashion Valley. |
| | |
| --- | --- |
| Cuban-American Michelle Salcedo's short film, Piel Canela (Cinnamon Skin), is about a woman who returns to Cuba to find her long-lost daughter and to uncover a secret that has haunted her since she fled the country 20 years before. Salcedo says it's her passion to make films based on the stories her parents told her about the experience of immigration. Her film shows how women bind families together, while also facing many challenges they need to share. Piel Canela screens for the Viva Mujeres Shorts program on Saturday, March 23, at 3:30 PM | |
This is just a small sampling of the films that this year's Latino Film Festival has to offer. Our past experience tells us that the filmmakers who are featured in the SDLFF are highly motivated to tell stories that matter and favor cinematic artistry over commercial interest. As we've said before in previous years, this is a time to see films that will take you places you've never been to before!
Keep informed about San Diego Events!
Sign-up for our weekly Eblast by clicking here:
Sign Me Up!