Calendar
<
April, 2019
>
Coming Soon...
Wednesday, Apr 24
All Day
Ongoing and Extended Events
7:00 PM
Stage: Sweat
8:00 PM
Music: Mokoomba
Thursday, Apr 25
All Day
Ongoing and Extended Events
10:00 AM
Workshop: Italia for Travelers with Paola Baracco
3:00 PM
Indigo Dye Shibori Workshop
6:00 PM
Ignite & Activate San Diego Summit
7:00 PM
Music: Aterciopelados & Los Amigos Invisibles
7:30 PM
Film: Roma Città Aperta (Rome Open City)
7:30 PM
Stage: The Servant of Two Masters
8:00 PM
Stage: Sweat
Friday, Apr 26
All Day
Ignite & Activate San Diego Summit
All Day
Ongoing and Extended Events
12:30 PM
Talk: Immigrant Resistance in the Deportation Nation
7:00 PM
Opera Celebration Concert
7:30 PM
The Diary of Anne Frank
8:00 PM
Film: Wings of Desire
8:00 PM
Stage: The Servant of Two Masters
8:00 PM
Stage: Nine
8:00 PM
Stage: Sweat
Saturday, Apr 27
All Day
Ongoing and Extended Events
10:00 AM
33rd Annual Linda Vista Multicultural Fair & Parade
10:00 AM
Art: Little Saigon Stories
10:00 AM
Bonsai Spring Show
10:00 AM
International Mobile Film Festival
10:00 AM
Chase the Spring: Qing Ming Event
11:00 AM
Mission Federal ArtWalk
12:00 PM
Hanamatsuri Celebration
12:00 PM
Tequila and Taco Music Festival
1:00 PM
Claudia Lyra: Brazilian Folktales and Music
2:00 PM
House of Finland Lawn Program
6:00 PM
Filipino Pamana Concert
7:00 PM
Music: Parisa and Hamnavazan
7:30 PM
Music: Pandit Kartik
7:30 PM
The Diary of Anne Frank
8:00 PM
Stage: The Servant of Two Masters
8:00 PM
Stage: Nine
8:00 PM
Stage: Sweat
10:30 PM
Exhibit: Feeding A Thousand Souls
Sunday, Apr 28
All Day
Ongoing and Extended Events
10:30 AM
Film: Pünktchen & Anton
11:30 AM
Sake 101
2:00 PM
Stage: Nine
7:00 PM
Stage: Sweat
7:30 PM
The Diary of Anne Frank
Monday, Apr 29
All Day
Ongoing and Extended Events
12:00 PM
29th Annual Multicultural Earth Day
Tuesday, Apr 30
All Day
Ongoing and Extended Events
7:00 PM
Witches' Night: An Exploration of Witches in Pop-Culture
7:00 PM
Stage: Sweat
Wednesday, May 1
All Day
Ongoing and Extended Events
2:30 PM
Debunking Myths: Migration, Criminalization of the Border. . .
6:30 PM
Film: Angels Are Made of Light
7:00 PM
Stage: Sweat
Thursday, May 2
All Day
Ongoing and Extended Events
7:30 PM
Stage: The Servant of Two Masters
8:00 PM
Stage: Sweat
Friday, May 3
All Day
Ongoing and Extended Events
4:00 PM
Cinco de Mayo Old Town
8:00 PM
Stage: The Resistible Rise of Arturo Ui
8:00 PM
Stage: The Servant of Two Masters
8:00 PM
Stage: Nine
8:00 PM
Stage: Sweat
Saturday, May 4
All Day
Ongoing and Extended Events
10:00 AM
Cinco de Mayo Old Town San Diego
11:00 AM
Balboa Park Cinco de Mayo
8:00 PM
Stage: The Servant of Two Masters
8:00 PM
Stage: Nine
8:00 PM
Stage: The Resistible Rise of Arturo Ui
8:00 PM
Stage: Sweat
Sunday, May 5
All Day
Ongoing and Extended Events
10:00 AM
Cinco de Mayo Old Town San Diego
2:00 PM
Stage: Nine
7:00 PM
Stage: Sweat
8:00 PM
Stage: The Resistible Rise of Arturo Ui
Monday, May 6
All Day
Ongoing and Extended Events
Tuesday, May 7
All Day
Ongoing and Extended Events
6:00 PM
Talk About South Africa
7:00 PM
Stage: Sweat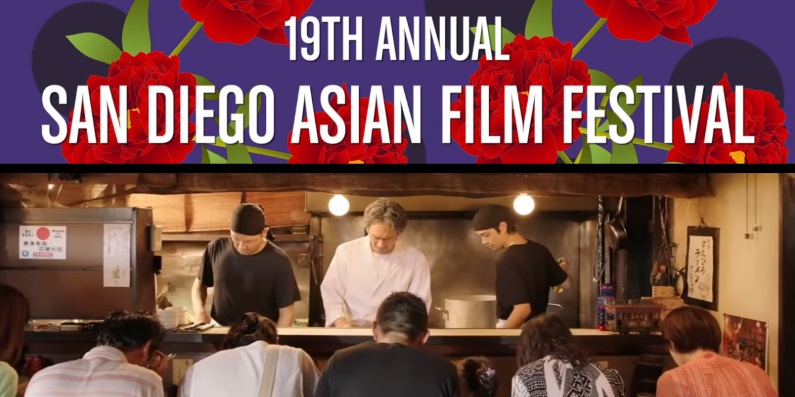 Ramen Shop — Singapore, Japan & France
The 2018 San Diego Asian Film Festival (SDAFF) will kick off this Thursday, paying tribute and witness to the vast diversity of Asian experience. Adding to the copious number of films and special events the festival is known for; "Film to Table" events in this year's festival will rapturously embrace the prominent role Asian cuisine has within Asian films and culture.

The Pacific Arts Movement Asian Film Festival will span from November 8 to 17 and feature over 160 Asian and Asian-American films in over 28 languages at various locations across San Diego.

Opening and closing nights of the festival will be held at the Museum of Natural History in Balboa Park, and most films during the week will be screened at the UltraStar Theater in Mission Valley and at the Museum of Photographic Arts. The films are categorized into five sections: Asian-American Panorama, Asia Pop!, Masters, Discoveries, and Shorts.

Opening and closing nights of the festival will be held at the Museum of Natural History in Balboa Park, and most films during the week will be screened at the UltraStar Theater in Mission Valley and at the Museum of Photographic Arts. The films are categorized into five sections: Asian-American Panorama, Asia Pop!, Masters, Discoveries, and Shorts.

Kent Lee, Pac Arts Executive Director, says around 75 filmmakers from around the world are coming to represent their films at this San Diego film scene. This year's festival will also have screenings in Mira Mesa to reach the North County audience, making it one of Pac Arts' largest festivals.

Pac Arts Artistic Director Brian Hu curated the films for the festival and speaks enthusiastically about the 2018 SDAFF.

Hu and Lee say they are most looking forward to an added culinary component that has never been done at past festivals. On opening and closing night, festival attendees will be able to eat food that is featured in the films — taking the film-watching experience to a delicious new level.





Leitis in Waiting — Tonga/USA



Little Forest — South Korea

The opening night film, Little Forest, a South Korean film directed by Yim Soon-Rye, will be followed by a "Film to Table" reception featuring culinary delights by local Korean restaurants Duriba, Grandma's Tofu, Cross Street Chicken & Beer, and Friend's House. The festival's closing night features Eric Khoo's Ramen Shop, a film that revels in the interplay between Japanese and Singaporean cultures and their cuisines. And in the likely event the film leads to fierce cravings for ramen, no worries, after the film attendees can enjoy SDAFF's delectable take on the hybrid dish featured in the film.

"I'm looking forward to the experiences that remind people there's a lot about films you can't watch from home. One part of that is the food," Hu says. "At the 2018 SDAFF, you can experience the film through other senses like taste and smell."

Lee adds that sharing food contributes to Pac Arts' main goal of connecting people across different cultures and communities.

"What's magical about food is that it connects people regardless of their background," Lee says. "This is especially true in San Diego. So many people across different cultures experience the Asian food scene."


Detective Dee: The Four Heavenly Kings — China
The theme of finding connections across languages, borders and cultures is a key point of the festival, but not only between the Asian and American cultures. Hu says Pac Arts also aims to showcase the diversity that lies within individual Asian countries.

For example, he says while the festival features many Japanese films, they range vastly in topics — from the "high-brow" dramas like Hirokazu Kore-eda's Shoplifters to the horror-comedies like Shinichiro Ueda's One Cut of the Dead.

"This is a true cross-section of what's happening in Asia," Hu says, noting the different languages, religions and genres seen amongst the films. "By extension, it's a reminder of the diversity of Asian Americans here in San Diego."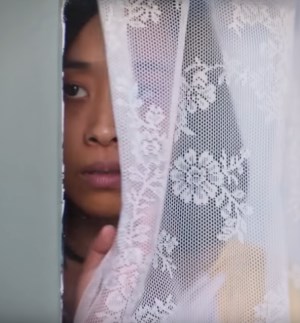 Unlovable — USA
The festival will feature films varying in themes — drama, comedy, documentary — as well as the ways in which they are produced. There will be films using virtual reality (Taiwan's The Train Hamasen and Your Spiritual Temple Sucks) and 3D features (China's Detective D and Long Day's Journey into Night).

Other films have autobiographical elements, telling the stories of their directors or actors, including Suzui Yoonessi's Unloveable or Kulap Vilaysack's Origin Story.

One film, Dead Souls, directed by Wang Bing, runs for 506 minutes — over eight hours — and shares the story of the survivors of China's Anti-Rightist Campaign of 1957-1959 and their imprisonment by the Chinese government.

"How do you cut out the words of the people who experienced this?" asks Hu in regard to the film's length.


Go-Go Sister — Vietnam
Both Lee and Hu also discuss the importance of diversity in the festival's audience and connecting non-Asian Americans to the films. With one of the largest Asian communities nationwide, San Diego has become a deeply cross-cultural community.

Hu says as the festival grows larger each year, more non-Asian San Diegans are realizing "this is part of their life now, too."

"Watching these films [is] about neighbors, it's about coworkers, classmates," he says, especially referencing the festival's Asian-American films set in the U.S.

"We do try to find films that cross borders, and part of that is easy because in Asia, people cross borders a lot," Hu adds. "As a result, the stories they tell in Asia are cross-cultural to begin with, so its very inviting to audiences of all kinds."




Mr. and Mrs. Cruz — Phillipines

A festival of this size and scale requires a passion for film and Asian and Asian-American culture, and Hu and Lee show this passion as they speak about cinema's lasting effects on San Diego.

Hu believes film is the "archive of our generation" because it can preserve stories and cultures and "capture the world," connecting people in a way other art forms cannot.

Kent echoes that sentiment, adding that film tells the "specific, individual stories" that people find connection through.

Hu hopes the SDAFF can help make Asian cinema a common part of the mainstream film industry and change San Diego for the better.

"Maybe we vote differently now because of these films, we travel differently, we consume differently, we love differently," Hu says. "It's not art for the sake of art. We want to make an impact on society."



Brother of the Year — Thailand
Like other film festivals, one of the outstanding benefits of the SDAFF is the question and answer sessions after many of the film showings. These allow audiences to interact with film producers, writers, directors and stars. Another feature of bigger film festivals like the SDAFF are the numerous special events and parties. Some of these are free to film ticket holders and festival badge holders.

For more information about the San Diego Asian Film Festival, please visit their website at: www.sdaff.org

The San Diego Participant Observer has the complete festival schedule on the events calendar.



FESTIVAL TRAILER


Keep informed about San Diego Events!
Sign-up for our weekly Eblast by clicking here:
Sign Me Up!
Today's Date
IN PRINT SINCE 2006
Music From Everywhere!

Support Our Mission
Buy Stuff at Amazon!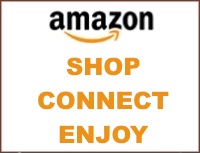 Published By:
Our Staff
Section Editors, Writers and Contributors: Sharon Payne, Seiya Kudo, Dolores Donovan, Edwin Ching, Liam Fox, Ana Alvarez
Copy Editing: Deb McKenty, Spanish Translations: Ana Alvarez, Programming: Hera Siddiqui
Associate Editors: Erin Golackson, Christa Parrish
Photography: Carlo Toribio,
Editor in Chief: Tom Johnston-O'Neill
Orgs and Causes in San Diego
Join Our Team!