Published By:
Calendar
<
April, 2021
>

Recommended
Coming Soon...

Ongoing/Extended Events

Click to View

Tuesday, Apr 20
4:30 PM
Zoominar: Abenomics and the Japanese Economy
6:30 PM
Talk: Myanmar: Development, Democracy, and Despair
Wednesday, Apr 21
12:00 PM
Poetry Reading with Kazim Ali
4:00 PM
Book Talk: Yellow Wife
7:00 PM
Shakespeare Trivia Night
Thursday, Apr 22
12:30 PM
3 Italian Films
6:30 PM
2021 Women PeaceMakers Event
Friday, Apr 23
10:00 AM
Virtual Tour of Umbria, Italy
12:00 PM
iCafé – Your Passport to Culture!
4:00 PM
The Shadow of El Centro: a History of Migrant Incarceration and Solidarity
Saturday, Apr 24
11:00 AM
Book Talk: Kate Quinn
11:00 AM
16th Annual Student Shakespeare Festival
7:00 PM
San Diego Opera: the Barber of Seville
Tuesday, Apr 27
7:00 PM
San Diego Opera: the Barber of Seville
Wednesday, Apr 28
11:30 AM
Talk: Confronting Racism. Embracing Diversity
3:30 PM
Radicalism at the Crossroads: Black Women Activists in the Cold War
4:00 PM
Talk: the Ripple Effect of Racial Bias in the Toy Industry
6:30 PM
Film: Innocence
Thursday, Apr 29
1:00 PM
Talk: a Third Way - the Origins of China's Economic Strategy
Friday, Apr 30
10:00 AM
10th Annual International Jazz Day
12:00 PM
iCafé – Your Passport to Culture!
12:00 PM
Talk: Jillian Hernandez
7:00 PM
San Diego Opera: the Barber of Seville
Saturday, May 1
10:00 AM
Old Town Cinco de Mayo
7:00 PM
San Diego Opera: the Barber of Seville
Sunday, May 2
10:00 AM
Old Town Cinco de Mayo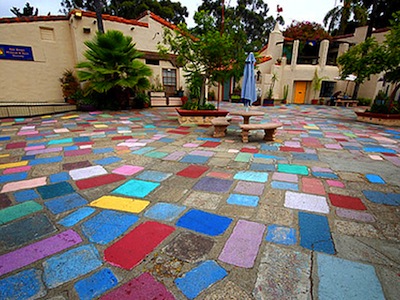 The quaint buildings and courtyards of the Spanish Village were built in 1935 to depict a charming old village in Spain for the second California Pacific International Exposition. This Spanish village in Balboa Park was such a popular and beautiful attraction it was allowed to remain when exposition ended. In 1937 it was reopened as an art center by a group of farsighted and dedicated artists.

During World War II, the US Army used the village for temporary barracks. In 1947, it was reclaimed and restored by the artists. San Diego artists continue to preserve and enhance this historical landmark by adding to its beauty with colorful flowers and unique entryways. It is a favorite location for both professional and amateur photographers.

Today Spanish village Art Center is a thriving community of over 200 artists who share their love of all things art with you. Its patrons take pride in our village, studios and galleries and strive to make it an inviting place for you to take a stroll and spend a day with art!

Location:
1770 Village Place
San Diego, CA 92101
MAP

Hours:
Open Daily from 11:00 AM to 4:00 PM

For more information, please visit: www.spanishvillageart.com or call: (619) 233-9050
Keep informed about San Diego Events!
Sign-up for our weekly Eblast by clicking here:
Sign Me Up!
Today's Date
IN PRINT SINCE 2006
Music From Everywhere!

Orgs and Causes in San Diego
Join Our Team!