Calendar
<
January, 2019
>
Coming Soon...
Wednesday, Jan 23
All Day
Ongoing and Extended Events
2:00 AM
#ChinaToo: The Feminist Awakening in the People's Republic
6:00 PM
Dinner & Talk: Native Voices - Steve Newcomb
8:00 PM
Music: Celso Piña
Thursday, Jan 24
All Day
Ongoing and Extended Events
5:00 PM
Talk: Vladimir Vysotsky, a Russian Cultural Legend
6:30 PM
Kumeyaay Talks: Blood of the Band
7:00 PM
Stage: Aubergine
7:00 PM
Film: Lasciati Andare (Let Yourself Go!)
7:30 PM
Stage: Becoming Dr. Ruth
Friday, Jan 25
All Day
Ongoing and Extended Events
3:00 PM
Talk: From a Rural Village in Mexico to Global Social Impact
7:30 PM
Lecture: Leonardo - Tracing the Arc of the Renaissance
7:30 PM
Stage: Becoming Dr. Ruth
8:00 PM
Music: Ozomatli, Cut Chemist, Chali 2na
8:00 PM
Stage: Aubergine
8:00 PM
Stage: And Then There Were None
Saturday, Jan 26
All Day
Ongoing and Extended Events
2:00 PM
Stage: Becoming Dr. Ruth
7:00 PM
An Evening of Middle Eastern Classical Music
7:30 PM
Stage: Becoming Dr. Ruth
8:00 PM
Stage: Aubergine
8:00 PM
Stage: And Then There Were None
9:00 PM
Stage: Familiar
Sunday, Jan 27
All Day
Ongoing and Extended Events
2:00 PM
Stage: Becoming Dr. Ruth
2:00 PM
Stage: And Then There Were None
7:00 PM
Stage: Aubergine
Monday, Jan 28
All Day
Ongoing and Extended Events
Tuesday, Jan 29
All Day
Ongoing and Extended Events
7:00 PM
Stage: Familiar
7:00 PM
Stage: Aubergine
7:30 PM
Cuban Dance Series Workshops
Wednesday, Jan 30
All Day
Ongoing and Extended Events
7:00 PM
Stage: Aubergine
7:00 PM
Stage: Familiar
8:00 PM
Beijing Dance Theater
Thursday, Jan 31
All Day
Ongoing and Extended Events
7:00 PM
San Diego Black Film Festival
7:00 PM
Stage: Aubergine
7:30 PM
Stage: Becoming Dr. Ruth
Friday, Feb 1
All Day
Ongoing and Extended Events
5:00 PM
San Diego Black Film Festival
7:30 PM
Stage: Becoming Dr. Ruth
8:00 PM
Stage: Aubergine
8:00 PM
Stage: And Then There Were None
Saturday, Feb 2
All Day
Ongoing and Extended Events
2:00 PM
Stage: Becoming Dr. Ruth
4:00 PM
San Diego Black Film Festival
7:30 PM
Stage: Becoming Dr. Ruth
8:00 PM
Stage: Aubergine
8:00 PM
Stage: And Then There Were None
Sunday, Feb 3
All Day
Ongoing and Extended Events
11:00 AM
San Diego Black Film Festival
2:00 PM
Stage: Becoming Dr. Ruth
2:00 PM
Stage: And Then There Were None
Monday, Feb 4
All Day
Ongoing and Extended Events
Tuesday, Feb 5
All Day
Ongoing and Extended Events
7:00 PM
Stage: Familiar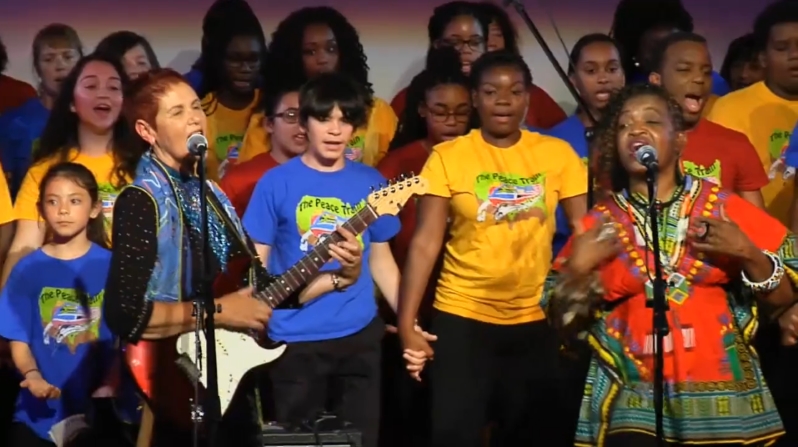 For the past two decades, Sharon Katz and The Peace Train have traveled around the world, singing and dancing, with the goal of bringing communities together.
The group is now on its way to southern California and Mexico for a unique concert on a timely theme: transcending barriers. Singers, musicians and dancers from South Africa, Mexico and the United States will join together in a show of unity, friendship and peace. On July 15, performers will meet in San Diego to rehearse a concert which will take place July 20 at the Worldbeat Center. The following day, everyone involved (and that could be you!) will take the trolley to the border, meet up with members of the Mexican partner organization Promotora de las Bellas Artes and proceed on foot to the Tijuana Cultural Center (CeCut) for a final tour concert.
To understand the Peace Train's current goals, it is important to know a bit about its history. Apartheid officially began with a series of laws that were passed in the late 1940s and early 1950s, although the history of discrimination in South Africa went back much earlier. In 1950, the Population Registration Act separated everyone in South Africa into four racial classifications: White, Black, Coloured and Indian. The government passed the Prohibition of Mixed Marriages Act in 1949 and the Immorality Act of 1950, which outlawed marriages and sexual relations between people of those four racial categories determined by the government. These laws not only segregated people in terms of rights, but also geographically—as people of different races were no longer able to live together.

That resulted in 3.5 million nonwhites being moved from their homes to racially segregated areas. Anti-apartheid activists such as Nelson Mandela were incarcerated for decades. Others, such as Steve Biko, died at the hand of state security officers. But internal resistance coupled with external pressure eventually prevailed. Nelson Mandela was released in 1990 and Apartheid legislation was abolished in the following year. But the legislation lifting apartheid was only the beginning; the divisions in South Africa were still endemic in schools, businesses and townships.

The Peace Train began while South Africa remained divided along racial lines. Its founder Sharon Katz grew up in a white neighborhood of Port Elizabeth during those times. After years of sneaking into "blacks only" parts of town to meet with actors and musicians, she began to see how music could help break down the country's artificially-imposed racial barriers.

In 1992, she and her friend Nonhlanhla Wanda undertook the herculean task of putting together a 500-member, multiethnic youth chorus called When Voices Meet. Their concerts, and most importantly the idea of multicultural harmony behind them, resulted in requests from individuals and community leaders throughout South Africa to have the chorus visit their townships. So in 1993 Sharon and Nonhlanhla formed a traveling chorus of 150 strong and rented a train to take their message of peace throughout South Africa. The tour became popularly known as "The Peace Train" in South Africa. An important aspect of the group was the diversity it embraced. During the concerts, children—who just a few short years before would have had no chance of even being in the same room, playground, street or even town together—could stand arm-in-arm, singing and dancing for all the world to see. Nelson Mandela was a huge inspiration for Sharon and her collaborators. A year after the group was formed, Nelson Mandela was elected president of South Africa. The Peace Train has launched many projects and concerts series in the years since. And San Diego is very fortunate that a wonderful singer and musician from South Africa who performed with Peace Train for many years—Nomsa Burkhard—calls our city home and teaches for The Center for World Music.
To help spread the word about the history of the peacemaking efforts of the Peace Train, an inspiring and moving documentary, "When Voices Meet" was filmed. It shares the story of the children's chorus with schools, community centers and universities—in the hope that it will inspire new generations and foster greater crosscultural understanding around the world. Below you will find a trailer for the documentary.

More recently, the Peace Train has focused its efforts on the United States. With violence, prejudice and discrimination in schools becoming a daily concern in America, the Peace Train established a base of operations in Philadelphia and began raising funds, launching projects, working in schools and performing concerts.

This year the Peace Train's "Transcending Barriers" tour will promote cultural diversity through engaging kids and adults from California, Mexico and South Africa. With this tour, Sharon Katz says she hopes to "build understanding and friendship between Americans and Mexicans, using the vehicle of music." Another long term goal of the movement is to inspire young people in both the USA and in Mexico to become leaders in a movement for social and political change.

Sharon says the goal is to "develop this young country into one that cares for all its people". The Peace Train is actively involved in raising funds in America to support projects to address needs in education, arts and culture, healthcare, housing, vocational training and job creation. A special focus has been put on projects for for vulnerable children who have been orphaned by violence and the HIV/AIDS crisis.

Everything will start with a rehearsal on Sunday, July 15 at the World Beat Cultural Center in Balboa Park at 3 p.m. Everyone attending will be introduced to the songs, and will learn about logistical information and the schedule of events—including the July 18 concert at the Worldbeat Cultural Center in honor of the centenary of Nelson Mandela's birth.

On July 21, The Peace Train's founders Sharon Katz and Nonhlanhla Wanda will lead a Californian group across the border at San Ysidro. On the Tijuana side of the border the American group will meet up with Promotora de las Bellas Artes. The groups will join together, sing songs and march to the to the beautiful Centro Cultural Tijuana, where they will be a free concert for all to enjoy. Below you will find a complete schedule for the events on July 21.

Sharon Katz says:



Borders and walls cannot stop people from expanding their worlds, becoming friends and sharing a sense of community. Music is the most powerful way that we can share our cultural heritage and experience. Cross-cultural collaborations such as The Peace Train Transcending Barriers with Promotora de las Bellas Artes is an example of such work.

The goal of the event is to promote greater cross-cultural awareness and understanding by breaking down cross-border stereotypes. Part of the challenge is to encourage Americans to change their negative perception of Tijuana and the people who live there. Tijuana is frequently portrayed or seen as a town for college students to party or as a dangerous place to visit. The Peace Train is hoping to break down these stereotype and encourage San Diegans to discover how much more there is to Tijuana.



Anyone can join The Peace Trainꟷwhether you sing or not. Even though the tour focuses on youthful singers, all ages are welcome to join the effort and there are many ways people can help out in addition to singing, including guiding and counseling young people, providing meals and assisting with tour logistics. To learn how to participate with the tour or stay informed about future projects, you can email: getonthepeacetrain@gmail.com or visit: GetOnThePeaceTrain.org.

I think the most important question to ask ourselves after attending these events is not "how do I get home from Tijuana" but rather "Now what?" How do we keep these new relationships alive and how do we do more, and most importantly where do we start? The Peace Train movement wants to stress to its volunteers and its audience the importance of making friends and establishing enduring social relationships with the Mexican people they meet during the tour—because greater personal connections are hugely important to diminishing the stereotypes and misconceptions we have about each other. Doing so might help us to step out of our comfort zones, cross the border and feel more connected to a vibrant culture just across the border. We can discover new things about Tijuana for by visiting its cultural and community centers and schools and yes, perhaps even enjoy the cities many fine restaurants. Sharon Katz believes that Americans should avoiding descend into a state of despair because of restrictive laws and the present political climate.

"We need to show our solidarity with our neighbors who are being unfairly discriminated against. Also, we hope to return to continue this work next year. So we hope to make strong friendships and relationships in 2018 project that will continue into the future," she says.

Sharon is quick to point out that what is essential to grasp is that the lessons one learns can be applied to similar conditions wherever they apply. For example, the Peace Train has been invited to work with Israelis and Palestinians. This inspire us to look beyond borders and geographic locations. The hope is that Transcending Barriers will just be the beginning for an increasing number cross border collaborations between San Diego and Tijuana. Sharon and her associates also hope to visit other Latin American countries to continue the work of the The Peace Train project. Now it is the time to get on board!

Schedule for 7/21:

9:00 AM: All Singers and Supporters from the California side meet at the WorldBeat Cultural Center in Balboa Park, 2100 Park Blvd., for final rehearsal and to get their "Transcending Barriers" T-shirt.

10:00 AM: Sing as we Parade from WorldBeat Cultural Center to the San Diego Trolley at City College Station and travel to the border crossing at San Ysidro.
Those with Passports - or if under 16 years of age with Birth Certificate and Parent - will then Walk Across the Border. (Those without the documents or ability to cross the border will cheer us on as we go.)

Noon: Once across the border, we'll be met by the singers and supporters from Promotora de las Bellas Artes and the Marshalls from the City of Tijuana who will escort us as we sing and parade for approximately 20 minutes to Centro Cultural Tijuana (CECUT).

1:00 - 4:00 PM: Friendship-building workshops and rehearsal at CECUT.

4:00 PM: Meal is provided for all participants at CECUT. Each participant creates an individual R.A.P. (Responsible Action Plan)

6:00 - 7:00 PM: Free Public Concert at CECUT

7:30 PM: After saying goodbye to our new friends in Mexico, we'll be transported in chartered busses back across the border and then directly to our starting point at World Beat Cultural Center.

Keep informed about San Diego Events!
Sign-up for our weekly Eblast by clicking here:
Sign Me Up!
Today's Date
IN PRINT SINCE 2006
Music From Everywhere!

Published By:
Our Staff
Section Editors, Writers and Contributors: Sharon Payne, Maura Fox, Dolores Donovan, Edwin Ching, Liam Fox, Ana Alvarez
Copy Editing: Deb McKenty, Spanish Translations: Ana Alvarez, Programming: Hera Siddiqui
Associate Editors: Erin Golackson, Christa Parish
Photography: Carlo Toribio,
Editor in Chief: Tom Johnston-O'Neill
Join Our Team!