Published By:
Calendar
<
April, 2021
>

Recommended
Coming Soon...

Ongoing/Extended Events

Click to View

Tuesday, Apr 20
4:30 PM
Zoominar: Abenomics and the Japanese Economy
6:30 PM
Talk: Myanmar: Development, Democracy, and Despair
Wednesday, Apr 21
12:00 PM
Poetry Reading with Kazim Ali
4:00 PM
Book Talk: Yellow Wife
7:00 PM
Shakespeare Trivia Night
Thursday, Apr 22
12:30 PM
3 Italian Films
6:30 PM
2021 Women PeaceMakers Event
Friday, Apr 23
10:00 AM
Virtual Tour of Umbria, Italy
12:00 PM
iCafé – Your Passport to Culture!
4:00 PM
The Shadow of El Centro: a History of Migrant Incarceration and Solidarity
Saturday, Apr 24
11:00 AM
Book Talk: Kate Quinn
11:00 AM
16th Annual Student Shakespeare Festival
7:00 PM
San Diego Opera: the Barber of Seville
Tuesday, Apr 27
7:00 PM
San Diego Opera: the Barber of Seville
Wednesday, Apr 28
11:30 AM
Talk: Confronting Racism. Embracing Diversity
3:30 PM
Radicalism at the Crossroads: Black Women Activists in the Cold War
4:00 PM
Talk: the Ripple Effect of Racial Bias in the Toy Industry
6:30 PM
Film: Innocence
Thursday, Apr 29
1:00 PM
Talk: a Third Way - the Origins of China's Economic Strategy
Friday, Apr 30
10:00 AM
10th Annual International Jazz Day
12:00 PM
iCafé – Your Passport to Culture!
12:00 PM
Talk: Jillian Hernandez
7:00 PM
San Diego Opera: the Barber of Seville
Saturday, May 1
10:00 AM
Old Town Cinco de Mayo
7:00 PM
San Diego Opera: the Barber of Seville
Sunday, May 2
10:00 AM
Old Town Cinco de Mayo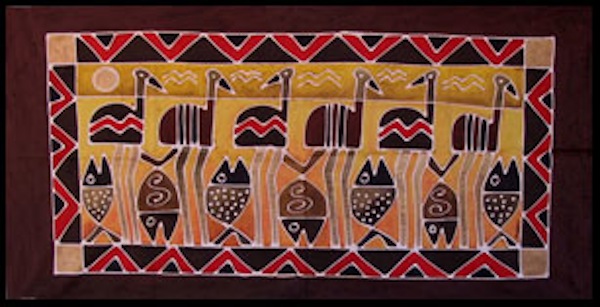 At Africa and Beyond, you can explore the many faces of African art, from contemporary Shona stone sculptures to traditional artifacts, creating a link between the modern world and the ancient past. The diverse cultural arts of Africa are represented in many unique forms at Africa and Beyond, where Africa's extraordinary artistic achievements are showcased with an array of one-of-a-kind pieces. You can be assured of the highest quality at exceptional prices. Born and raised in Africa, Ian Allen, along with his partner and wife Julie, travel back to Africa each year to hand-select the exotic treasures for their gallery. The stories they enthusiastically share with each visitor are based on their extensive knowledge and travel experience.

Each piece is accompanied by information pertaining to its history and function, providing a deeper appreciation and understanding of each inspirational work. This adds another dimension to the artworks' aesthetic beauty and bring it to life in your imagination. Whether you are a serious collector or a casual admirer, you are sure to discover accent pieces for your home and office as well as memorable gifts. This unique gallery promotes the art of Africa, which reaches out and touches our souls and enriches our world, promoting respect between cultures. African art holds a special place in both heart and home - where the two meet to restore the spirit.

Location:
1250 Prospect Street
La Jolla, CA 92037
MAP

Hours:
Open Daily, 10:30 AM to 6:00 PM

For more information, please visit: www.africaandbeyond.com or call: (858) 454-9983
Keep informed about San Diego Events!
Sign-up for our weekly Eblast by clicking here:
Sign Me Up!
Today's Date
IN PRINT SINCE 2006
Music From Everywhere!

Orgs and Causes in San Diego
Join Our Team!