Calendar
<
February, 2020
>

Recommended
Coming Soon...
Wednesday, Feb 26
All Day
Ongoing and Extended Events
7:00 PM
Writer's Symposium with Pico Ayer
7:00 PM
Stage: Dream Hou$e
7:00 PM
Stage: Hurricane Diane
7:30 PM
Stage: Orestes 2.0
Thursday, Feb 27
All Day
Ongoing and Extended Events
10:45 AM
Book Talk: Baja California Land of Missions
1:00 PM
Music: Kembang Sunda Gamelan
3:20 PM
Talk: Urban Redevelopment Projects in South Africa
7:00 PM
Stage: Dream Hou$e
8:00 PM
Stage: Hurricane Diane
Friday, Feb 28
All Day
Ongoing and Extended Events
5:00 AM
28th Annual Kuumba Festival
3:30 PM
Talk: The Racial Imaginary at Work Poetry and the Visual Arts
6:00 PM
Music: Antonio Carlos Jobim Tribute
7:00 PM
Música En La Plaza: Los Montaño
7:00 PM
Stage: Dream Hou$e
7:30 PM
Stage: Orestes 2.0
8:00 PM
Film: Jojo Rabbit
8:00 PM
Stage: Hurricane Diane
8:00 PM
Stage: She Loves Me
Saturday, Feb 29
All Day
Ongoing and Extended Events
11:00 AM
28th Annual Kuumba Festival
2:00 PM
Stage: Safa's Story
2:00 PM
Stage: Orestes 2.0
2:00 PM
Spoilers Book Club: Native Son
3:00 PM
Stage: Little Rock
7:00 PM
Stage: Safa's Story
7:00 PM
Stage: Dream Hou$e
7:30 PM
Stage: Orestes 2.0
8:00 PM
Film: Jojo Rabbit
8:00 PM
Stage: Hurricane Diane
8:00 PM
Stage: She Loves Me
9:00 PM
Music: Los Pericos, Los Estrambóticos & Ecno
9:00 PM
Spanglish At Finest City Improv
Sunday, Mar 1
All Day
Ongoing and Extended Events
11:00 AM
28th Annual Kuumba Festival
12:00 PM
7th Annual Mariachi Festival
1:00 PM
Music: Kembang Sunda Gamelan
2:00 PM
Acting Shakespeare Panel
2:00 PM
Stage: She Loves Me
3:00 PM
Los Angeles Balalaika Orchestra
7:00 PM
Music: Irving Flores Afro-Cuban Jazz Quartet
7:00 PM
Stage: Dream Hou$e
7:00 PM
Stage: Hurricane Diane
7:30 PM
Music: Miguel Zenón Quartet
Monday, Mar 2
All Day
Ongoing and Extended Events
7:30 PM
Stage: Winston Churchill
8:00 PM
Music: iLe
Tuesday, Mar 3
All Day
Ongoing and Extended Events
9:45 AM
Classics 4 Kids: Ferdinand The Bull
11:30 AM
Classics 4 Kids: Ferdinand The Bull
6:30 PM
Talk About Series: Venezuela - What Does It Mean To Live in a Failed State?
7:00 PM
Stage: Hurricane Diane
7:30 PM
Stage: Winston Churchill
Wednesday, Mar 4
All Day
Ongoing and Extended Events
9:45 AM
Classics 4 Kids: Ferdinand The Bull
11:30 AM
Classics 4 Kids: Ferdinand The Bull
7:00 PM
Stage: Hurricane Diane
7:30 PM
Music: ABBA Mania
Thursday, Mar 5
All Day
Ongoing and Extended Events
9:45 AM
Classics 4 Kids: Ferdinand The Bull
11:30 AM
Classics 4 Kids: Ferdinand The Bull
3:00 PM
Kumeyaay Rock Art in the San Diego Region
6:00 PM
Talk: Diversity in Medicine Lecture
7:00 PM
USD Mariachi Showcase Opening Night
8:00 PM
Stage: House of Joy
8:00 PM
Stage: Hurricane Diane
Friday, Mar 6
All Day
Ongoing and Extended Events
9:00 AM
Amnesty International Annual Human Rights Conference
9:45 AM
Classics 4 Kids: Ferdinand The Bull
11:30 AM
Classics 4 Kids: Ferdinand The Bull
5:00 PM
Contemporary Chinese Photography in Conversation
6:30 PM
USD Mariachi Student Showcase
7:00 PM
12th Annual Brasil Jazz Festa
7:30 PM
Stage: Orestes 2.0
8:00 PM
Stage: House of Joy
8:00 PM
Stage: Hurricane Diane
8:00 PM
Stage: She Loves Me
Saturday, Mar 7
All Day
Ongoing and Extended Events
9:00 AM
Amnesty International Annual Human Rights Conference
6:00 PM
Stage: The Cabinet of Tia-Juana
6:30 PM
USD Mariachi Professional Showcase Grand Finale
7:00 PM
Italian Film: Investigation of a Citizen Above Suspicion
7:30 PM
Stage: Orestes 2.0
8:00 PM
Stage: House of Joy
8:00 PM
Stage: Hurricane Diane
8:00 PM
Stage: She Loves Me
9:00 PM
Stage: The Cabinet of Tia-Juana
Sunday, Mar 8
All Day
Ongoing and Extended Events
9:30 AM
Amnesty International Annual Human Rights Conference
11:00 AM
National City International Mariachi Festival
1:00 PM
Finding Difficult Passengers on the Eillis Island Manifests
2:00 PM
Documentary Film: Beyle
2:00 PM
Stage: She Loves Me
7:00 PM
Stage: Hurricane Diane
Monday, Mar 9
All Day
Ongoing and Extended Events
4:00 PM
Talk: A Journey Through Turbulent Times - China and America
Tuesday, Mar 10
All Day
Ongoing and Extended Events
7:00 PM
Stage: House of Joy
The Recipe of the Month is Korean Fried Chikin. While fast food fried chicken, particularly Kentucky Fried Chicken, is popular throughout the world, in South Korea "KFC" stands for "Korean Fried Chicken" and its consumption has become a very popular cultural phenomenon there. Sweet, savory and crunchy, it is the "go to" night snack to be enjoyed with co-workers, friends, lovers and beer!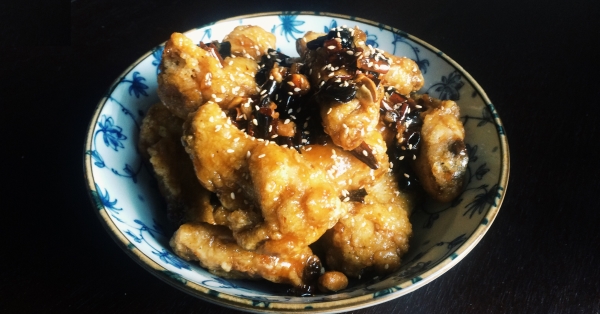 Korean fried chicken (a.k.a. "chikin") is an exceedingly popular snack food in Korea. There are more than one dishes that fall into this category. Ganjangmaneul (간장마늘치킨), yangnyeom (양념치킨) and dakgangjeong (닭강정) all fall under the umbrella term "chikin", but there are three distinct varieties. Deep-frying of chicken was introduced to Korea in the 1940's and 50's. During the Korean War American servicemen introduced American fried chicken, but it was not immediately popular. In the late 70's and early 80's Korean style fried chicken, consisting of individual pieces of chicken coated in spicy, sweet and savory sauces really took hold as part of the cuisine. The boom in Korean fried chicken consumption coincided with the Korean immigration boom in the United States. Greater exposure of Koreans and Korean Americans to American fried chicken no doubt influenced the development of peninsular versions.

For Korean "chikin", both battered and non-battered versions, the chicken is double fried to achieve its distinctive hard and crispy crust. The initial fry (blanching), gently cooks the chicken throughout while second fry creates the desired crispiness of the crust. Another advantage of this method is that the resulting is less oily. After frying he chicken is coated with seasoned sauce, a departure from typical American fried chicken.

The tenderness of Korean style fried chicken results from the use of smaller, younger chickens. Unlike American fried chicken the Korean version uses small cuts of chicken. The breasts and thighs (if used) are often halved to decrease the cooking time and provide easier to eat pieces. Drumsticks and wings are favored due to their portability and shorter cook times.

The cooking method for all three styles of Korean fried chicken is the same, what varies are the sauces. Ganjangmaneul relies on soy sauce and garlic to create a mild savory-sweet taste. Yangnyeom style uses chili based products like gochugang and gochugaru to give a vibrant color and flavor to the chicken. The style in following recipe, dakgangjeong, achieves a balance between the savory, sweet and spicy by using soy sauce, garlic, Korean rice syrup and dried chilies. Unlike the other two styles of Korean Chicken, Dakganjeong is fried without a batter. Instead the pieces of chicken (bone-in or boneless) are marinated and then coated with potato starch (or corn starch) before frying. This method creates a crispy crust that lasts for many hours, even if it is refrigerated. The dried chiles used for this recipe are known as Japone, Hontaka, Santaka or Oriental style chiles which originate in Mexico but are a very popular chile used throughout East Asia. They can be readily found in both Mexican and Asian grocery stores. Toasted sesame seeds can also be found in Asian grocery stores. Korean rice syrup can be found in Korean markets such as Zion Market on Clairemont Mesa Blvd.

These dishes and other fried foods are commonly enjoyed with beer in Korea, in fact on the streets of Seoul this combination is known as chimaek a portmanteau of the work chicken and the Korean word for beer, maekju. Urban Korean's drink more alchohol than any nationality in the world Recently the dish has become extremely popular in China too. So pop the top on an ice cold lager, fry up some Korean chikin and enjoy!

Ingredients:
2 pounds chicken wings
¾ cup potato starch
Vegetable oil, for frying
1/3 cup peanuts, shelled and skins off
1 tablespoon toasted sesame seeds

Marinade:


2 tablespoons light soy sauce
1 inch piece of ginger, minced
1 teaspoon salt
1 teaspoon ground black pepper

Sauce:


¼ cup soy sauce (light)
½ cup Korean rice syrup
1 tablespoon brown sugar
1 tablespoon white vinegar
10 dried japone chiles, seeded and cut into 1/8 in lengths
4 cloves of minced garlic
Preparartion
Marinate the chicken for 1 hour in the soy, ginger, salt and pepper.
Drain the chicken and pat dry. (important step, otherwise the result will not be crispy enough)
Fill a large pot halfway with oil and heat to 350 degrees Fahrenheit.
Add potato starch to a bowl and then coat the individual pieces of chicken with the starch by pressing the starch onto the skin.
Once oil is hot, fry the chicken in small batches for 5 minutes, transferring each piece to a wire rack when done.
After all chicken is fried once, reheat the oil to 375 degrees Fahrenheit and fry the pieces of chicken for 3 to 5 minutes more.
In a sautee pan, add 2 tablespoons of vegetable oil, chiles, and garlic. Sautee until fragrant, (about 30 seconds to 1 minute).
Add soy sauce, rice syrup and vinegar to the pan and bring to a boil. Cook until slightly thickened.
Add brown sugar to the pan and bring to a boil again.
Turn off the heat and allow to rest for 2 minutes.
In the hot oil, fry the peanuts until just toasted, 1 minute.
Combine chicken, peanuts and sauce in a bowl. Toss to coat and garnish with sesame seeds.


Recipe and photo by Liam Fox
Keep informed about San Diego Events!
Sign-up for our weekly Eblast by clicking here:
Sign Me Up!
Today's Date
IN PRINT SINCE 2006
Music From Everywhere!

Published By:
Music of the Month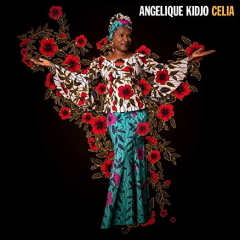 Celia
by Angelique Kidjo
Participant Observer Staff
Section Editors, Writers and Contributors: Sharon Payne, Ana Alvarez,
Cecilia Xinyu Cai, Jaehyeon Ahn
Spanish Translations: Ana Alvarez, Programming: Rachel Duncan
Associate Editors: Christa Parrish, Katie Tonellato
Editor in Chief: Tom Johnston-O'Neill
Orgs and Causes in San Diego
Join Our Team!