Calendar
<
January, 2019
>
Coming Soon...
Sunday, Jan 20
All Day
Ongoing and Extended Events
9:55 AM
Film: Bolshoi Ballet's La Bayadere
10:00 AM
Tu B'shvat Festival
11:00 AM
San Diego Travel & Adventure Show
12:55 PM
Film: Bolshoi Ballet's La Bayadere
2:00 PM
Rafael 'Fallo' Mareyna Art Reception
2:00 PM
Stage: Becoming Dr. Ruth
2:00 PM
Stage: And Then There Were None
4:00 PM
Indian Cultural Art Showcase
7:00 PM
Cinema Under the Stars: Casablanca
Monday, Jan 21
All Day
Ongoing and Extended Events
12:00 PM
30th Martin Luther King Day Celebration
1:00 PM
Film & Discussion: MLK: The Assassination Tapes
2:00 PM
39th Annual Martin Luther King Day Parade
7:30 PM
Lecture: Leonardo - Tracing the Arc of the Renaissance
Tuesday, Jan 22
All Day
Ongoing and Extended Events
6:00 PM
Film: I Am Not Your Negro
7:00 PM
Film: Bolshoi Ballet's La Bayadere
7:30 PM
Cuban Dance Series Workshops
Wednesday, Jan 23
All Day
Ongoing and Extended Events
2:00 AM
#ChinaToo: The Feminist Awakening in the People's Republic
6:00 PM
Dinner & Talk: Native Voices - Steve Newcomb
8:00 PM
Music: Celso Piña
Thursday, Jan 24
All Day
Ongoing and Extended Events
5:00 PM
Talk: Vladimir Vysotsky, a Russian Cultural Legend
6:30 PM
Kumeyaay Talks: Blood of the Band
7:00 PM
Stage: Aubergine
7:00 PM
Film: Lasciati Andare (Let Yourself Go!)
7:30 PM
Stage: Becoming Dr. Ruth
Friday, Jan 25
All Day
Ongoing and Extended Events
3:00 PM
Talk: From a Rural Village in Mexico to Global Social Impact
7:30 PM
Lecture: Leonardo - Tracing the Arc of the Renaissance
7:30 PM
Stage: Becoming Dr. Ruth
8:00 PM
Music: Ozomatli, Cut Chemist, Chali 2na
8:00 PM
Stage: Aubergine
8:00 PM
Stage: And Then There Were None
Saturday, Jan 26
All Day
Ongoing and Extended Events
2:00 PM
Stage: Becoming Dr. Ruth
7:00 PM
An Evening of Middle Eastern Classical Music
7:30 PM
Stage: Becoming Dr. Ruth
8:00 PM
Stage: Aubergine
8:00 PM
Stage: And Then There Were None
9:00 PM
Stage: Familiar
Sunday, Jan 27
All Day
Ongoing and Extended Events
2:00 PM
Stage: Becoming Dr. Ruth
2:00 PM
Stage: And Then There Were None
7:00 PM
Stage: Aubergine
Monday, Jan 28
All Day
Ongoing and Extended Events
Tuesday, Jan 29
All Day
Ongoing and Extended Events
7:00 PM
Stage: Familiar
7:00 PM
Stage: Aubergine
7:30 PM
Cuban Dance Series Workshops
Wednesday, Jan 30
All Day
Ongoing and Extended Events
7:00 PM
Stage: Aubergine
7:00 PM
Stage: Familiar
8:00 PM
Beijing Dance Theater
Thursday, Jan 31
All Day
Ongoing and Extended Events
7:00 PM
San Diego Black Film Festival
7:00 PM
Stage: Aubergine
7:30 PM
Stage: Becoming Dr. Ruth
Friday, Feb 1
All Day
Ongoing and Extended Events
5:00 PM
San Diego Black Film Festival
7:30 PM
Stage: Becoming Dr. Ruth
8:00 PM
Stage: Aubergine
8:00 PM
Stage: And Then There Were None
Saturday, Feb 2
All Day
Ongoing and Extended Events
2:00 PM
Stage: Becoming Dr. Ruth
4:00 PM
San Diego Black Film Festival
7:30 PM
Stage: Becoming Dr. Ruth
8:00 PM
Stage: Aubergine
8:00 PM
Stage: And Then There Were None
WVP Explores the Charming Little Town of Tecate, Mexico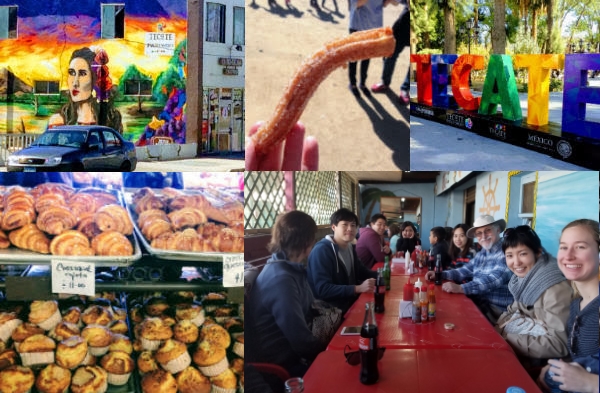 March 1, 2018 - Cassia Pollock
A couple times a year the volunteers at The Worldview Project visit the charming little town of Tecate, in search of sizzling tacos, delicious pastries and a slice of authentic Mexico.

The city, which is less than an hour's drive from San Diego, gave us an insider's look at the country. All the negative media coverage would lead us to believe that border towns have nothing but drug cartels, cheap bootleg alcohol and violence. By visiting Tecate, we saw firsthand how much more the city has to offer.

Many people are afraid to travel to Mexico and the situation is only exacerbated by headlines declaring that the U.S. State Department has issued travel warnings that includes listing Baja California with a Level 2 advisory calling for "increased caution." To put this in perspective, a variety of popular travel destinations are placed in the same category, including France, Spain, the U.K, Germany, Italy, Belgium and Denmark. For six years, members of the Worldview Project have routinely visited Tecate without encountering anything remotely dangerous. During this trip, we confronted no greater hazard than the spicy hot sauce on our tacos.

There was no line at the border point of entry, so we casually strolled into Mexico. After exchanging dollars for pesos, we stopped at a variety of vendors and taquerias (taco shops) that offered our taste buds a burst of traditional Mexican cuisine and classic flavors.

At every corner and crossing, we inhaled the mouthwatering aroma of savory, grilled meats. We treated ourselves to tacos stuffed with lamb, fried fish, shrimp and Al Pastor, served alongside plates of roasted scallions, peppers, crisp radishes, salsa and a variety of hot sauce. Our taco stops included the Swap Meet marketplace, Tacos El Sabroso and the Tacquira Los Arcos which specializes in Al Pastor. Above all, one of the most delectable treats proved to be the fried confections: hot, fresh churros dipped in butter and generously coated with sugar by a local vendor.

When we made our way to Parque Hidalgo, the central plaza, we came across a band playing salsa and cumbia music under a gazebo. Lots of locals were dancing in the plaza, so we joined in! We bought fruit popsicles at La Michoacana and people watched. There was a noticeable lack of tourists as friendly locals sipped margaritas and swayed to the music at the town's square. The trip wrapped up with a visit to a magnificent panaderia called El Mejor Pan de Tecate (The Best Bread in Tecate). Racks of glazed confections lined the busy shop, as staff constantly rushed out with plates of freshly baked pastries.

After loading up boxes of bread to go, we grabbed a few more tacos at Tacquira Los Arcos and headed back to the border. We went home with passports and pastries in hand, along with heightened awareness on the importance of rising above stigmas to explore other cultures.

Effervescent Irish Music at Kalabash!

February 20, 2018 - T. Johnston-O'Neill
Several WVP folks helped out at the Máirtín de Cógáin Project concert at Kalabash School of Music and the Arts. It's the first in a series of concerts by the Center for World Music that will take place in the coming months for their Passport to Worlds of Music Series.

Máirtín Cógáin is an acclaimed playwright, actor, singer, storyteller and bodhrán (Irish drum) player who hails from the County of Cork in Ireland. Most of the songs he performed are from the south of Ireland. He was backed up on Uilleann (pronounced il-en) pipes and a variety of penny whistles by Ben Jaber (who also plays French Horn with the SD Symphony.)

Pete Polansky and Jonathan Parker showed off their fancy fiddling on guitar and kept the rhythm tight. The guys gave a spirited performance that showed they really know their chops. Although some of the songs were bittersweet and poignant (notably "The Wind that Shakes the Barley" from the movie of the same name that Cógáin himself appeared in), most of the songs were upbeat and often quite humorous.

Through his musical performance, Cógáin spun a tale about a farmer, the farmer's wife and the "teaman" that was wonderfully witty and displayed a fine touch for storytelling and humor. I shot some video and stills at the event. Check out the clip below for a taste. Can't wait for the other concerts in the series!









Travel = Education = Change

February, 16, 2018 - M. Buchwald
Travelling as a political act doesn't have to be a big act. An evening with Steve Smith and Jake Heilbrunn brought the possibilities of traveling with cultural awareness closer to the audience at La Jolla Library. "There is a small, but significant difference between a selfish traveler and a citizen diplomat," explained Sharon Payne (Board of Diplomacy Council) in her opening speech. What she means is that it takes a change of perspective to not only travel for individual pleasure but to gain meaningful experiences. Sharon has learned that to achieve a change of perspective you often have to defeat fear. The fear of the unknown keeps us from opening up to what is out there. Overcoming our fear opens doors to cultural understanding.

The first speaker of the evening, Steve Smith, France specialist and co-author of Rick Steve´s Guidebooks, can relate to that. Fear of the unknown is obviously one of the obstacles to travel politically. When we used to wish a traveller "Bon voyage," now we send them off with a word of caution: "travel safely."

Steve has a mission to get the American travellers out of their comfort zone. He wants to send them outside of Orlando-Disneyland and show them the real France. This includes a lot of teaching on his part and learning on the traveller´s side. Steve understands education as the most powerful weapon to change the world. In his eyes, travel is another form of education. If you know that a French waiter may get mad if you order white wine with your steak and don't expect passerby in France to wish you a good day wherever you go, this will make your stay more enjoyable. He has the following message for travellers looking to get the most out of their trip: "Think about what and who you are looking at and what you can learn about a country!" Of course, one doesn't have to agree about everything all the time, but we should try to understand other points of view. The remaining differences between cultures can inspire interesting conversations and captivating presentations.

The second speaker, Jake Heilbrunn, also gave a presentation on how amusing cultural differences can be. For example, he offered instructions on how to get to places in Guatemala: "When you get to Guatemala, take a taxi to the bus station. Hop on a bus to Santa Elena, about 8-9 hours and 180Q (quetzales.) Then take a tuk tuk to San Andres. The homes have no addresses here, so ask around for me. Just say "Chris the Gringo," Jake said. And this is apparently how you travel in South America.." The journey to his destination became an adventure in itself. His bus was caught in a traffic jam with no way back or forth. It surprised Jake that nobody acted like an angry New Yorker, threatening to sue the bus company. His fellow travellers accepted the situation for what it was … unchangeable. Jake forced himself out of his comfort zone and ended up playing soccer with some of the boys on the bus. He learned all about one boy's life, using hand signs and body language. What was supposed to be a boring nine-hour bus ride turned into 20 hours that flew by with good company.

Jake is aware that his story started out as a combination of "Eat, Pray, Love" and "Into the Wild." He was unhappy with his situation, decided to do something about it and ended up finding what makes him happy - travelling and teaching. "Of course, this is not what makes everybody happy," Jake said. He doesn't suggest that people force themselves to travel if they don't want to. But he recommends finding out what you think will make you happy, visualize a plan and then carry it out. With that in mind, it's important to note that travel has been scientifically related to the gain of happiness. Dr. Thomas Gilovich is a psychology professor at Cornell University and has proven that happiness and travel correlate in his studies.

"While objects and material things make us happy for a short period, experiences really become a part of us," Gilovich said. He claims that adjustment with the status quo is a real danger to happiness and that the journey out of one's comfort zone will lead to happiness. But at the same time, adaptation is necessary to make it out there. In his presentation Jake Heilbrunn introduces what he calls, "the power of adaptation." It is the concept of freeing yourself of fear, getting ready to make mistakes and adapting to new circumstances. "Like when you have to sleep in a three storage bunk-bed right under a ceiling full of bugs and spiders, when your biggest fear is bugs and spiders," Jake said. While laughing about his anecdote, Jake invited everybody, not only the audience at the La Jolla library, to become global ambassadors. "Because everywhere we go, we take our culture and background with us," he said. "Travel is a chance to show other people what our culture really is about." When asked what his plans are for the future, he answered that he has things he plans and wants to do. But he doesn't need a specific roadmap. He will continue to travel off the beaten trail.

Steve and Jake, travellers of two different generations, both see travel as a way to learn from their experiences and glean fresh knowledge. They took a chance and are now sharing a valuable lesson: Travel is education and education is change.

Travel as a Political Act Booksigning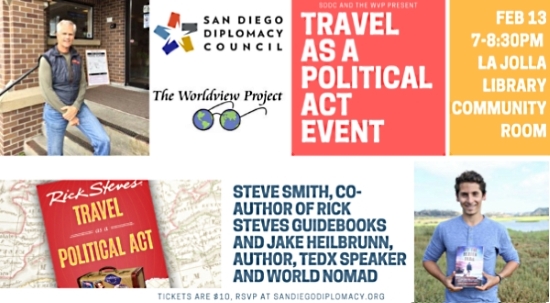 February, 12, 2018 - M. Buchwald
Has a revolution ever started from a bed? Although the 90's classic "Don´t look back in anger" by Oasis makes us believe that it is easy to change the world from the comforts of home, that would make revolution a product of wishful thinking and living inside a box. But there's good news for all the adventurers out there! It appears that travel, not staying in bed, is the real political act.

The Worldview Project and the San Diego Diplomacy Council are proud to present Steve Smith and Jake Heilbrunn and their views on "Travel as a Political Act" at the La Jolla/Riford library on February 13th (7:30-8PM, $10 suggested donation). Experiencing these two world travelers and perspective-changers might just be the first step on your own political journey.

Steve Smith and Jake Heilbrunn are convinced that moving outside your box and out of your comfort zone can bring about both personal and political change. They have made it part of their lives to spread this message by sharing their experiences while traveling with others. On February 13th, you'll get your chance to become inspired by these two world travelers and perspective changers at the La Jolla Riford library.

Steve Smith's second home is France, where his insider tips, experiences and local acquaintances have made him a renowned specialist. Reading about his experiences as a tour guide, as well as a private explorer, gives an idea of how love for another country has shaped his identity. He has been educating American travelers since 1990 as a co-author of Rick Steves' France and Paris guidebooks, making numerous TV/radio appearances and working as a speaker. Most recently, he was involved in the publication of "Travelling as a Political Act" by Rick Steves.

When Jake Heilbrunn first went on a life-changing trip at the age of 18, he was desperate for change. Suffering from physical problems caused by psychological stress and unhappiness with his life, a one-way ticket to Guatemala was his way out. A way to detach from the burden of other people`s expectations. He embarked on a search for purpose. Now back in the United States, Jake has started a new journey as a bestselling author, blogger and TEDx speaker, sharing his life lessons with others.

Keep informed about San Diego Events!
Sign-up for our weekly Eblast by clicking here:
Sign Me Up!
Today's Date
IN PRINT SINCE 2006
Music From Everywhere!

Published By:
Our Staff
Section Editors, Writers and Contributors: Sharon Payne, Maura Fox, Dolores Donovan, Edwin Ching, Liam Fox, Ana Alvarez
Copy Editing: Deb McKenty, Spanish Translations: Ana Alvarez, Programming: Hera Siddiqui
Associate Editors: Erin Golackson, Christa Parish
Photography: Carlo Toribio,
Editor in Chief: Tom Johnston-O'Neill
Join Our Team!