Calendar
<
November, 2018
>
Coming Soon...
Wednesday, Nov 21
All Day
Ongoing and Extended Events
All Day
Ongoing and Extended Events
9:30 PM
Music: Flabba Holt, Cultural Roots & Winston Hussey
Thursday, Nov 22
All Day
Ongoing and Extended Events
7:30 PM
Stage: Miss Bennet-Christmas at Pemberly
8:00 PM
Stage: The Mystery of Edwin Drood
Friday, Nov 23
All Day
Ongoing and Extended Events
8:00 PM
Film: Crazy Rich Asians
8:00 PM
Stage: The Mystery of Edwin Drood
8:00 PM
Stage: Miss Bennet-Christmas at Pemberly
Saturday, Nov 24
3:00 PM
Stage: Miss Bennet-Christmas at Pemberly
8:00 PM
Music: Akae Beka & Spiritual
8:00 PM
Music: Eddie Palmieri Latin Jazz Band
8:00 PM
Film: Crazy Rich Asians
8:00 PM
Stage: The Mystery of Edwin Drood
8:00 PM
Stage: Miss Bennet-Christmas at Pemberly
Sunday, Nov 25
All Day
Ongoing and Extended Events
All Day
Ongoing and Extended Events
11:00 AM
House of Lebanon Lawn Program
2:00 PM
Stage: The Mystery of Edwin Drood
2:00 PM
Stage: Miss Bennet-Christmas at Pemberly
Monday, Nov 26
All Day
Ongoing and Extended Events
3:00 PM
Talk: Anthropology and Theology
6:30 PM
Discussion: The Chicano Blowout of 1968
7:00 PM
Grossmont College Afro-Cuban and Jazz
Tuesday, Nov 27
All Day
Ongoing and Extended Events
10:00 AM
Lecture: Guerra! The People and Places of the Mexican-American War in San Diego
4:00 PM
Film: Nowhere to Call Home
Wednesday, Nov 28
5:00 PM
Panel Discussion: Health Issues in Sub Saharan Africa
6:00 PM
Music: TRES & Debora Galan
Thursday, Nov 29
All Day
Ongoing and Extended Events
6:00 PM
Ramen Festival
7:30 PM
Stage: Miss Bennet-Christmas at Pemberly
8:00 PM
Music: Orkesta Mendoza
8:00 PM
Stage: The Mystery of Edwin Drood
Friday, Nov 30
All Day
Ongoing and Extended Events
5:00 PM
Documentary Film: Liyana
8:00 PM
Stage: The Mystery of Edwin Drood
Saturday, Dec 1
All Day
Ongoing and Extended Events
2:00 PM
Film: Selma, Lord Selma
3:00 PM
Stage: A Christmas Carol
4:00 PM
Talk: Afrofuturism Reloaded
4:00 PM
Film: Ang Larawan
7:00 PM
Music: Metropolitan Klezmer
7:00 PM
Yalda (Pesian New Year) Celebration
7:00 PM
Yalda (Pesian New Year) Celebration
7:00 PM
Film: Lorna
8:00 PM
Stage: A Christmas Carol
8:00 PM
Stage: Miss Bennet-Christmas at Pemberly
Sunday, Dec 2
9:30 AM
Persian Bazaar
2:00 PM
Stage: A Christmas Carol
2:00 PM
Stage: The Mystery of Edwin Drood
2:00 PM
Stage: Miss Bennet-Christmas at Pemberly
7:00 PM
Stage: A Christmas Carol
Monday, Dec 3
All Day
Ongoing and Extended Events
5:00 PM
Talk: Digital Media and Youth in China
Tuesday, Dec 4
All Day
Ongoing and Extended Events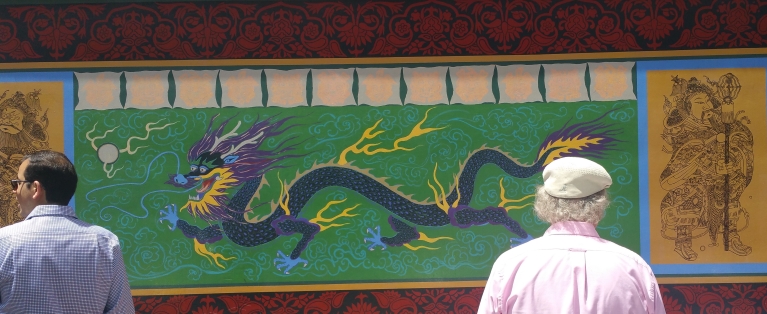 San Diego: The Chinese Connection
May 11, 2018 - Magdalena Buchwald

Once there was no concrete harbor basin in San Diego. In the late 19th century - where the sail topped San Diego Convention Center stands today - Chinese fishing junks set forth to seek their daily catch. After the gold rush, Chinese people found new homes in the cities along the west coast. In San Diego, fishing was their main occupation. Not necessarily because there was nothing else they were able to do, but because there was nothing else they were allowed to do. When Chinese people arrived in San Diego they were discriminated in most jobs and ended up working in low wage occupations like laundry and restaurants. Later, the Chinese Exclusion Act of 1882 discriminated this particular ethnic group. Local ordinances forbid them to buy property north of Market Street. This is why area bordered by the bay in the south, Market Street in the north, Petco Park Baseball Stadium in the east the Trolley tracks of the Green Line in the west used to be San Diego´s Chinatown and is today the Asian Pacific Historical District.

On Saturday, 29th of April, the WVP Explorers Club went to explore this part of our Finest City, starting out at the Chinese Historical Museum on the corner of J Street and Third Avenue. Before exploring the quarter´s streets our tour guide Yen Tu (Interim Executive Director, Chinese Historical Museum) gave us astonishing information about the quarter´s history inside the museum walls. Our group was more than surprised to find out that the museum building has not always been at today´s location. In the 1990s the entire building was moved from the corner of 13th and F to this location. The building was originally a Christian mission and school of the former Chinatown. Today the building teaches visitors about the quarter´s history with help of old photographs, dioramas, furniture, everyday objects and art.

Out on the streets our group had problems to detect a lot of signs of the former population anymore at first. It's past is not readily visible. "You have to look up to see it," explained Yen Tu to the members of the WVP Explorers Club during the walking tour. And it is true; many of the buildings' second stories show Asian ornamentation and colors.
Third Avenue is one of three main streets in the quarter, Fourth and Fifth Avenue being the other two. Still today Third Avenue can be seen as the "Chinese Street". Already the street´s entrance J Street and Third Avenue is marked with two Chinese stone lions. After old traditions the stone lions are supposed to keep evil out. When you have a closer look, there are even more signs of Third Avenue's Chinese heritage. The Chinese Benevolent Association is a few doors down from the museum. The Benevolent Association helped immigrant Chinese to cope with life in America. By introducing their own insurance and regulatory system the association was an important authority inside the quarter; now, after a long history, the association has decided to terminate their activities in 2018. Another Chinese artifact can be found at the corner of Third and Market Street. Alongside the façade of Hostel on 3rd a colorful mural depicts a typical Chinese dragon. The mural used to be hidden in a narrow gap between two old buildings, but is now proudly presented to the public.
Taking a right into Market Street our tour passed Fourth Avenue, which used to be occupied mostly by Japanese people; the next side street, Fifth Avenue, was home to many people from the Philippines. Today Fifth Avenue is lined with restaurants and bars from a verity of cultures; and again the interested eye has to look for hidden details to make out the Asian architecture in between the modern gastronomy and nightlife. The facades of the Havana 1920 restaurant with its corniced roof and The Fields Irish pub with its green and white tiles are just two examples. Taking a right at J Street we made our way back to the Chinese Historical Museum where we found one more treasure. At the end of our tour Yen Tu introduced us to the museum´s very own Chinese garden in the back of the museum. The light backyard hosts a small Koi Pond and free Tai Chi classes on Saturdays. It is a quiet oasis surrounded by Asian cultural history and modern hustle and bustle.

If you are interested in exploring the Chinese Historical Quarter yourself, you can join one of the free walking tours offered by the museum twice a month. Find more information on the museum's website: www.sdchm.org


Getting Our Culture On in San Diego!
It Never Rains in Southern California?
April 24, 2018 - Magdalena Buchwald

For three weeks in March, I had friends from my home country, Germany, visiting me here in San Diego. For the past four years, Estella and her boyfriend Marius have visited me wherever I'm living— here in San Diego; in Bergen, Norway; in Köln, Germany; and even at my parents´ house in Bavaria. But this was Estella´s first time in the U.S. and her first time visiting anywhere outside of Europe.

I thought it would make an interesting experiment to compare her expectations of what the American culture is like with her actual experiences.

Culture is something most of us follow unconsciously. By spending time in other cultures, unwritten rules often surface. Now, I would say that America and Europe are two very familiar cultures. We Europeans think we know The United States oh so well, as the American pop culture is a part of modern European culture. Since I came here, I've heard a lot of "All your friends in Europe probably think we are all about New York, Mickey Mouse and Hollywood." And in some ways this is true, as it is the prominent picture painted by popular media.

But since I moved to San Diego in October of 2017, I have gained a more intimate picture of what American culture is all about. And I am still learning. For one, I understand well that San Diego is not representative of the whole United States. This is also one of the first things Estella and Marius noticed. For example, there is a common notion that the whole of America has an obesity problem. So my friends expected fast food around every corner and massive soda cups at 7/11. But they didn´t find this in San Diego. "See, there is another jogger", was their observation on our way to Grand Ole BBQ & Asada in North Park, where we were going to enjoy what we believe to be very American - a proper barbecue.

Another thing that they considered to be especially American is going to the mall. Malls are where kids in Hollywood movies meet (e.g. Clueless - after all Estella and me grew up in the 90's). Before arriving in San Diego, my friend asked me if we could go shopping while she´s here —"To a proper American mall." Most of the mainstream brands that people worship in Germany—such as Levi´s, Nike, Abercrombie & Fitch—are American brands. (Funnily, you can visit a Levi Strauss museum close to where I grew up in Germany, as the founder grew up there). In the end it was exactly these brands, which you can purchase in Germany, that my friends happily bought at the outlet stores in Barstow.

During the three weeks of their visit there was so much more to explore than shopping malls. Experiencing food and drinks is a huge part of international travel. To the surprise of Estella and Marius, the cuisine around San Diego had so much more to offer than fast-food chains and burger joints. Microbreweries everywhere tempted our party with the local IPAs. Undeniably delicious, these modern brews sparked up a lot of conversation—especially compared to the hundreds-of-years-old brews from Germany.

The wide range of international food of San Diego inspired them, too. Of course hamburgers, corn dogs and cherry pie got their chance, but we also went for Taco Tuesday in Barrio Logan, homemade pasta in Little Italy and ramen in North Park. Such a wide selection of cuisine is not the norm in Germany—except perhaps in Berlin.

But there was still one thing that surprised them the most: the weather. On a gray and rainy day in Germany, you might dream yourself away to sunny Southern California. During the three weeks of their visit, though, it actually rained several times. Just as the European songwriter Albert Hammond describes in his song "It never rains in Southern California", my friends, as well as I, have believed this San Diego to be just a place for hot pants, surfing and lying on the beach all day. But we soon learned that indeed "it pours, man it pours," every now and then, in Southern California.


Here are the upcoming Explorer Club outings:

(Posted 4/13/18)





Tuesday, April 24th - 8:40 PM: ULAM - Main Dish showing @ the Asian Film Festival ($ 9). Please let us know by April 16th (next Monday)



Synopsis: In this delicious new documentary, Filipino-American filmmaker Alexandra Cuerdo follows the rise of Filipino food via the award-winning chefs crossing over to the center of the American table. ULAM: Main Dish stages this new culinary movement as not only a remarkable achievement for American restaurateurs, but also as a validation of Filipino culture. The film confronts issues inherent in representing both Filipino and American identity, and challenges from both the Filipino community and the world at large. Ultimately, ULAM is a celebration - and confirmation - that Filipino food, and Filipinos, are here to stay.

Check out the trailer here: www.youtube.com/watch?v=AI1x9oWU-Q0>



Sunday, April 29th, 11:00 am: Chinese Historical Museum & Walking Tour through the Asian Pacific Historic District ($10)
 https://www.sdchm.org



Saturday, May 12th, 4:00 pm: Barrio Logan Art Crawl in with Walking Tour of the Murals at Chicano Park (FREE)
 www.loganavenueconsortium.com




Please only click on the RSVP buttons if you are planning to attend that particular event!
The Cultural Explorers Club Goes to the Movies!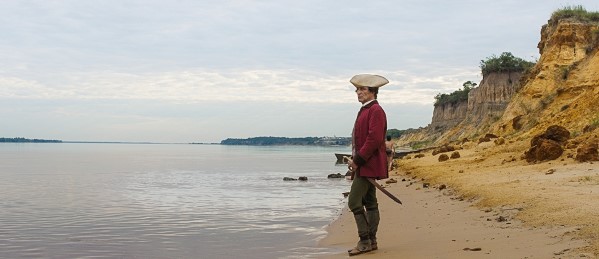 March 26, 2018 - T. Johnston-O'Neill

Over the weekend the Worldview Project Cultural Explorers Club attended the San Diego Latino Film Festival screening on the Argentinean film Zama. The film is based on a book of the same name that is considered a classic in Spanish literatureSet in the late 1700's in what is today Paraguay, the plot is rather simple. Don Diego de Zama is a lower level official in the Spanish colonial enterprise that simply longs to transfer to a more pleasant situation in Lerma Spain. To say this wish is frustrated is an understatement as the manipulative outgoing governor and seemingly everyone and everything else conspires to thwart Zama. I'm not sure when was the last time I've seen a film in which the cinematography so closely reflects the inner states of the characters and the contours of the action as Zama does. The film starts out with the shot shown on the movie posters of Zama looking out over a vast river, the camera is static and the shot is long, without any words spoken we are clued into Zama's longing to be anywhere but where he is. The scene then shifts to a labyrinth of interior shots that are almost frantic as the camera moves in and out of catastrophic spaces where every encounter is a negotiation in which no one understands what the rules are. Playfully the wigs worn by the colonists show the ever present tension between a festishized civilization set against wildness. Between the ill-fitting and dingy wigs of the officials to the extravagantly overwrought ladies wigs, the hairpieces seem utterly absurd, anachronistic and wholly out of place. Vestiges of a dream of splendor unrealized. The movie is, in turns, shocking, sympathetic, cruel, compassionate, languid, lustful, tender, tragic, violent (but not explicitly), perplexing, challenging, and darkly humorous. The wigs (and later indigenous masks) also reflects the perils of identity that seemingly all the characters suffer. No one is quite the person they appear to be and some might not exist at all. In the end, after an incredible string of suffering and humiliation, Don Diego de Zama hangs in there, almost as if he is driven by a macabre desire to see what happens next. So do we.

I must say that I was concerned how the 14 members of the Explorer's Club (and the Book Club) would make of the movies. I was fully prepared for a negative reaction considering how strange the film was. The loved it. Most of us met afterwards in the food court to discuss the film. People were immensely moved by the complexity of cross-cultural relations depicted in the films. The horrors of colonialism are clearly evident in the film, but the film really brought everything down to interpersonal relations. Club members also commented on the fluidity of identities in the film. Everyone was impressed by the cinematography and more than one mentioned how well fitting it was to the situational and psychological drama.

Moisés Esparza, who leads the team that selects the films for the festival, introduced Zama. He gave a very eloquent shout out to the Worldview Project and their support. We are honored to do so, and really the longing starts today for next year's Latino Festival!





Indian Ragas Meet the Blues

March 8, 2018 - T. Johnston-O'Neill
Had a grand time at the Sheela Bringi concert at the Encinitas Library last weekend. Vocalist/Harp player Sheela was joined by Clinton Patterson on guitar and trumpet, San Diegan Mile Shrewsbery on tabla and cajon, and Brent Kuecker on bass and harmonium. Worldview Project board members, volunteers and a few from the new Explorer's club attended and helped out. The show was a sell out (way to go Monica!) and a musical delight. Fusion music can be less than stellar with groups that dabble, but Sheela and Miles have years of training in Indian classical music so they are far more adept at blending the old with the new in music. Clinton Pattern's guitar work was nothing short of fantastic melding Indian musical ideas with southern blues. It's hard to imagine how that could work but it really does. Sheela was born to Indian parents in Colorado but she has spent considerable time studying with Indian classical vocal and instrumental gurus and it shows. Interestingly enough her main instrument (she also played the harmonium and bansuri flute) is an Irish Harp, re-purposed to play lyrical and meditational ragas. Her voice was delightfully mellifluous but she also performed numbers that exhibited a goodly amount of vocal staccato calisthenics. The concert is part of the ongoing Center for their Passport to Worlds of Music series. As a board member of that organization I'm honored to help out (I do the sound work)and I hope Participant Observer readers can catch one of the remaining concerts in the series. The next one features music from Finland!
Keep informed about San Diego Events!
Sign-up for our weekly Eblast by clicking here:
Sign Me Up!
Today's Date
IN PRINT SINCE 2006
Music From Everywhere!

Published By:
Our Staff
Section Editors, Writers and Contributors: Sharon Payne, Maura Fox, Dolores Donovan, Edwin Ching, Liam Fox, Azusa Shoji
Copy Editing: Eric Goldman
Associate Editors: Erin Golackson, Christa Parish
Photography: Carlo Toribio,
Editor in Chief: Tom Johnston-O'Neill
Join Our Team!