Calendar
<
January, 2019
>
Coming Soon...
Sunday, Jan 20
All Day
Ongoing and Extended Events
9:55 AM
Film: Bolshoi Ballet's La Bayadere
10:00 AM
Tu B'shvat Festival
11:00 AM
San Diego Travel & Adventure Show
12:55 PM
Film: Bolshoi Ballet's La Bayadere
2:00 PM
Rafael 'Fallo' Mareyna Art Reception
2:00 PM
Stage: Becoming Dr. Ruth
2:00 PM
Stage: And Then There Were None
4:00 PM
Indian Cultural Art Showcase
7:00 PM
Cinema Under the Stars: Casablanca
Monday, Jan 21
All Day
Ongoing and Extended Events
12:00 PM
30th Martin Luther King Day Celebration
1:00 PM
Film & Discussion: MLK: The Assassination Tapes
2:00 PM
39th Annual Martin Luther King Day Parade
7:30 PM
Lecture: Leonardo - Tracing the Arc of the Renaissance
Tuesday, Jan 22
All Day
Ongoing and Extended Events
6:00 PM
Film: I Am Not Your Negro
7:00 PM
Film: Bolshoi Ballet's La Bayadere
7:30 PM
Cuban Dance Series Workshops
Wednesday, Jan 23
All Day
Ongoing and Extended Events
2:00 AM
#ChinaToo: The Feminist Awakening in the People's Republic
6:00 PM
Dinner & Talk: Native Voices - Steve Newcomb
8:00 PM
Music: Celso Piña
Thursday, Jan 24
All Day
Ongoing and Extended Events
5:00 PM
Talk: Vladimir Vysotsky, a Russian Cultural Legend
6:30 PM
Kumeyaay Talks: Blood of the Band
7:00 PM
Stage: Aubergine
7:00 PM
Film: Lasciati Andare (Let Yourself Go!)
7:30 PM
Stage: Becoming Dr. Ruth
Friday, Jan 25
All Day
Ongoing and Extended Events
3:00 PM
Talk: From a Rural Village in Mexico to Global Social Impact
7:30 PM
Lecture: Leonardo - Tracing the Arc of the Renaissance
7:30 PM
Stage: Becoming Dr. Ruth
8:00 PM
Music: Ozomatli, Cut Chemist, Chali 2na
8:00 PM
Stage: Aubergine
8:00 PM
Stage: And Then There Were None
Saturday, Jan 26
All Day
Ongoing and Extended Events
2:00 PM
Stage: Becoming Dr. Ruth
7:00 PM
An Evening of Middle Eastern Classical Music
7:30 PM
Stage: Becoming Dr. Ruth
8:00 PM
Stage: Aubergine
8:00 PM
Stage: And Then There Were None
9:00 PM
Stage: Familiar
Sunday, Jan 27
All Day
Ongoing and Extended Events
2:00 PM
Stage: Becoming Dr. Ruth
2:00 PM
Stage: And Then There Were None
7:00 PM
Stage: Aubergine
Monday, Jan 28
All Day
Ongoing and Extended Events
Tuesday, Jan 29
All Day
Ongoing and Extended Events
7:00 PM
Stage: Familiar
7:00 PM
Stage: Aubergine
7:30 PM
Cuban Dance Series Workshops
Wednesday, Jan 30
All Day
Ongoing and Extended Events
7:00 PM
Stage: Aubergine
7:00 PM
Stage: Familiar
8:00 PM
Beijing Dance Theater
Thursday, Jan 31
All Day
Ongoing and Extended Events
7:00 PM
San Diego Black Film Festival
7:00 PM
Stage: Aubergine
7:30 PM
Stage: Becoming Dr. Ruth
Friday, Feb 1
All Day
Ongoing and Extended Events
5:00 PM
San Diego Black Film Festival
7:30 PM
Stage: Becoming Dr. Ruth
8:00 PM
Stage: Aubergine
8:00 PM
Stage: And Then There Were None
Saturday, Feb 2
All Day
Ongoing and Extended Events
2:00 PM
Stage: Becoming Dr. Ruth
4:00 PM
San Diego Black Film Festival
7:30 PM
Stage: Becoming Dr. Ruth
8:00 PM
Stage: Aubergine
8:00 PM
Stage: And Then There Were None
| | |
| --- | --- |
| | The Convoy Corridor, in Kearny Mesa, nestled in between the 805, 52 and 163 freeways, is home to more than 200 Asian-American owned businesses. Though known to many in San Diego as the place to go to fulfill cravings for authentic Korean and Chinese (and Japanese and Thai and Vietnamese . . .) food, this area includes a variety of cultural and entertainment offerings appealing and open to all. |

by Sarah Lee Cover
Most people know about the plethora of Asian restaurants in the Convoy area, but there are many more cultural delights awaiting the curious. Here's a rundown of many of the culturally infused businesses and places of interest. Looking for something unusual or a hard-to-find ingredient for that special recipe? Want to sing karaoke until late in the evening? Want to try acupuncture for that aching back or get a soothing foot massage? Then Convoy Street is the place to go!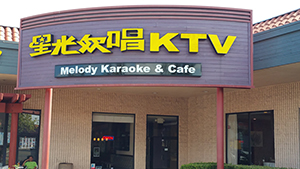 Foot Massage: On Convoy street you can get full body massages for around $40. Those same parlors offer hour-long foot massages for $20, which may seem expensive, but the secret is this: you are actually paying $20 for a full-body massage, practically the same one you would get for $40. When I went in for my first foot massage I was confused, then surprised, then giddy over such an inexpensive way to unwind and relax. Before you go, be aware that the majority of massage parlors on Convoy (and around San Diego) require payment in advance of services. A number of Yelp reviewers claim that parlors also demand a tip in advance, but this has never happened to me. However, if you should encounter this, either calmly explain you will tip after the massage, or go ahead and hand over an extra $5. The point of the massage is to relax, so why stress yourself out over something trivial?

Acupuncture: If a deep-tissue or foot massage are not enough to ease your pains, then acupuncture may be worth a try. Developed in China approximately 2000 years ago, acupuncture has since spread, embraced and incorporated into the medical practices of several countries, including Korea, Japan, Vietnam and, of course, the United States. Though the Convoy District offers a large selection of acupuncture clinics, the majority are similar in that they practice Chinese Herbal Medicine, which includes the use of medicinal herbs in conjunction with acupuncture to treat a variety of health conditions ranging from chronic pain to rheumatoid arthritis to fertility problems. Eileen Han, Miracle Acupuncture and Herbs, Lingee Tong Acupuncture Clinic, Silver Sage Acupuncture, Sustain Community Acupuncture are a few of the clinics available. All are accredited and have excellent reviews, though while many take insurance, others are cash or check only. As with any search for a doctor or therapist, take the time to do a bit of research; then enjoy the relief acupuncture therapy can bring.

Karaoke: Ever wanted to participate in karaoke with your friends without the embarrassment or off-key strangers in the mix? Convoy has several karaoke bars that offer private rooms where you and your friends can sing to your heart's delight in a variety of languages. Karaoke 101 provides English, Mandarin, Cantonese and Tawainese songs. At Chorus Karaoke, your private room comes with an oversized couch and a disco ball. Sit back with some Hello Kitty wine and sing along to rock, pop or anime songs in English or Korean. If dinner and music is more your style, there is Mon Sok Chon, where you can order from a full dinner menu as well as rent a room for some singing. And finally, Melody Karaoke offers songs in English, Cantonese and Korean, provides complimentary tea and sodas, and is BYOB—definitely the most budget-friendly choice. Regardless of which spot you choose, you are in for a memorable night.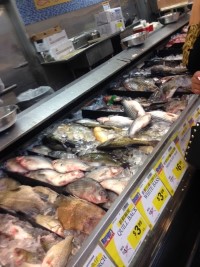 Grocery Stores: Perhaps Convoy's greatest resources hidden in plain sight are the grocery stores. 99 Ranch Market is the largest Asian supermarket chain on the West Coast and one of the largest in the United States. 99 Ranch provides a vast variety of Chinese, Japanese, Thai and Indonesian foods, in addition to fresh fruits and vegetables, meats and fish. It is great fun to merely walk through the aisles, browsing through exotic foods you did not even know existed. If you are able to visit the store in the morning during weekdays you will be lucky enough to find fresh tofu, still warm from the pressing. Close to 99 Ranch market is Zion Market, San Diego's original Korean supermarket. First opened in 1979 in a humble 3,000 square foot space, Zion moved to where the K-Mart was located on Clairemont Mesa Blvd. The new market is over 32,500 square feet filled with fresh produce, fish, Korean and Japanese imports, and every ingredient to assemble the perfect banchan (side dishes) for your Korean barbecue. And while 99 Ranch and Zion are both grocery stores, inside each complex you will find a collection of other unique mini-markets offering herbs, kitchen appliances, travel agencies, trinkets, and clothes to outfit your K-Pop fancy. Both 99 Ranch and Zion have several small restaurants and food courts selling Chinese, Korean and Vietnamese soups, noodles and rice dishes.

On the other side of the Convoy district, near the 163, is the Marukai Market, which consists of three separate stores: Marukai Market (groceries, plus fresh sushi, bento boxes and poke), Marukai Living (bath & beauty, kitchen supplies), and Marukai Value. At Marukai Value, you will find a vast array of Sanrio products, including an entire wall of benignly smiling, overly-large stuffed animals, fun and funky gadgets to outfit your car, anime collectibles, plus an entire section devoted to Japanese snacks. (Dried squid, anyone?) Look to your right once you enter Marukai Living to see an entire wall of colorful chopsticks; then continue browsing through the selection of beautiful pottery, rice cookers, water heaters, mini charcoal grills, as well as a myriad of Japanese bath products. It's almost impossible to leave empty-handed!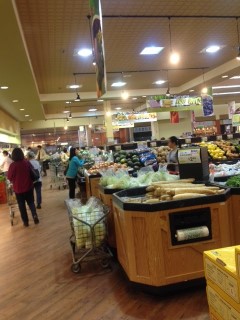 If this isn't enough to fill your Saturday afternoon, you can go to Mitsuwa Marketplace and visit Japan without leaving San Diego. The aisles are filled with a myriad of Japanese specialties, including miso pastes, kombu strips, burdock root, buckwheat noodles, a variety of spices, a whole section for tsukemono pickles, and Japanese sauces and spices. The vegetables are always incredibly fresh. In addition to groceries, there are small restaurants offering authentic Japanese lunch items and one shop that specializes in pickles. There are also sections of the store where you can buy Japanese pottery and household items.

Not far from Convoy Street (on Balboa), you will find the Balboa International Market. Looking for a certain spice to make middle-eastern kabobs or wondering where you can find a specialty items such as saffron or walnut oil that cost less than a day's pay? Then Balboa International Market is the place to go, offering the largest selection of Persian, Middle Eastern, Indian and even South African grocery items. You'll also find a deli for meats, cheeses and fresh specialty items such as dolmas. It's a great place to eat lunch or dinner, and you can buy kabob plates with basmati rice that may include barberries, lentils, sour cherries, dates, raisins, almonds, orange zest, and savory spices to delight the palate. There is also a bakery where you can buy fresh daily flat breads such as sangat, mashadi, Persian sweet bread and more.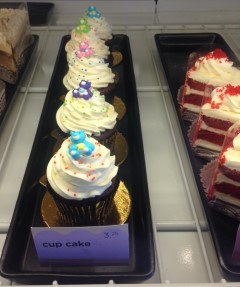 Bakeries: In addition to Zion Market, which is home to the Paris Baguette, a beautiful and deliciously indulgent patisserie, there are several standout bakeries in the Convoy District. Close your eyes and breathe in the delicious air at Big Joy Bakery; then head straight for the macaroons. Crunchy, chewy and slightly sweet, they make the perfect mid-day bites. If you like your sweets a little on the subtle side, try the tiramisu or soufflé at Sage French Cake. Bakeries are not limited to sweets, of course: dumplings and rice cake are freshly prepared at the family-operated Manna Rice Factory, while Tasty Bakery offers both steamed and baked pork buns and a variety of breads; the pandan cake is also tasty.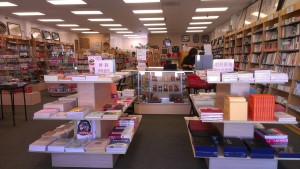 Bookstores: The Xinjua bookstore chain is owned by the Chinese Government (yes, really!) and San Diego is lucky to house one of the few overseas branches (the others being in New York City and London). Located behind the 99 Ranch Market grocery store, this beautiful store not only has books for enjoyment (mainly in Mandarin and Cantonese, though there is a small collection in English), but also instructional materials and DVDs for language learners. In addition, Xinhua sells calligraphy materials such as bamboo brushes, ink and rice paper, which you can then put to use at the calligraphy classes offered on Sundays and Mondays. Another bookstore,the Elite Bookstore, more modest in size that Xinjua, is located in the row of shops behind Ranch 99. It's offering are mostly, but not exclusively, Chinese and they also have a considerable number of Chinese movies on DVD.
| | |
| --- | --- |
| | So next time you are visiting RakiRaki for an order of tsukemen or Jasmine for some dim sum, take the time to walk or drive around and see what Convoy Street has to offer. Perhaps a bit of pampering at one the many fantastic nails salons? Or explore the possibilities of automotive enhancement at a specialty auto shop? What you find will surprise and delight you, and the Convoy District might become one of your favorite places to take your friends for a great time. Did we miss your favorite spot? Let us know in the comment section below. |
Keep informed about San Diego Events!
Sign-up for our weekly Eblast by clicking here:
Sign Me Up!
Today's Date
IN PRINT SINCE 2006
Music From Everywhere!

Published By:
Our Staff
Section Editors, Writers and Contributors: Sharon Payne, Maura Fox, Dolores Donovan, Edwin Ching, Liam Fox, Ana Alvarez
Copy Editing: Deb McKenty, Spanish Translations: Ana Alvarez, Programming: Hera Siddiqui
Associate Editors: Erin Golackson, Christa Parish
Photography: Carlo Toribio,
Editor in Chief: Tom Johnston-O'Neill
Join Our Team!