Published By:
Calendar
<
May, 2021
>

Recommended
Coming Soon...

Ongoing/Extended Events

Click to View

Monday, May 10
1:00 PM
Talk Understanding the Context for Asian Americans in Higher Education
Wednesday, May 12
4:00 PM
Book Talk: Things We Lost to the Water
8:00 PM
Baja Laughs Comedy Night
Thursday, May 13
4:00 PM
Talk: the Fall and Rise of U.S.-China Policy Uncertainty
6:30 PM
Talk: India in South Asia: Fraught Regional Relationships
Friday, May 14
12:00 PM
iCafé – Your Passport to Culture!
12:00 PM
San Diego International Shorts Fest
8:00 PM
Film: Moulin Rouge!
8:00 PM
Film: Judas and the Black Messiah
Saturday, May 15
10:00 AM
Talk: Archaeological Findings in San Diego Chinatown
10:30 AM
Music: Sonia De Los Santos
12:00 PM
San Diego International Shorts Fest
4:00 PM
Italy's South and North: Exploring History, Gaps and Misconceptions
8:00 PM
Film: Judas and the Black Messiah
Sunday, May 16
12:00 PM
Tinaguis de la Raza Crafters Market
12:00 PM
San Diego International Shorts Fest
4:00 PM
Haydn Voyages: Music at the Maritime, Paths Converge
8:00 PM
Film: Judas and the Black Messiah
Tuesday, May 18
11:00 AM
Talk: Vaccine Diplomacy
3:00 PM
Talk: Race & Indigeneity in Oceania
4:30 PM
Japan Zoominar: Through a Transnational Lens: Japan and the World
Wednesday, May 19
11:00 AM
Talk: Memory & Refuge(eness): on Southeast Asian Identities & War
3:30 PM
Showing up for our AAPI Community: the Bystander Challenge
Thursday, May 20
6:00 PM
Italian Film: Shooting the Mafia
Friday, May 21
12:00 PM
iCafé – Your Passport to Culture!
Saturday, May 22
6:00 PM
Talk: Gregorio Luke on Rufino Tamayo
7:00 PM
Exhibition: Gerardo Meza's Imaginarium
Sunday, May 23
2:00 PM
Music: The Romeros Quartet
| | |
| --- | --- |
| | A stone's throw from the Gaslamp Quarter, on the corner of 3rd Avenue and J Street, lies the San Diego Chinese Historical Museum. The museum offers San Diegans an artifactual, pictorial and interactive look into the history of San Diego's Chinese-American inhabitants. Admission is an affordable $2. The museum features numerous cultural, historical and artistic displays as well as regularly held educational programs for children and adults. For a small extra fee the museum also offers docent-lead tours of the permanent collection and featured exhibits as well as tours of the remnants of San Diego's former Chinatown. |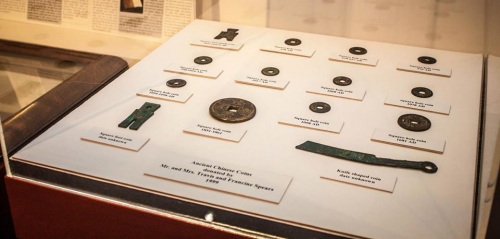 Ancient Chinese Coins
When you pass through the front doors of the Chinese Historical Museum, the sheer abundance of artifacts makes the museum appear smaller than it actually is. A portrait of Chinatown's legendary honorary mayor at the turn of the twentieth century, Ah Quin, hangs on the left wall, watching over the exhibits with a paternal gaze. Much of the museum is devoted to rather large examples of household furnishings from days gone by including an elaborately carved alcove bed from Sichuan Province and an exquisitely decorated bridal carriage from Shanxi Province. Scale models of an early Chinese fishing village situated on the San Diego bay along with replicas of fishing boats known as junks offer visitors a three-dimensional look into the life and livelihood of early Chinese immigrants. Among these larger displays are numerous black and white photographs that take museum goers back to a time when the area was known as Stingaree (a synonym for Stingray). The museum host a generous number of displays of Chinese pottery, old Chinese coins and paper money, statues life size and smaller, paintings, carvings, everyday household and commercial items, U.S. military memerobilia, craft and artwork, and even old Chinese lottery equipment. Outside in the museum garden you will find lovely greenery, a koi pond and a waterfall; a perfect place to enjoy some peace and quiet downtown. On the way out, you can stop at the gift counter where you can purchase a wide variety of memerobilia old and new.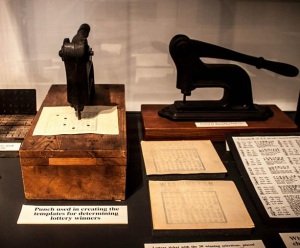 Lottery Punch and Cards
For a considerable expanse of San Diego history, the Stingaree was a dangerous neighborhood notorious for its crime, drugs and prostitution. How it became so had a great deal to do with the disruption of Chinese life due to political and economic conditions. Rising anti-Chinese sentiment after the gold rush and transcontinental railway (built largely with Chinese immigrant labor) made it difficult for Chinese in San Diego to find legitimate employment or ply their maritime trade as they had done for many decades in San Diego. Chinese fishing included harvested abalone, squid and shellfish, but these items did not suit the American palate of the time so business-savvy Chinese-American fishermen sought more profitable markets in China. Citizenship was officially denied to Chinese. The Chinese Exclusion Act of 1882 barred the Chinese fishermen from re-entering the United States if their boats strayed outside of U.S. territorial waters. The Anti-Chinese Club in San Diego endeavored to bully employers into firing or not hiring Chinese workers if white workers wanted their job. Statewide, a group calling themselves the Supreme Order of Caucasians sought to forcibly repatriate Chinese back to China. Due to such pressure, the San Diego Water Company fired all their Chinese employees.

With the Exclusion Act, Chinese in San Diego were largely prevented from continuing their previous livelihoods and many turned toward alternative economic opportunities. Soon opium dens, brothels and gambling houses littered the Stingaree District. The Chinese were not alone in these shady pursuits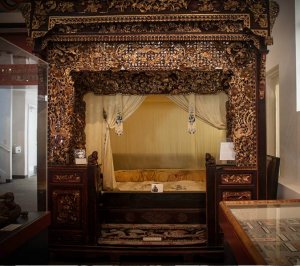 Exquisitely Carved Bed
At this time in San Diego, indeed throughout the West, anti-vice laws were largely unenforced and police rarely entered the Stingaree. But the area was not entirely lawless as former health inspector Walter Bellon wrote: "Chinatown did not need protection, nor the waterfront. They had their own code of ethics. Hoodlums and bouncers were everywhere, keeping an eye out for anyone who might mean trouble."

At first, ignored by government officials and the police, illicit goings-on were targeted by certain churches and their followers. The San Diego Purity League sought to have all the illicit houses closed down but the city government ignored the demand. However, in light of the upcoming World Exhibition in 1915 in Balboa Park, city officials were more compliant with demands of the Purity League and in November of 1912 a judge ruled that prostitutes in Stingaree should "leave town forthwith and never return." One hundred and thirty-eight prostitutes were arrested and after a stern lecture from the Purity League, boarded a train to Los Angeles.

It was a short-lived victory for the League as many of the women returned in a week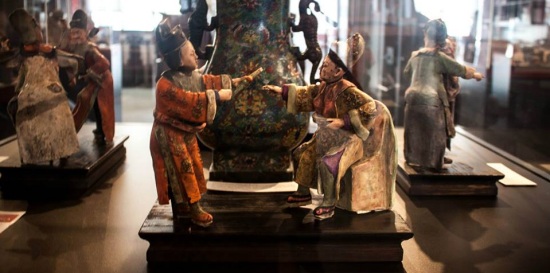 Chinese Painted Figurines in Action
The building that houses the Chinese Historical Museum has a notable history related to the develop of relations between Chinese of Stingaree and the wider community . In 1885 a young Chinese man named Lee Hong partnered with the American Home Missionary Association to establish the Chinese Mission School where attendees could take both religious and English language courses. Located at the corner of 13th and F, the Mission School was a fair distance from the Stingaree, so in 1901 the school was moved to 1st Street between Market and G. At the time of the move, dormitories for Chinese (mainly Chinese men) Subsequently, the Chinese Mission School opened a Sunday school for Chinese children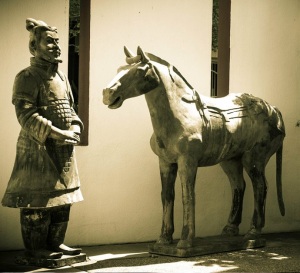 Man and Horse Statues
The Chinese Historical Museum and the history it embraces is one of the underappreciated cultural treasures of San Diego. Today the area is far from the bustling and colorful neighborhood that it once was. Chinese businesses and residents not longer inhabit the old Stingaree, but their history does at the Chinese History Museum. Considering the museum
Keep informed about San Diego Events!
Sign-up for our weekly Eblast by clicking here:
Sign Me Up!
Today's Date
IN PRINT SINCE 2006
Music From Everywhere!

Orgs and Causes in San Diego
Join Our Team!