Published By:
Calendar
<
April, 2021
>

Recommended
Coming Soon...

Ongoing/Extended Events

Click to View

Tuesday, Apr 20
4:30 PM
Zoominar: Abenomics and the Japanese Economy
6:30 PM
Talk: Myanmar: Development, Democracy, and Despair
Wednesday, Apr 21
12:00 PM
Poetry Reading with Kazim Ali
4:00 PM
Book Talk: Yellow Wife
7:00 PM
Shakespeare Trivia Night
Thursday, Apr 22
12:30 PM
3 Italian Films
6:30 PM
2021 Women PeaceMakers Event
Friday, Apr 23
10:00 AM
Virtual Tour of Umbria, Italy
12:00 PM
iCafé – Your Passport to Culture!
4:00 PM
The Shadow of El Centro: a History of Migrant Incarceration and Solidarity
Saturday, Apr 24
11:00 AM
Book Talk: Kate Quinn
11:00 AM
16th Annual Student Shakespeare Festival
7:00 PM
San Diego Opera: the Barber of Seville
Tuesday, Apr 27
7:00 PM
San Diego Opera: the Barber of Seville
Wednesday, Apr 28
11:30 AM
Talk: Confronting Racism. Embracing Diversity
3:30 PM
Radicalism at the Crossroads: Black Women Activists in the Cold War
4:00 PM
Talk: the Ripple Effect of Racial Bias in the Toy Industry
6:30 PM
Film: Innocence
Thursday, Apr 29
1:00 PM
Talk: a Third Way - the Origins of China's Economic Strategy
Friday, Apr 30
10:00 AM
10th Annual International Jazz Day
12:00 PM
iCafé – Your Passport to Culture!
12:00 PM
Talk: Jillian Hernandez
7:00 PM
San Diego Opera: the Barber of Seville
Saturday, May 1
10:00 AM
Old Town Cinco de Mayo
7:00 PM
San Diego Opera: the Barber of Seville
Sunday, May 2
10:00 AM
Old Town Cinco de Mayo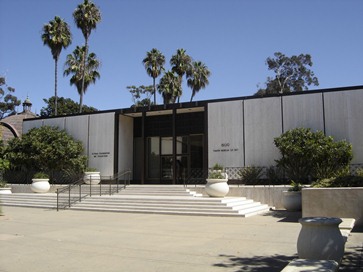 A desire to share the extraordinary European art collection of Amy and Anne Putnam with San Diego residents and visitors resulted in the establishment of the Timken Museum of Art.
The Timken Museum of Art has its roots in the serendipitous relationship between two sisters, Anne R. and Amy Putnam - members of the Ohio-based Timken family of the Timken roller bearing fame - and San Diego attorney Walter Ames.

The Putnam sisters spent decades acquiring European old master paintings. Initial paintings from the sisters' collection were donated to San Diego's Fine Arts Gallery (now the San Diego Museum of Art). Their later acquisitions were loaned to prestigious museums around the country until the Timken Museum of Art opened in 1965.

In 1951, with the assistance of longtime friend and advisor Walter Ames, the Putnam sisters established the nonprofit Putnam Foundation, under which their artworks became designated as the Putnam Foundation Collection. In the early 1960's, Ames secured financial support from the Timken family to help build the museum.
The works in the Putnam Foundation Collection are primarily in three distinct areas: European old master paintings, 18th and 19th-century American art, and Russian icons. Each collection boasts unique and priceless representations of the specific genre.

Location:
1500 El Prado
Balboa Park
San Diego, CA 92101
MAP

Hours:
Tuesday - Saturday 10:00 AM to 4:30 PM
Sunday: 1:30 PM to 4:30 PM
Closed on Mondays

Admission:
Admission is FREE

For more information please call: (619) 239-5548 or email:

[email protected]
Keep informed about San Diego Events!
Sign-up for our weekly Eblast by clicking here:
Sign Me Up!
Today's Date
IN PRINT SINCE 2006
Music From Everywhere!

Orgs and Causes in San Diego
Join Our Team!