Calendar
<
January, 2020
>

Recommended
Coming Soon...
Friday, Jan 24
All Day
Ongoing and Extended Events
11:30 AM
Lunar New Year Lion Dancing
5:00 PM
San Diego Tết Festival
5:30 PM
SDMA+ The San Diego Ballet
7:00 PM
Music: Kambiz Pakan
7:30 PM
Shen Yun Chinese Music and Dance
8:00 PM
Stage: The Great Leap
8:00 PM
Stage: Bloomsday
8:00 PM
Stage: Italian American Reconciliation
9:00 PM
Music: Railroad Earth
10:30 PM
San Diego Midnight Lion Dance Show 2020
Saturday, Jan 25
All Day
Ongoing and Extended Events
10:00 AM
San Diego Tết Festival
10:00 AM
Lunar New Year at SeaWorld
11:00 AM
2nd Annual Australia Day
11:00 AM
Balboa Park Chinese New Year Festival
1:00 PM
Maki Ishiwata Workshop
1:00 PM
Discussion: No Human Being is Illegal
2:00 PM
Talk: A Child's POV of the Nazis
2:00 PM
Shen Yun Chinese Music and Dance
2:00 PM
Stage: Bloomsday
3:00 PM
Stage: The Great Leap
5:30 PM
Celebration: Chinese Lunar New Year Banquet 2020
6:00 PM
Year of the Rat Art Show
6:30 PM
Dance: Lakshmi Basile
6:30 PM
Music: Matrida Umoja Band
7:00 PM
Dance: Zikr With Whirling Dervishes
8:00 PM
Music: Railroad Earth
8:00 PM
Stage: Bloomsday
8:00 PM
Stage: Mama Mia!
8:00 PM
Stage: Italian American Reconciliation
8:00 PM
Stage: The Great Leap
10:00 PM
International Student Festival
Sunday, Jan 26
All Day
Ongoing and Extended Events
10:00 AM
Lunar New Year at SeaWorld
11:00 AM
San Diego Tết Festival
11:00 AM
Balboa Park Chinese New Year Festival
12:00 PM
Hands On Kimchi Workshop
12:00 PM
Stage: Mama Mia!
1:00 PM
Maki Ishiwata Workshop 2
1:00 PM
Voices Of Hope: Survivors Of The Holocaust Share Their Stories
2:00 PM
Stage: The Great Leap
2:00 PM
Stage: Bloomsday
2:00 PM
Stage: Italian American Reconciliation
2:00 PM
Shen Yun Chinese Music and Dance
3:30 PM
Stage: Mama Mia!
3:30 PM
Indian Cultural Art Showcase
7:00 PM
Django JazzFest
7:00 PM
Stage: Bloomsday
Monday, Jan 27
All Day
Ongoing and Extended Events
6:00 PM
Middle-Eastern Drum Class
Tuesday, Jan 28
All Day
Ongoing and Extended Events
6:30 PM
Talk: Symbols Of The French Language
7:30 PM
Book Signing: Yangsze Choo
Wednesday, Jan 29
All Day
Ongoing and Extended Events
11:00 AM
Poetry for the People: African Americans
7:30 PM
Music: Lerner-Moguilevsky Duo
7:30 PM
Stage: The Great Leap
Thursday, Jan 30
All Day
Ongoing and Extended Events
6:00 PM
Cine En Sherman & Humano Film Festival
6:30 PM
Sushi Making Class
7:00 PM
Italian Film: Maccheroni
7:00 PM
South Korean Pop Supergroup: SuperM
7:00 PM
Book: Between Two Fires
7:00 PM
Human Rights Film Festival
7:30 PM
Stage: The Great Leap
8:00 PM
Music: Sergio Mendes
8:00 PM
Stage: Bloomsday
Friday, Jan 31
All Day
Ongoing and Extended Events
3:00 PM
Bojo's Place: A Musical Revue
7:00 PM
Book Signing: Isabel Allende
7:00 PM
Music: Kimba Light
7:00 PM
Human Rights Film Festival
8:00 PM
Bojo's Place: A Musical Revue
8:00 PM
Stage: Bloomsday
8:00 PM
Stage: Italian American Reconciliation
8:00 PM
Stage: The Great Leap
Saturday, Feb 1
All Day
Ongoing and Extended Events
10:00 AM
6th Annual Cuyamaca College POWWOW
10:00 AM
Lunar New Year at SeaWorld
12:00 PM
Human Rights Film Festival
2:00 PM
Music: Ozokidz
2:00 PM
Staged Reading: Hand Under Hand
2:00 PM
Stage: Bloomsday
2:30 PM
DIY Miso Making Workshop
3:00 PM
Stage: The Great Leap
7:00 PM
Italian Film: The Girl in the Fog (La Ragazza Nella Nebbia)
7:15 PM
Viennese Nights: A Grand Victorian Ball
7:30 PM
Ludmila Peterkova String Quartet
8:00 PM
Stage: Bloomsday
8:00 PM
Stage: Italian American Reconciliation
8:00 PM
Stage: The Great Leap
9:00 PM
Comedy: Mike Salazar
Sunday, Feb 2
All Day
Ongoing and Extended Events
10:00 AM
Lunar New Year at SeaWorld
2:00 PM
Stage: Italian American Reconciliation
2:00 PM
Stage: Bloomsday
3:00 PM
Bojo's Place: A Musical Revue
7:00 PM
Ethnic Heritage Ensemble
7:00 PM
Stage: Bloomsday
Monday, Feb 3
All Day
Ongoing and Extended Events
6:00 PM
Middle-Eastern Drum Class
Tuesday, Feb 4
All Day
Ongoing and Extended Events
Wednesday, Feb 5
All Day
Ongoing and Extended Events
11:00 AM
Poetry for the People: African Americans
7:30 PM
Stage: The Great Leap
Thursday, Feb 6
All Day
Ongoing and Extended Events
7:30 PM
Stage: The Great Leap
The Participant Observer Recipe of the Month is French Coq au Vin. With a bit of patience and care, you can cook up a masterpiece of French cooking!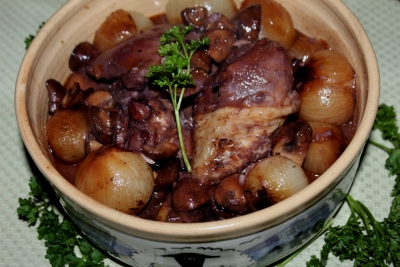 The following recipe is based mostly on Julie Child's recipe from her acclaimed book, Mastering the Art of French Cooking. Like many artistic endeavors, it does take a bit of patience and care. Coq au Vin literally means "Rooster with Wine" in French. Child can be credited with the fame the dish achieved, and nowadays many celebrity chefs have their own versions. The origins of Coq au Vin are shrouded in the mists of history. The ingredients and cooking techniques are very similar (albeit with beef) to Boeuf Bourguignon which we featured in a previous recipe of the month. Like that dish, Coq au Vin uses some very useful cooking techniques (sautéing mushrooms, making a roux and flambé) with wider applications. Child ended her final book, My Life in France, with the following words "... thinking back on it now reminds that the pleasures of the table, and of life, are infinite — toujours bon appétit!" This recipe requires you to do three things at once: while the chicken is cooking you should prepare the onions and mushrooms. Alternatively, you can prepare the onions and mushrooms beforehand, adding them as the final step of preparation. Also, please note that the chicken stock, thyme and bay leaf are used to make both the chicken and the onions.
Ingredients:
6 slices thick bacon
1 large stewing chicken, cut up
1/4 cup cognac
1 cup (Pinot Noir, Burgundy, Beaujolais or Chianti - Note: Don't use Cabernet!)
2 cups chicken broth (use half for main pot and the other half for onions)
1 tablespoon tomato paste
1 clove garlic, crushed
1/2 teaspoon thyme (use half for main pot and the other half for onions)
1 1/5 bay leaf (use half for main pot and the other half for onions)
1/2 cup of flour
1 teaspoon salt
1/4 teaspoon freshly ground pepper
25 to 30 pearl onions
2 tablespoons of light olive oil
2 tablespoons of butter
1 pound mushrooms, washed, trimmed and quartered if large or halved if small.
2 sprigs of parsley
Preparation:
This recipe calls for a large and deep skillet or pan that has a cover. A Dutch oven works fine.

Slice the bacon into 1-inch pieces and cook on medium heat in a large skillet until lightly crisp.
Remove the bacon from the skillet.
Brown chicken pieces in bacon fat, turning to brown all sides. Use a large enough skillet so that the chicken isn't crowded. If the chicken is wet, dry with paper towels first. The USDA recommends washing poultry before you start cooking because otherwise there are risks of contamination from splashing the contaminated water about.
After the chicken is brown, return the bacon to the pan, cover the skillet and cook the chicken for an additional 5 minutes.
Turn the chicken over in the skillet, cover and cook for an additional 5 minutes.
Uncover the pan and pour in the cognac all around the top of the chicken. Flambé by carefully igniting with a lighted match. Swirl the pan around and let the cognac burn off all its alcohol.
Pour the bottle of red wine into the pan and add just enough chicken broth to completely cover the chicken pieces.
Stir in the tomato paste, garlic, bay leaf, and thyme.
Bring the liquid to a simmer, then cover the pan and simmer slowly for about 30 minutes or until the chicken meat is tender when pierced with a fork or an instant-read meat thermometer registers an internal temperature of 165 degrees.
Remove chicken from the pan and set aside.
Turn the pan to high heat and boil until there is about 2 cups of liquid remaining and then reduce to a simmer.
In a small bowl, blend 3 tablespoons of flour with 2 tablespoons of softened butter until it becomes a smooth paste.
Whisk the butter/flour paste into the simmering liquid in the pan.
Continue stirring the pan until the sauce thickens (about a minute or so). If the sauce becomes too thick, add more chicken stock. If it is too thin, simmer until it thickens.
Taste the sauce and add more salt or pepper to taste.
Browned Braised Onions
Create a herb bouquet by placing the thyme, parsley and bay leaf in a tea ball or by making a pouch with some cheesecloth.
Cut off the root end of each pearl onion.
Bring 2 to 3 cups of water to a boil and drop in the onions for 1 minute.
Remove the onions from the pot, allow them to cool, and then peel.
Add butter and olive oil and heat until the butter stops bubbling.
Add the onions and sauté over moderate heat for about 10 minutes, gently moving the onions about so they do not burn.
Add 1/2 cup of chicken stock and the herb bouquet. Bring to a boil and then reduce heat and simmer the onions for 40 minutes on low heat.
Sautéing the Mushrooms
Although it is often used somewhat indiscriminately as a term, sautéing refers to cooking ingredients on high heat while tossing them so that they don't burn. Sautéing requires less oil than frying and that is the best way to cook the mushrooms for this dish. It is worth the effort.


Heat 2 tablespoons of olive oil and 2 tablespoons of butter in a frying pan and heat until the butter stops bubbling.
Sauté on high heat, tossing continuously for 4 to 5 minutes, until mushrooms are lightly browned.
Finishing the Preparation
Return the chicken to the sauce and add the onions and mushrooms, basting everything with the sauce.

If any of the ingredients have become cold during preparation, just bring the sauce back up to temperature and heat through.
Coq au Vin can be served with potatoes, wide noodles or even rice. The dish is particularly good with wide German egg noodles. Like many dishes, Coq au Vin is even better tasting the day after it was prepared.

Recipe by T. Johnston-O'Neill
Keep informed about San Diego Events!
Sign-up for our weekly Eblast by clicking here:
Sign Me Up!
Today's Date
IN PRINT SINCE 2006
Music From Everywhere!

Support Our Mission
Buy Stuff at Amazon!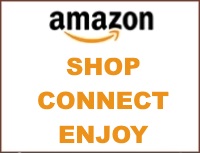 Published By:
Participant Observer Staff
Section Editors, Writers and Contributors: Sharon Payne, Ana Alvarez,
Cecilia Xinyu Cai, Jaehyeon Ahn
Spanish Translations: Ana Alvarez, Programming: Rachel Duncan
Associate Editors: Christa Parrish, Katie Tonellato
Editor in Chief: Tom Johnston-O'Neill
Orgs and Causes in San Diego
Join Our Team!