The music of Brazil is fundamental to its culture. Any traveler to Brazil can easily find music on the streets and beaches, outside restaurants, and in bars and houses. In Rio de Janeiro, Brazilians grow up playing drums, dancing and/or singing. Brazilian music was born five centuries ago out of the melding of different cultures: Portuguese, African, and the indigenous Amerindian. The two most successful musical genres to come out of Brazil are Samba and Bossa Nova.

By Hazel Villasin and Julie Park



*****



Cavanquinho

Samba:

Samba is the most recognizable musical genre from Brazil, largely due to the annual Catholic pre-lent celebration of Carnival. Music is celebratory and lively, and is marked by the heavy use of percussion. Samba is also used to describe the accompanying high-energy dance. Samba has led the way to many other genres and subgenres.

Samba is played in a 2/4 meter, or two beats per measure, with an emphasis on the second beat. Songs have a verse-chorus form and lyrics have been typically sociopolitical in nature. Samba can be accompanied by any number of instruments, depending on the scale of performance. Whether it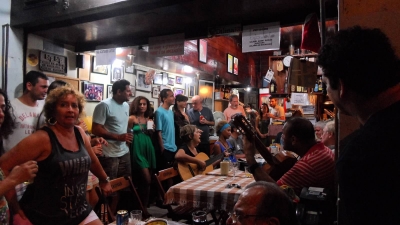 Bip Bip Club in Copacabana
A Short History of Samba:
The term Samba is derived from Angola, from the Kimbundu word semba, which translates to an "invitation to dance." Samba was developed in Rio de Janeiro, with roots in the state of Bahia. After slavery was abolished in 1888, former slaves who were able to maintain their African culture in Bahia immigrated to Rio de Janeiro, which was then the nation



Samba Players at Rio's Carnival

Samba Today:

No longer confined to the favelas, Samba is the national music of Brazil, unifying people of all social classes. In present day Brazil, Samba is more alive than ever, as Carnival remains the single, most important event of the year. As of 2007, there are 71 registered escolas in Rio de Janeiro alone. Each escola represents a neighborhood and boasts a membership of hundreds in the bateria and thousands of dancers and singers. Preparing for Carnival is a year-long process that includes writing a theme song and bateria compositions, and creating elaborate costumes and floats. Usually in February or March, the escolas compete at the Sambodromo, a 700 meter long pathway with concrete stands that seat 90,000 people. The winner receives a hefty cash prize, and the top twelve schools are showcased in the "Special Group" the following year. The "Special Group" is also featured on an annual album released in November that year with their respective theme songs for the next year
Bossa Nova:
Bossa Nova is a type of Brazilian music that is derived from Samba. Bossa Nova literarily means "New Trend" in Portuguese, and this trend cherishes simplicity. The instruments used are usually kept to classical guitar, piano, electronic organ, acoustic bass and drums. Sometimes, all these instruments are used to create beautiful Bossa Nova music, and some other times, just few are carefully selected to be played. When using the guitar, picks are not used, and when using the bass or drums, brushes are preferred over sticks. As a result, the instruments create a soft and romantic sound.

Another unique characteristic of Bossa Nova is the style of singing. Think of the famous song "Girl from Ipanema". You



Orfeu Negro Poster

A Short History of Bossa Nova

The phrase "Bossa Nova" was first mentioned in a song in 1932. It was Noel Rosa, famously known for his songwriting and singing, who mentioned this new trend of music in his Samba song, "Coisas Nossas." However, it wasn



Leila Pinheiro

Bossa Nova Today

In the 1970s, Bossa Nova
Learn and Experience More!
To experience Brazilian music in San Diego, check out the following events and artists:

Friday, February 8, 8:00 p.m.-2:00 a.m.: Brazilian Carnival San Diego Mardi Gras Ball

Saturday, February 9, 8:30 p.m.
Keep informed about San Diego Events!
Sign-up for our weekly Eblast by clicking here:
Sign Me Up!
Today's Date
IN PRINT SINCE 2006
Music From Everywhere!

Published By:
Participant Observer Staff
Section Editors, Writers and Contributors: Sharon Payne, Ana Alvarez,
Cecilia Xinyu Cai, Jaehyeon Ahn
Spanish Translations: Ana Alvarez, Programming: Rachel Duncan
Associate Editors: Christa Parrish, Katie Tonellato
Editor in Chief: Tom Johnston-O'Neill
Orgs and Causes in San Diego
Join Our Team!