The November Recipe of the Month is Tasty Thai Trio of dishes. Normally (there have been exceptions) we only publish one recipe at a time, but we cooked all three of these to see which might be the best for the recipe of the month and they all were so good we decided to publish all them all together. All these recipes are modified versions of recipes found in The Ultimate Thai and Asian Cookbook by Deh-Ta Hsiung, Becky Johnson and Sallie Morris. The book has a very nice section on ingredients.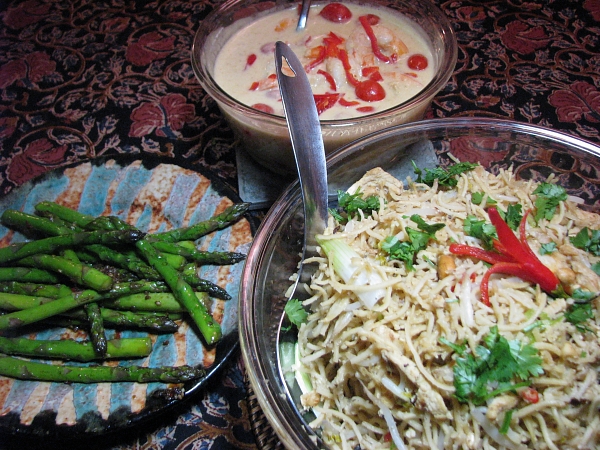 It is quite common in Thailand and other Southeast Asian cultures to serve several dishes at a time for a meal, not in courses. Even Thai soups are served with other dishes and not before a meal. Many dishes from this area of the world are based on a harmonious blend of sweetness (often palm sugar), sourness (vinegar, limes, lemons and tamarinds), saltiness (salt, soy sauce, fish sauce) and spiciness (hot chillies). Chicken, pork (except in Muslim households), fish and shellfish are the most common protein sources.

A couple of cooking tips: Some of the ingredients, fish sauce, Thai chillies, roasted sesame seeds and galangal root might require a visit to an Asian grocery store like 99 Ranch Market. It's up to you whether you use coconut milk or the thicker coconut cream. Authentic Southeast Asian curries are cooked in "first pressing" coconut milk that is boiled until it is thicker than canned coconut milk. Coconut oil (now available at Costco!) and peanut oil are perhaps the most used cooking oils. Some people use other oils, so if you are dead set on using olive oil, use light olive oil as it has a lighter taste and can be cooked at a higher heat which is required in stir fry cooking. Smoke coming off of cooking oils is quite toxic, so don't heat oil to the point past its smoking temperature. We were quite curious about the cherry tomatoes in the Shrimp curry, turns out they were surprising (you will see what we mean when you try them) and delicious!

Yellow Curry Shrimp
Ingredients:


2 1/2 cups coconut milk or cream
2 tablespoons yellow curry paste
1 tablespoon Thai fish sauce (the lighter the color, the better)
1/2 teaspoon of salt
1 teaspoon of sugar
1 pound of large shrimp, peeled and deveined
1/2 pound of cherry tomatoes
2 tablespoons of lime juice
3/4 of a red pepper cut into to 1/2 inch squarish pieces
1/4 of a red bell pepper, sliced into very thin strips for garnish
the leaves from several sprigs of coriander (cilantro) for garnish


Preparation:


Heat to a boil the coconut milk/cream in a wok or large pot.
Stir in the yellow curry paste until it is completely mixed in.
Lower the heat and simmer gently for 5 minutes.
Add fish sauce, salt, sugar and red pepper pieces and continue simmering for an additional 5 minutes
Add shrimp and cherry tomatoes and continue to simmer until shrimp are done, do not overcook!
Transfer curry to a serving dish and garnish with pepper strips and cilantro leaves.
Sprinkle lime juice on top for added zest and to offset the oil in the curry.


Serve with Jasmine Rice

Spicy Thai Fried Noodles
Ingredients:


4 tablespoons cooking oil (coconut or peanut oil are best)
1/2 package (8 oz) of thin Asian egg noodles (rice noodles can also be used)
2 garlic cloves, crushed, grated or finely chopped
1/2 pound of pork sliced into very thin strips (can be bought pre-sliced in Asian groceries)
1/2 pound of white or dark meat chicken, cut into thin strips
1/2 pound of shrimp, peeled and deveined
2 eggs, beaten but not whipped
Juice from one lemon
3 tablespoons of fish sauce
2 tablespoons of palm sugar or brown sugar
1 - 10 fresh red Thai chillies, seeded and finely sliced (adjust amount for tolerance)
1 cup of fresh bean sprouts
3 scallions (green onions), white portion cut into 2 inch pieces and then hand shredded
the leaves from several sprigs of coriander (cilantro)


Preparation:


Cook Noodles:

Boil water in a large pot.
Add noodles to boiling water and then immediately turn off heat.
Let noodles stand in the hot water for 5 minutes and then rinse and drain.
Cooking everything else:

Add 3 tablespoons of oil on medium high heat until hot (before it smokes!)
Add garlic and cook for 30 seconds.
Immediately add pork and chicken and cook while tossing everything about.
When the pork and chick become lightly browned, add shrimp and cook for another 2 minutes. Keep everything moving with your spatula.
Add sugar, fish sauce and lemon juice, and mix everything until the sugar dissolves.
Add remaining oil and then the drained noodles mixing everything very gently as the noodles might break if you are too vigorous.
Pour beaten eggs all over everything and mix gently, cooking until the egg is just about set.
Gently mix in chillies, bean sprouts, 1/2 the peanuts, 1/2 the scallions and 1/2 the cilantro leaves.
Cook for another 2 minutes, gently keeping everything moving.
Transfer fried noodles to a serving dish and garnish with remaining peanuts, scallions and cilantro leaves.
Thai Asparagus

Ingredients:


1 pound of asparagus, tough parts removed
2 tablespoons peanut oil
1 garlic cloves, crushed, grated or finely chopped
1 tablespoon roasted sesame seeds (can be bought from a Japanese or Asian grocery)
1 inch piece of galangal root, finely grated (can be found in an Asian grocery, otherwise substitute with ginger)
1 - 3 fresh red Thai chillies, seeded and finely sliced (adjust amount for tolerance)
1 tablespoon of fish sauce
1 tablespoon soy sauce (light if available)
3 tablespoons water
1 teaspoon of palm sugar or brown sugar

This recipe is also good with broccoli, bak choi or green beans (if using green beans, parboil for 2 minutes before using).

Preparation:


Snap or slice off and throw away the tough parts of the asparagus stalks.
Heat the oil in a wok over high heat until it is very hot but not smoking.
Add garlic, grated galangal and sesame seeds to the wok and fry for 10 seconds.
Add all of the remaining ingredients (asparagus, chillies, fish sauce, water and sugar).
Toss ingredients and cook for 2-3 minutes until the asparagus is tender. Using two big spoons for this task works well (grab and lift).
Transfer to a plate or serving dish and serve immediately.


Photo by Shari K. Johnston-O'Neill

Keep informed about San Diego Events!
Sign-up for our weekly Eblast by clicking here:
Sign Me Up!