Calendar
<
September, 2019
>
Coming Soon...
Sunday, Sep 15
All Day
Ongoing and Extended Events
11:00 AM
Herencia Mexicana Festival
12:00 PM
Sephardic Festival
12:00 PM
Fiesta de Independencia
2:00 PM
Stage: The Virgin Trial
2:00 PM
Stage: Amadeus
2:00 PM
Stage: Kiss My Aztec
4:00 PM
Music: Haydn Voyages
5:00 PM
Talk on Leonardo da Vinci
6:30 PM
Diabolo Dance Theatre
7:00 PM
Stage: Kiss My Aztec
7:00 PM
Stage: Amadeus
Monday, Sep 16
All Day
Ongoing and Extended Events
7:30 PM
Shakespeare Improv
Tuesday, Sep 17
All Day
Free Admission to Japanese Friendship Garden
All Day
Ongoing and Extended Events
6:30 PM
Open Reading: The Tempest
7:30 PM
Book Signing: Meg Waite Clayton
7:30 PM
Stage: Kiss My Aztec
Wednesday, Sep 18
All Day
Ongoing and Extended Events
1:30 PM
Film: All is True
6:30 PM
Film: Selena
7:00 PM
Stage: Amadeus
7:30 PM
Stage: The Virgin Trial
7:30 PM
Stage: Kiss My Aztec
Thursday, Sep 19
All Day
Ongoing and Extended Events
4:00 PM
Talk: Is America Facing an Immigration Crisis?
7:00 PM
Diplomacy Council Annual Fundraiser and Anniversary Party
7:00 PM
One Book, One San Diego Launch
7:30 PM
Film: The Soul And The Blood
7:30 PM
Stage: The Virgin Trial
8:00 PM
Stage: Amadeus
8:00 PM
Stage: Kiss My Aztec
Friday, Sep 20
All Day
Ongoing and Extended Events
8:00 AM
Discussion: Innovation in the Cali Baja Region
6:00 PM
Film: Coco
7:30 PM
Stage: Mama Mia!
7:30 PM
Russian Ballet: Swan Lake
8:00 PM
Stage: The Winter's Tale
8:00 PM
Stage: Hamlet
8:00 PM
Stage: Intimate Apparel
8:00 PM
Stage: The Virgin Trial
8:00 PM
Stage: Amadeus
8:00 PM
Stage: Kiss My Aztec
Saturday, Sep 21
All Day
Ongoing and Extended Events
10:00 AM
Vista Viking Festival
10:00 AM
Adams Avenue Street Fair
12:00 PM
Taste Of South Park
12:30 PM
Dance: Harvest Festival
2:00 PM
The Winter's Tale
2:00 PM
Stage: Amadeus
2:00 PM
Stage: Kiss My Aztec
3:00 PM
Stage: Intimate Apparel
3:00 PM
The Virgin Trial
4:00 PM
Book Discussion: Halal If You Hear Me
7:30 PM
Stage: Mama Mia!
8:00 PM
Jewish Short Film Festival
8:00 PM
Music: Patrizio Buanne
8:00 PM
Stage: The Virgin Trial
8:00 PM
Stage: Hamlet
8:00 PM
Stage: Amadeus
8:00 PM
Stage: The Winter's Tale
8:00 PM
Stage: Intimate Apparel
8:00 PM
Stage: Kiss My Aztec
Sunday, Sep 22
All Day
Jewish Short Film Festival
All Day
Ongoing and Extended Events

Defining Place/Space: Contemporary Photography From Australia
10:00 AM
Adams Avenue Street Fair
12:30 PM
Dance: Harvest Festival
2:00 PM
Stage: Mama Mia!
2:00 PM
Stage: Intimate Apparel
2:00 PM
Stage: The Virgin Trial
2:00 PM
The Winter's Tale
2:00 PM
Stage: Amadeus
2:00 PM
Stage: Kiss My Aztec
3:00 PM
Stage: Hamlet
4:00 PM
Music: The Pirates Of Penzance
6:00 PM
Music: Lucibela, Cape Verde's Voice-of-Gold
7:00 PM
Staged Reading: King Lear
7:00 PM
Stage: Amadeus
7:00 PM
Stage: Kiss My Aztec
8:00 PM
Music: Herb Alpert and Lani Hall
Monday, Sep 23
All Day
Ongoing and Extended Events
Tuesday, Sep 24
All Day
Ongoing and Extended Events
1:00 PM
Film: Moka
7:30 PM
Stage: Kiss My Aztec
Wednesday, Sep 25
All Day
Ongoing and Extended Events
6:30 PM
Film: Coco
7:00 PM
Stage: Amadeus
7:30 PM
Stage: The Virgin Trial
7:30 PM
Stage: Kiss My Aztec
Thursday, Sep 26
All Day
Ongoing and Extended Events
6:00 PM
Soaring Eagles Pow Wow Dance Class
7:00 PM
Stage: Noura
7:30 PM
Stage: Intimate Apparel
7:30 PM
Stage: The Virgin Trial
8:00 PM
Stage: Noura
8:00 PM
Stage: The Winter's Tale
8:00 PM
Stage: Amadeus
8:00 PM
Stage: Kiss My Aztec
Friday, Sep 27
All Day
Ongoing and Extended Events
7:30 PM
Music: Alejandro Sanz
7:30 PM
Stage: Mama Mia!
8:00 PM
Stage: Man of La Mancha
8:00 PM
Stage: The Virgin Trial
8:00 PM
Stage: Noura
8:00 PM
Stage: The Winter's Tale
8:00 PM
Stage: Hamlet
8:00 PM
Stage: Amadeus
8:00 PM
Stage: Intimate Apparel
8:00 PM
Stage: Kiss My Aztec
Saturday, Sep 28
All Day
Ongoing and Extended Events
10:00 AM
North San Diego Latino Book & Family Festival
11:00 AM
San Diego Cabrillo Festival
2:00 PM
Stage: Amadeus
2:00 PM
Stage: Kiss My Aztec
3:00 PM
The Virgin Trial
3:00 PM
Stage: Intimate Apparel
3:30 PM
Film: Island Soldier
7:30 PM
Stage: Mama Mia!
8:00 PM
Film: Yesterday
8:00 PM
Stage: Noura
8:00 PM
Stage: The Winter's Tale
8:00 PM
Stage: Hamlet
8:00 PM
Stage: The Virgin Trial
8:00 PM
Stage: Amadeus
8:00 PM
Stage: Man of La Mancha
8:00 PM
Stage: Intimate Apparel
8:00 PM
Stage: Kiss My Aztec
The Recipe of the Month for August is Hawaiian SPAM Musubi. A unique Japanese/Hawaiian fusion snack. SPAM maybe maligned on the mainland but it is a treasured treat in the Hawaiian Islands. SPAM's reputation has not been enhanced by the word becoming synonymous with "unsolicited email" in the digital world. Set your culinary preconceptions aside, try these, you are sure to like them!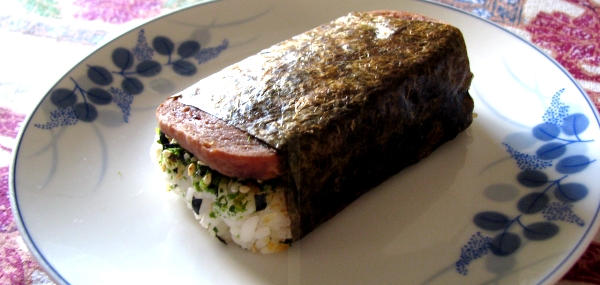 SPAM Musubi with
Furikake
Seasoning
A Popular Hawaiian Snack
SPAM musubi can be found in local food markets in Hawaii. In its most basic form it is made from lightly flavored white rice and a slice of SPAM wrapped in dried seaweed paper typically used to make sushi. Recipes also include fried egg, teriyaki sauce, or furikake (a Japanese condiment consisting of fish flakes, seaweed, sesame seeds and spices) for added flavor. It's a simple snack perfect for when you are on-the-go.

SPAM is a portmanteau of "Spiced Ham", a creation of the Hormel Food Corporation first sold in 1937. SPAM came to Hawaii (as well as Okinawa and The Philippines) with the US military. SPAM musubi, a later creation, is based on Japanese onigiri (aka omsubi,(Japanese rice wrapped in nori seaweed). Not often sold in touristy areas, one can find musubi wrapped in clear plastic wrap at local food stores/markets next to the register.

Not until I journeyed beyond the tourist areas of Hawaii did I learn about this much-loved snack. My brother, who has lived in Hawaii for over 15 years, brought me to his local market. The cashier watched as I selected a SPAM musubi out of the basket. He gave me big smile and said "Aloha little sista". I felt at home. - Monica
Ingredients:
2 cups short-grain white rice
1 can of SPAM
6 tablespoons rice vinegar
¼ cup soy sauce
¼ cup oyster sauce
5 sheets sushi nori (dry seaweed)
2 tablespoons vegetable oil
furikake seasoning
some wax or parchment paper
Preparation:
Cook rice in a rice-cooker or covered pot according to package instructions
When the rice is cooked, stir in rice vinegar and set aside to cool
Open the can of SPAM, remove it (punching a hole in the bottom of the can helps) and then slice the SPAM into 8 equally thick slices
In a bowl, mix together soy sauce and oyster sauce/li>
Coat the SPAM in the mixture soy sauce and oyster sauce and let sit for 5 minutes
Heat oil in a frying pan on medium/low heat. Fry the SPAM for 2 minutes on each side or until lightly brown
Cut nori sheets in half. Folding the sheets in hand and then cutting on the crease with a sharp knife or kitchen scissors helps.
Place a scoop of rice on a piece of wax paper. Using your fingers and the paper, press and shape the rice into a rectangular block the size of a slice of SPAM and about an inch thick (see photo)
Sprinkle furikake seasoning on the rice.

Top the furikake layer with a slice of fried SPAM.
Take the half sheet of nori and form it around three sides of the SPAM and rice.

With your hand under the wax paper, carefully flip the musubi over into your other hand(nori side down)
Peel the paper off the rice and then wrap the remaining free nori around the rice sealing the edges with a small amount of water. (note: You can purchase a "musubi mold" to make musubi, but it's really necessary)


Recipe submitted by Monica Emery
Photography by Shari Johnston-O'Neill
Keep informed about San Diego Events!
Sign-up for our weekly Eblast by clicking here:
Sign Me Up!
Today's Date
IN PRINT SINCE 2006
Music From Everywhere!

Support Our Mission
Buy Stuff at Amazon!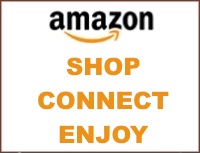 Published By:
Music of the Month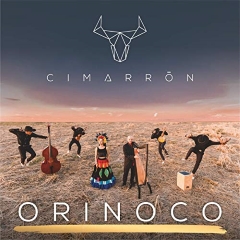 Orinoco
by Cimarrón
Participant Observer Contributors
Section Editors, Writers and Contributors: Sharon Payne, Dolores Donovan, Edwin Ching, Liam Fox, Ana Alvarez
Spanish Translations: Ana Alvarez, Programming: Hera Siddiqui
Associate Editors: Christa Parrish
Editor in Chief: Tom Johnston-O'Neill
Orgs and Causes in San Diego
Join Our Team!