Calendar
<
February, 2020
>

Recommended
Coming Soon...
Tuesday, Feb 18
All Day
Free Admission to Japanese Friendship Garden
All Day
Ongoing and Extended Events
4:00 PM
San Diego International Jewish Film Festival
7:00 PM
Stage: Hurricane Diane
7:30 PM
Music: Brahms, Gypsies And Hungarians
Wednesday, Feb 19
All Day
Ongoing and Extended Events
2:30 PM
San Diego International Jewish Film Festival
7:00 PM
Stage: Hurricane Diane
Thursday, Feb 20
All Day
Ongoing and Extended Events
3:00 PM
Talk: Panel on Latin America and Talk by Former President of Costa Rica Laura Chinchilla
4:00 PM
Talk: State Formation in China and Taiwan
4:00 PM
San Diego International Jewish Film Festival
7:00 PM
California's American Indian & Indigenous Film Festival
8:00 PM
Talk: Deirdre Bair
8:00 PM
Stage: Hurricane Diane
Friday, Feb 21
All Day
Ongoing and Extended Events
7:30 AM
California's American Indian & Indigenous Film Festival
10:00 AM
Talk: Growing Up In West Berlin During The Cold War
1:00 PM
Talk: Exploring the Origins of Today's Humans
1:30 PM
San Diego International Jewish Film Festival
6:00 PM
Where The Light Travels: Portraits Of San Diego Refugee Students
6:00 PM
Gaslamp Mardi Gras Party Hop
7:00 PM
Music: BeauSoleil with Michael Doucet & Sarah Quintana
7:00 PM
Comedy: Rex Navaarrete
7:00 PM
French Baroque Music Concert
7:30 PM
Music: Téada
8:00 PM
Music: Hutchins Consort with Winifred Horan
8:00 PM
Stage: Bojo's Place
8:00 PM
Stage: Hurricane Diane
8:00 PM
Stage: She Loves Me
9:00 PM
Comedy: Rex Navaarrete
Saturday, Feb 22
All Day
Ongoing and Extended Events
10:00 AM
KPBS World Thinking Day
10:00 AM
Black Comix Day
2:00 PM
Talk: Comedia Italian Style
2:30 PM
California's American Indian & Indigenous Film Festival
6:00 PM
Cajun Festival
6:00 PM
Gaslamp Mardi Gras Party Hop
7:00 PM
French Baroque Music: Couperin, Charpentier, Rameau
7:00 PM
Concert: The Music Of William Grant Still
7:30 PM
San Diego International Jewish Film Festival
8:00 PM
Music: Amber Liu, Meg & Dia, Justin Park
8:00 PM
Music: Immigrant Songs
8:00 PM
Stage: Bojo's Place
8:00 PM
Stage: Hurricane Diane
8:00 PM
Stage: She Loves Me
9:00 PM
Comedy: Rex Navaarrete
Sunday, Feb 23
All Day
Ongoing and Extended Events

San Diego Dim Sum Tour
10:00 AM
Black Comix Day
12:30 PM
San Diego International Jewish Film Festival
2:00 PM
International Cottage Sampler Program
2:00 PM
Stage: She Loves Me
3:00 PM
Stage: Bojo's Place
5:00 PM
Concert: The Music Of William Grant Still
7:00 PM
Stage: Hurricane Diane
8:00 PM
The Benedetti Trio: George Harrison Tribute
Monday, Feb 24
All Day
Ongoing and Extended Events
10:00 AM
Black Comix Day
6:00 PM
Daniel Guzmán Guest Lecture
7:00 PM
Talk: Michele Norris
Tuesday, Feb 25
All Day
Ongoing and Extended Events
1:00 PM
Film & Discussion: The Farewell
6:00 PM
African-American Women in Film
6:00 PM
Gaslamp Mardi Gras Party Hop
7:00 PM
Victoria Martino: Carnival in Venice
7:00 PM
Stage: Hurricane Diane
8:00 PM
Music: The Chieftains
Wednesday, Feb 26
All Day
Ongoing and Extended Events
7:00 PM
Writer's Symposium with Pico Ayer
7:00 PM
Stage: Hurricane Diane
Thursday, Feb 27
All Day
Ongoing and Extended Events
10:45 AM
Book Talk: Baja California Land of Missions
1:00 PM
Music: Kembang Sunda Gamelan
8:00 PM
Stage: Hurricane Diane
Friday, Feb 28
All Day
Ongoing and Extended Events
5:00 AM
28th Annual Kuumba Festival
7:00 PM
Música En La Plaza: Los Montaño
8:00 PM
Film: Jojo Rabbit
8:00 PM
Stage: Bojo's Place
8:00 PM
Stage: Hurricane Diane
8:00 PM
Stage: She Loves Me
Saturday, Feb 29
All Day
Ongoing and Extended Events
11:00 AM
28th Annual Kuumba Festival
2:00 PM
Stage: Safa's Story
3:00 PM
Stage: Little Rock
7:00 PM
Stage: Safa's Story
8:00 PM
Film: Jojo Rabbit
8:00 PM
Stage: Bojo's Place
8:00 PM
Stage: Hurricane Diane
8:00 PM
Stage: She Loves Me
9:00 PM
Music: Los Pericos, Los Estrambóticos & Ecno
9:00 PM
Spanglish At Finest City Improv
Sunday, Mar 1
All Day
Ongoing and Extended Events
11:00 AM
28th Annual Kuumba Festival
12:00 PM
7th Annual Mariachi Festival
1:00 PM
Music: Kembang Sunda Gamelan
2:00 PM
Stage: She Loves Me
3:00 PM
Los Angeles Balalaika Orchestra
3:00 PM
Stage: Bojo's Place
7:00 PM
Stage: Hurricane Diane
Monday, Mar 2
All Day
Ongoing and Extended Events
The Recipe of the Month: Boeuf Bourguignon, the quintessential French "peasant" dish—perhaps the ultimate French comfort food. Our recipe is adapted from Julia Child's very first episode of "The French Chef" which debuted in 1961. As Chef Child points out, the recipe embraces a wide range of versatile and useful techniques that are employed in French cooking. As Julia would say, Bon Appetite!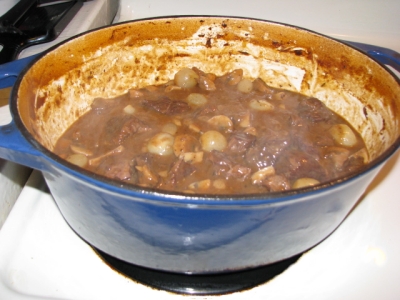 Our book of the month for November is The Greater Journey: Americans in Paris by David McCullough. The book covers the period from 1830 to 1900 and recounts the Paris adventures of American luminaries such as: James Fenimore Cooper, Samuel F. B. Morse, Louis Moreau Gottschalk, Oliver Wendell Holmes, Ralph Waldo Emerson, Nathaniel Hawthorne, Mark Twain, Henry James, Harriet Beecher Stowe, Augustus Saint-Gaudens, Mary Cassatt and John Singer Sargent. A bit closer to present times, chef and cookbook author Julia Child also celebrated French culture and cuisine. Her classic Mastering the Art of French Cooking (co-authored by Simone Beck and Louisette Bertholle) has for the past 50 years teaching amateur cooks and professional chefs the sublime secrets of French cooking.

The recipe of the month, Boeuf Bourguignon is a quintessential French "peasant" dish, perhaps the ultimate French comfort food. The dish was the subject of the very first episode of Julia Child's path breaking television series "The French Chef". There are, of course, many ways to make Boeuf Bourguignon, and Julia Child herself published different versions in her many books. The version she presented on her TV show is also somewhat different than the one she offered in "MAFC". The version below is derived from her TV show, it is a bit stripped down and a bit easier to make than the version found in her first book. As Chef Child points out, the recipe embraces a wide range of versatile and useful techniques that are employed in French cooking but can be used in many other styles of cooking as well. One nifty thing to know is if you substitute chicken for beef in this recipe, shorten the cooking time (chicken cooks in only 1/2 hour!) and add a 1/3 of a cup of cognac, but keep everything else the same (including the red wine) voila! you will have coq au vin! The techniques required for Boeuf Bourguignon are easy to learn (and you will be glad you learned them even if you never cook the dish again), but the dish takes a long time (more than 3 hours) to prepare. Fortunately much of that time is spent just waiting for the dish to complete cooking, requiring a minimum of intervention. It's not fast food.

Boeuf Bourguignon is a beef stew that originated from the Burgundy region of France (the dish's name literally means "Burgundy Beef"). It started as a peasant dish that eventually became a well known haute cuisine dish fit for the fanciest of occasions. Quite naturally the wine used is a Burgundy red wine but other full bodied red wines can be used as well. Be aware that expensive wines become worse and cheap wines become better with cooking, Julia Child's contention that you should use the best possible wine for cooking is no longer considered to be wise. However, it is best to avoid wine with strong tannins (they will turn bitter) or any wine sold as "cooking wine" (which is had added salt to make it undrinkable). An inexpensive Pinot Noir (a variety that originates from Burgundy and is also known as "Red Burgundy"). Cabernet Sauvignons, Zinfandels and Syrahs are less good because of their strong tannins.
Ingredients
light olive oil (not extra virgin which burns too easily) or peanut oil
3 pounds chuck, cut into 2-inch cubes
1 teaspoon salt
1/4 teaspoon. pepper
3 tablespoons flour
3 cups red Burgundy wine
2 or more cups beef stock or beef bouillon
1 tablespoon tomato paste
2 cloves mashed garlic
1 teaspoon thyme
1 crumbled bay leaf
18 to 24 small white onions.
1 pound quartered fresh mushrooms
2 tablespoons of butter
Preparation
Don't be put off by the number of steps in this recipe, they flow naturally and logically and all are very easy to manage even for the beginner cook!

Equipment needed: Covered casserole dish or Dutch oven, large frying pan.


Cut beef into 2-inch cubes and dry the beef in paper towels (it helps with browning).
Sauté the beef in a large frying pan a few pieces at a time, in the hot oil browned on all sides.
Move brown beef to the oven-safe casserole pan.
Pour the wine in the still-hot frying pan and scrape the bottom of all the residual bits on the bottom of the fry pan (this is called deglazing).
Stir the wine from the frying pan and then the beef stock into the casserole dish so that the meat is barely covered.
Pre-heat your oven to 350° F.
Blend in the tomato paste, garlic and herbs to the casserole dish.
Bring casserole dish to a simmer on top of the stove.
Cover the casserole and then place it in the lower third of the preheated oven.
Regulate the oven heat so liquid simmers very slowly.
Cook for approximately 3 hours. The meat is done when a fork pierces it easily.
While the beef is cooking, prepare the onions and mushrooms. Check the oven ever so often to see if the temperature is right. The Bourguignon should be lightly simmering not boiling.
Prepare the Pearl Onions:

Boil a quart of water.
Add the onions to the boiling water.

After the water boils again wait 20 more seconds, then remove pan from stove and then remove the onions from the water.
slice off the ends of the pearl onions and peel them.
Return the onions to a sauce pan of boiling water, reduce heat to a simmer and cook for 10 mins. Again, light simmering is what you are aiming for, not boiling.
Remove onions from pot and cool so that they can be handled.
Carefully pierce the bottom end of each onion with a small knife.
Prepare the Mushrooms:

Wash and then dry the mushrooms.
Remove the stems from any mushrooms that have open caps and then quarter them.
For mushrooms that have closed caps, remove and slice stems (one or two cuts) and then quarter the caps.
Add 2 tablespoons of butter and 2 tablespoons of oil to a large frying or saute pan and heat on medium high heat.
With a spoon or spatula mix the melted butter with the oil and then heat until the butter no longer bubbles (important, don't omit).
Add the mushrooms to the pan and brown lightly. Do not overcrowd the mushrooms, cook in two or more batches if necessary! Overcrowding or using too low of a heat will cause the musrooms to lose all their juices.
Final Preparation

After the meat has reached proper tenderness (3 hours or more), remove casserole from oven and pour the contents into a sieve or strainer set over a saucepan.
Return the beef to it
Distribute the cooked onions and mushrooms over and around the meat.
With a ladle, skim any accumulated fat off the sauce in the sauce pan.
Mix into a paste 2 tablespoons of softened butter and 3 tablespoons of all purpose flour in a small bowl or cup.
Blend in butter/flour mixture to the sauce.
Heat sauce just to a boil keeping everything moving with a sauce whip. It will thicken.
Taste the sauce and add salt and pepper to taste (a little at a time, re-tasting as you go).
Pour the sauce over the meat and vegetables.
Cover the casserole and simmer on the stove top for 3 minutes, folding over the ingredients so that everything is covered in sauce.
Serve in its casserole, or arrange the stew on a platter surrounded with potatoes, noodles, or rice, and decorated with parsley.
The original Julia Child "The French Chef" episode demonstrating one way of preparing Boeuf Bourguignon.








Keep informed about San Diego Events!
Sign-up for our weekly Eblast by clicking here:
Sign Me Up!
Today's Date
IN PRINT SINCE 2006
Music From Everywhere!

Published By:
Music of the Month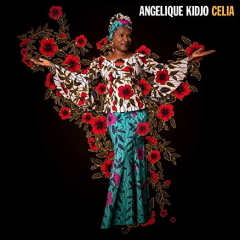 Celia
by Angelique Kidjo
Participant Observer Staff
Section Editors, Writers and Contributors: Sharon Payne, Ana Alvarez,
Cecilia Xinyu Cai, Jaehyeon Ahn
Spanish Translations: Ana Alvarez, Programming: Rachel Duncan
Associate Editors: Christa Parrish, Katie Tonellato
Editor in Chief: Tom Johnston-O'Neill
Orgs and Causes in San Diego
Join Our Team!