Step under the archway entrance to the "village" and you will be greeted by a meandering plaza paved with pastel painted flagstones surrounded by stuccoed cottages with red tile roofs. In the center of the plaza sits a gazebo and a varied collection of charming trees and plants add to the air of quaint serenity. One of the more spectacular studios hosts the paintings of an artist named Lucy Wang, who for the past twenty years has been creating stunningly beautiful paintings that combine tradition-rich techniques of Chinese brush painting with her own path-breaking and innovative techniques.

By Jackie Hwang

Spanish Village Photos by Nuelma Patio
Additional Images: Lucy Wang




A Tranquil Village of Artists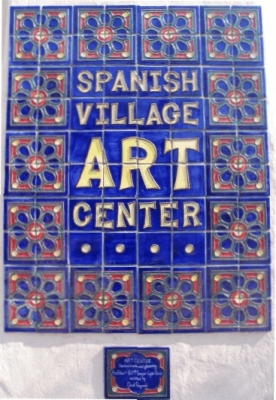 Several times during the year, Spanish Village hosts art fairs and the normally quiet plaza fills with artists and their creations, art and craft lovers, and the curious drawn in by the unusual level of activity. Although the village is called "Spanish," the artwork found within is actually rather diverse. Though the majority tends towards "Americana" art styles, you can also find artists who work in or are influenced by a wide range of cultural and international styles. Everything from European-influenced painting to Japanese raku to African American painting to a variety of "Southwestern" inspired creations can be found at Spanish Village.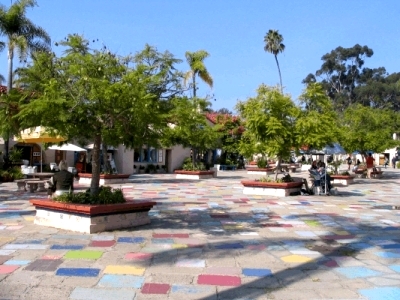 Spanish Village plaza
A Well Kept Secret
San Diego is a popular destination for tourists from all over the world. Visitors are drawn to our city by our warm climate, our sun-soaked beaches (when the fog rolls out!), its emerging gaslight district nightlife and, of course, our world famous zoo.

Another of the city's most visited and acclaimed destinations -- for locals and tourists alike -- is Balboa Park, home to a plethora of museums, international cottages, botanical gardens, as well as numerous indoor and outdoor performance venues. Images of the park adorn San Diego tourist literature and most San Diegans are intimately familiar with much of what the park has to offer.

However, there is one location in the park that often escapes the attention of tourists and locals. Nestled in between the Zoo and the better known regions of Balboa Park is a small enclave of studios and galleries known as "Spanish Village." Because the main entrance of Spanish Village faces away from incoming traffic, coupled with the fact that all of the shops and studios face inward, it is very easy to drive or even walk past the Spanish Village without even noticing it is there. Indeed, while many San Diegans -- even life-time residents -- are familiar with many of the park's more eye-catching destinations, the myriad of delights to be found within the stuccoed walls of Spanish Village are still unknown to many. Surrounded by the weekend hustle-bustle of the Zoo and the rest of Balboa Park, it is hidden away in a corner, a cultural oasis of art and relative tranquility.
The Wonders of Studio #4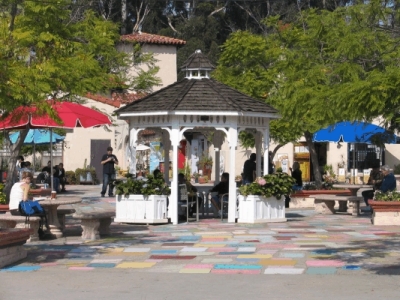 Gazebo
One of the more spectacular studios hosts the paintings of an artist named Lucy Wang, who for the past twenty years has been creating stunningly beautiful paintings that combine tradition-rich techniques of Chinese brush painting with her own path-breaking and innovative techniques. With sheets of luxurious silk as her canvas and brushes of wolf hair in hand, Lucy Wang brings to life scenes of frolicking cranes and fluttering butterflies through her mastery of Chinese brush painting. Her unique style is a tribute to both the past and present as she adds a modern twist to an ancient art form that began over 2,000 years ago.

Chinese brush painting has its origins in the ancient art of Chinese calligraphy. In the same way that dots and lines of different lengths are arranged to form Chinese calligraphy characters, dots and lines are used to create entire scenes in Chinese brush painting. Strokes are quick and fluid, yet enduring and versatile. A single stroke can make up an individual branch or petal, but like the saying goes, such things are easier said than done. The painter must hold the brush correctly and maintain precise control over the amount of ink that flows to the canvas. Although the strokes are simple and quick, they must also be smooth and controlled. Achieving these requirements of form are made even more difficult to achieve, given the super-absorbent canvas that is painted on, whether it is silk or rice paper. Years of practice, patience, and determination are needed to make brush painting appear as effortless and carefree as Lucy does.
The Artist Behind the Brush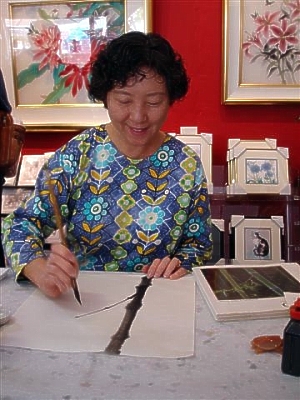 Lucy Painting
Lucy's interest in the arts began as a middle school student in her hometown of Taipei, Taiwan. After receiving good scores in her art classes, she began to delve deeper into the art world through formal training from well-known Taipei artists. With encouragement from her parents and family, Lucy attended a high school that specializes in the arts where she was exposed to a wide variety of art forms. In high school, Lucy was particularly interested in graphic design, but the course of her instruction changed a bit after she took her national placement exams. In contrast to the somewhat greater educational freedom of choice found in the United States, Taiwanese high school students take placement exams that virtually compel them into a specific trajectory for subsequent study or employment. When Lucy took her placement exams, she was placed into Chinese brush painting. Even though her primary interest was in graphic design, the results of her placement exams neither discouraged nor disheartened her, as her tastes and interest in art had always been broad. After high school, Lucy was able to enroll at the prestigious National Taiwan College of the Arts (now called the "National Taiwan University of Arts"), where she majored in Chinese brush painting. There, she was able to study under famous master artists and develop her artistic talent and skills.

Lucy describes her passion for painting both as a form of living and play. When she paints, she is empowered by the freedom to transform her subjects to suit her own tastes and aesthetics. The majority of Lucy's inspiration is drawn from nature and its elements; she paints nature but does not copy it. Instead, Lucy often changes the placement of objects or alters their colors, bringing forth her own individual expression. Lucy enjoys painting subjects that have special symbolic meanings in the tradition of Chinese brush painting. Peonies, signifying wealth and good fortune, butterflies, signifying love, and water lilies, signifying purity and peace, often appear in Lucy's paintings. Her favorite subjects are cranes, which symbolize longevity in China. By painting these ancient symbols of beauty and peace, Lucy hopes to communicate their special power, emotion, and significance to her viewers.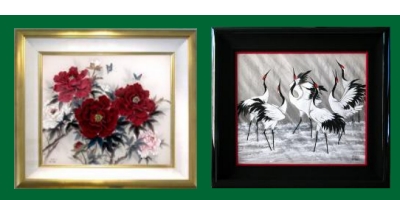 Peonies and Cranes
The Silk Road and the Allure of Nature
The Silk Road has also been a particular inspiration for Lucy. Along the Silk Road, near the city of Dunhuang, are the infamous Mogao cave temples that contain ancient Buddhist murals and sculpture. Lucy often imaginatively combines elements from these paintings, with images of Chinese folk dancing and music. The results are mystical and ethereal scenes of warrior goddesses and musicians. Whereas traditional Chinese brush paintings are typically subdued and reserved in color, Lucy's paintings rely on brighter, more vibrant colors. Her works are so exquisitely beautiful that they have been chosen by the Smithsonian Institution and National Geographic Society to adorn greeting cards they sell.

Not only is nature an essential aspect of many of Lucy's paintings, but it also plays a role in the painting materials she uses. The bright yellows, pinks, and blues that enliven her scenes are made of plant pigments and pigments derived from semi-precious stones. The black ink ("mo" in Chinese) is created from pine soot mixed with glue made from deerskin, yielding an ink that is translucent, somewhat luminous and extremely durable. The brushes Lucy uses are made from wolf or goat hair. Traditional Chinese brush painting can be done on either silk or rice paper. Lucy paints on both media, but she has also created her own unique technique by painting on successive layers of extremely thin silk, giving her paintings a distinctive three-dimensional effect. Backgrounds are painted on the bottom layers and foregrounds are painted on the top layers of silk. When the sheets are framed, a small gap is created between the layers. This technique results in an uncannily realistic depth in which the scene's background fades away while the foreground accentuates forward.
Lessons and more . . .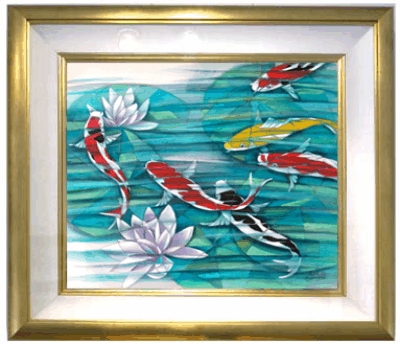 Koi and Waterlilies
Lucy shares her love of Chinese brush painting not only by creating wonderful works of art for the viewing and buying art lovers, but also by teaching painting classes at the UCSD Crafts Center and from her studio gallery in Spanish Village. She has a loyal following of students and by all accounts is a wonderful teacher. Lucy has continued her interest in graphic design by designing her own information cards and catalogs.

So, the next time you are spending a relaxing day at Balboa Park and want to take a respite from the maddening crowds, don't forget to wander over to one of the park's best kept secrets, Spanish Village, and when there, be sure to visit Lucy Wang's fabulous studio and gallery!

Jackie Hwang

Spanish Village Photos by: Nuelma Patio
Additional Images: Lucy Wang

Visit Lucy's Web site at: www.lucywang.com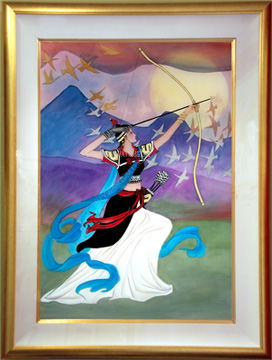 Woman Warrior
Keep informed about San Diego Events!
Sign-up for our weekly Eblast by clicking here:
Sign Me Up!
Today's Date
IN PRINT SINCE 2006
Music From Everywhere!

Published By:
Participant Observer Staff
Section Editors, Writers and Contributors: Sharon Payne, Ana Alvarez,
Cecilia Xinyu Cai, Jaehyeon Ahn
Spanish Translations: Ana Alvarez, Programming: Rachel Duncan
Associate Editors: Christa Parrish, Katie Tonellato
Editor in Chief: Tom Johnston-O'Neill
Orgs and Causes in San Diego
Join Our Team!