Our Recipe of the Month is for Middle Eastern Kofta Kebabs. Enjoyed throughout the Middle East, North Africa, the Balkans, Central and South Asia, kofta kebabs are a great excuse to fire up the grill.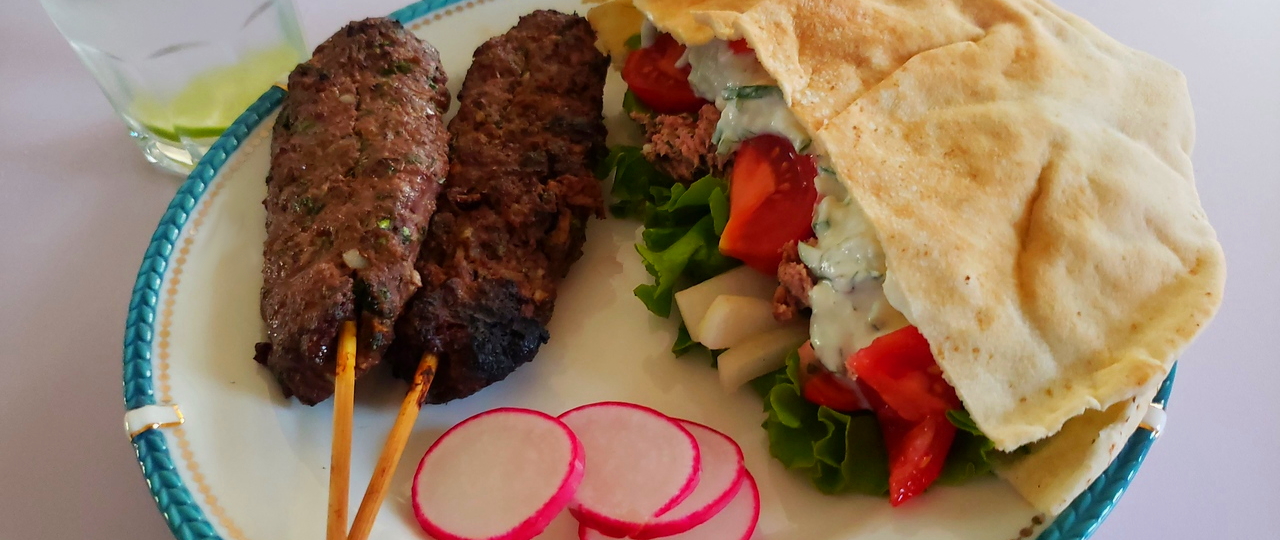 Kofta are made from highly spiced lamb or beef and they can be formed into patties, meatballs, or, as we do here, kebabs (aka kabobs). Basic Kofta can be made from ingredients found in virtually any grocery store, but you can kick things up a notch if you add some spices or herbs that you will find in Middle Eastern specialty grocery stores.
The word "kofta" is Urdu, the national language of Pakistan which is also spoken in India. Urdu is related to both Farsi and Hindi. Kofta literally means "pounded meat". Kofta are most commonly made from ground lamb or beef but can also be made from chicken, pork, mutton or even fish. As mentioned above kofta can be formed into a variety of shapes: patties, balls, cylinders or pressed onto a skewer. Kofta can be grilled, poached, fried, steamed, or boiled in a soup or curry. Our recipe is for the grilled skewered variety which can be eaten by itself or into a pita sandwich similar to a Greek gyro.
What makes Kofta unique, setting it apart from hamburgers, are the herbs and spices blended with the ground meat. The use of herbs and spices in Kofta are pronounced–they make their presence known. Recipes vary quite a bit, but common herbs and spices include combinations of broad-leaf parsley, cilantro, fresh or dried mint, rosemary, cumin, oregano, cinnamon, paprika, allspice, ground ginger, nutmeg, pepper, and sumac. Only the last spice, sumac, might not be found at a chain supermarket, but this bright red spice (sumac is also used as a dye) which is fragrant, tangy and acidic is a very common ingredient in kofta. You may substitute lemon juice or lemon zest.
Cook's notes: if you use wooden or bamboo skewers, soak them in water for 30 minutes or more to keep them from burning on the grill. If you leave the kofta on the grill longer than necessary, the skewers will dry out and burn, or perhaps even burst into flames (voice of experience).
Kofta kebabs are made by molding the meat mixture around the skewers with your hands. The most common shape is an elongated somewhat flattened sausage. A flattened shape, as opposed to a round shape, will cook more evenly, and you only have to turn the kabobs over once. The goal is to thoroughly cook the meat but not to the point of drying it out.
Ingredients:
2 pounds freshly ground lamb or beef (or equal portions of both)
1 medium onion diced finely
1/4 teaspoon ground allspice
1/2 teaspoon ground cumin
1/2 teaspoon ground coriander
1 teaspoon paprika (sweet or hot)
1/2 teaspoon sumac (optional)
1/2 teaspoon allspice
1/8 teaspoon cinnamon
2 teaspoons of salt (adjust to personal preferences)
1/2 cup fresh chopped broad-leaf parsley
1/2 cup fresh chopped fresh cilantro
1 tablespoon fresh mint
1 egg (optional, will act as a binder, needed if using low-fat ground meat)
Wood, bamboo or metal skewers
Preparation:
Soak the skewers in water for 1/2 hour or more (if using wood or bamboo skewers).
Thoroughly mix together all the ingredients.
Mold the mixture around the skewers.
Over high heat, grill (charcoal or gas) the kofta kebabs on both sides until slightly charred and cooked throughout.
Serve with basmati rice, a tomato and onion salad or make a pita sandwich with tzatziki sauce, onions, cucumbers slices, tomatoes and leaf lettuce.
Recipe and photos: T. Johnston-O'Neill