Calendar
<
October, 2018
>
Coming Soon...
Monday, Oct 22
6:00 PM
World Music Series
Tuesday, Oct 23
All Day
Ongoing and Extended Events
7:00 PM
Opera: The Marriage of Figaro
Wednesday, Oct 24
All Day
Ongoing and Extended Events
4:00 PM
Little Soldiers: A Story on China's Education System
6:00 PM
Film: Eat Pray Love
6:00 PM
Border Films & Food
7:00 PM
Book Signing: Arjun Singh Sethi - American Hate
7:00 PM
Stage: Julius Caesar
7:00 PM
Stage: Holmes & Watson
Thursday, Oct 25
All Day
Ongoing and Extended Events
5:30 PM
Book Signing: Arjun Sethi - Bearing Witness
7:00 PM
Songs of Irish Heroes
7:00 PM
Talk: History of Opera
8:00 PM
Stage: Holmes & Watson
Friday, Oct 26
All Day
Ongoing and Extended Events
7:30 PM
Classical Indian Violin-Viola Duet
8:00 PM
Stage: Metamorphosis
8:00 PM
North Park Playwright Festival
8:00 PM
Stage: Julius Caesar
8:00 PM
Stage: Holmes & Watson
11:00 PM
Music: Maykel Blanco y Su Salsa Mayor
Saturday, Oct 27
10:00 AM
FilAmFest: Filipino American Arts & Culture Festival
10:00 AM
Orchid Kokedama Workshop
11:00 AM
Balboa Park Halloween Family Day
11:00 AM
Day of the Dead Festival North Park
12:00 PM
Filipino-American History Celebration
12:00 PM
Encinitas Dia de los Muertos
1:00 PM
Talk: Ancient Indulgences - Salt
2:00 PM
Stage: Holmes & Watson
5:00 PM
Dia De Los Muertos Skull Art Show
6:00 PM
The Bulls of Sant'Agata Charge Little Italy
7:30 PM
Japanese Pop Culture Party
8:00 PM
North Park Playwright Festival
8:00 PM
Stage: Metamorphosis
8:00 PM
Stage: Julius Caesar
8:00 PM
Stage: Disney's Hunchback of Notre Dame
8:00 PM
Stage: Holmes & Watson
Sunday, Oct 28
All Day
Ongoing and Extended Events
10:00 AM
Setting Sun Sake Fall Garden Party
1:00 PM
Stage: Disney's Hunchback of Notre Dame
2:00 PM
Stage: Metamorphosis
2:00 PM
Opera: The Marriage of Figaro
2:00 PM
North Park Playwright Festival
2:00 PM
Stage: Julius Caesar
4:30 PM
Stage: Disney's Hunchback of Notre Dame
6:30 PM
Paella Cooking Workshop
7:00 PM
Stage: Julius Caesar
7:00 PM
Stage: Holmes & Watson
Monday, Oct 29
All Day
Ongoing and Extended Events
2:00 PM
Stage: Holmes & Watson
6:00 PM
World Music Series
Tuesday, Oct 30
All Day
Ongoing and Extended Events
Wednesday, Oct 31
7:00 PM
Stage: Holmes & Watson
Thursday, Nov 1
All Day
Ongoing and Extended Events
8:00 PM
Stage: Holmes & Watson
Friday, Nov 2
All Day
Ongoing and Extended Events
8:00 PM
City Ballet Tchaikovsky Spectacular
8:00 PM
Stage: Metamorphosis
8:00 PM
Stage: Holmes & Watson
Saturday, Nov 3
All Day
Ongoing and Extended Events
8:00 PM
Stage: Metamorphosis
8:00 PM
Stage: Holmes & Watson
Sunday, Nov 4
12:00 PM
Asayake Taiko Tryouts
2:00 PM
Stage: Metamorphosis
7:00 PM
Stage: Holmes & Watson
Calendar
---
All Day
Ongoing and Extended Events

Spotlight

One Book - One San Diego events


Stage

• Guadalupe in the Guest Room
Until October 28, 2018

• Macbeth
Until October 28, 2018
• Mama Mia!
Until February 24, 2019

* Note: newest and shorter run productions can be found in our regular calendar listings.


Exhibitions and Art

• Here & There
Until Sunday,December 30

• World in Porcelain Exhibit
Until January 19, 2019

• Arts Of South And Southeast Asia
Ongoing until January 31, 2019

• Walking Tour of Asian Pacific Historic District
Ongoing, every 2nd Saturday of each month

• Arts of Iran
Until January 31, 2019

• Art of East Asia
Until December 31, 2019

• Art Of The 20th Century
Ongoing until December 31, 2019

• German Expressionism
Ongoing until December 31, 2019

• Barrio Art Crawl
Ongoing, every 2nd Saturday of each month

• Free Admission to Mingei International Museum
Ongoing, 3rd Tuesday of each month

• Free Admission to Japanese Friendship Garden
Ongoing, 3rd Tuesday of each month



Kids

• Classes:Children's West African Drumming
Ongoing Tuesdays

• Kids Meet Mandarin
Ongoing Fridays

• Chinese Storytime
Ongoing Mondays

• Spanish Storytime
Ongoing Mondays

• Bilingual Storytime
Ongoing Fridays


Classes and Workshops

• Argentine Tango Series
Ongoing Wednesdays until October 3

• French Bench
Until Saturday, December 15

• Capoeira Angola de Sao Bento Grande
Ongoing Saturday

• West African Dance Class
Ongoing Sunday

• Mahjong Lessons
Ongoing Thursdays

• Ki Energy Healing Clinic
Ongoing Wednesdays

• Emei Qigong Practice
Ongoing Saturdays

• Middle-Eastern Drum & Belly Dance Class
Ongoing until December 17

• Kokedama Workshop
Ongoing every 1st and 3rd Tuesday

• Irish Gaelic Conversation Circle
Ongoing Tuesdays

• Tai Chi Workshop
Ongoing Saturdays

• African Dance Class
Ongoing Sundays

• Salsa Class
Ongoing Tuesdays
7:30 PM
Book Signing: My Dead Parents Anya Yurchyshyn grew up in a narrow townhouse in Boston, every corner filled with the souvenirs of her parents' adventurous international travels.

On their trips to Egypt, Italy and Saudi Arabia, her mother, Anita, and her father, George, lived an entirely separate life from the one they led as the parents of Anya and her sister—one that Anya never saw. The parents she knew were a brittle, manipulative alcoholic and a short-tempered disciplinarian: people she imagined had never been in love.

When she was sixteen, Anya's father was killed in a car accident in Ukraine. At thirty-two, she became an orphan when her mother drank herself to death.

As she was cleaning out her childhood home, she suddenly discovered a trove of old letters, photographs and journals hidden in the debris of her mother's life. These lost documents told a very different story than the one she'd believed to be true—of a forbidden romance; of a loving marriage, and the loss of a child.

With these revelations in hand, Anya undertook an investigation, interviewing relatives and family friends, traveling to Wales and Ukraine, and delving deeply into her own difficult history in search of the truth, even uncovering the real circumstances of her father's death—not an accident, perhaps, but something more sinister.

In this inspiring and unflinchingly honest debut memoir, Anya interrogates her memories of her family and examines what it means to be our parents' children. What do we inherit, and what can we choose to leave behind? How do we escape the ghosts of someone else's past? And can we learn to love our parents not as our parents, but simply as people? Universal and personal; heartbreaking and redemptive, My Dead Parents helps us to see why sometimes those who love us best hurt us most.

Admission/Cost:

FREE



Location:
Warwick's Bookstore
7812 Girard Ave
La Jolla, CA 92037
MAP

Monday, August 27 - 7:30 PM

For more information, please call: (858) 454-0347 or visit: www.warwicks.com
8:00 PM
Film: Richard III In this version of Shakespeare's play, the setting is set to 1930s England, torn by civil war. Split between the rivaling houses of York and Lancaster, Richard aspires to a fascist dictatorship, but must first remove the obstacles to his ascension—among them his brother, his nephews, and his brother's wife (Annette Bening). When the Duke of Buckingham (Jim Broadbent) deserts him, Richard's plans are compromised.

The series is curated by Globe artistic director Barry Edelstein and KPBS film critic Beth Accomando.

Admission/Cost: FREE

Location:
Old Globe Theatre
1363 Old Globe Way
Balboa Park
San Diego, CA
MAP

Monday, August 27 - 8:00 PM

Admission to the screenings are free and available on a first-come, first-served basis. The line begins one hour before each screening. For tickets and additional details call (619) 234-5623.
Today's Date
IN PRINT SINCE 2006
Music From Everywhere!

Published By:
Book of the Month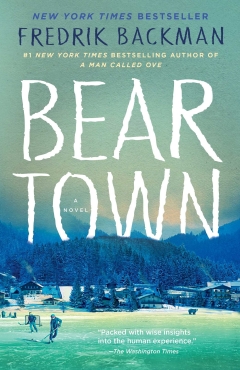 Bear Town
by Fredrik Backman
Our Staff
Section Editors, Writers and Contributors: Sharon Payne, Maura Fox, Dolores Donovan, Edwin Ching, Liam Fox, Azusa Shoji
Copy Editing: Eric Goldman
Associate Editors: Erin Golackson, Christa Parish
Photography: Carlo Toribio,
Editor in Chief: Tom Johnston-O'Neill
Join Our Team!