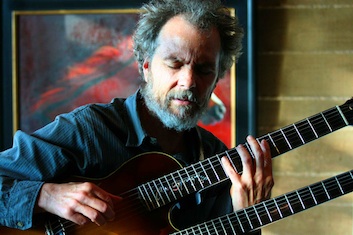 Born in Cleveland, Ohio on October 11, 1955, Peter Sprague was raised in Colorado until 1963, when his family moved to Del Mar, California. Inspired by his father's love of jazz, he took up the guitar when he was twelve. By the age of fifteen he was devoting all his time and energy to learning music. He studied with San Diego jazz guitarist Bill Coleman, played in his high school stage band, and formed his first group, the Minor Jazz Quartet. Following a year's study at the Interlochen Arts Academy, Sprague studied privately and performed around the San Diego area until 1976. That year found him moving to Boston to study with many notable musicians including Pat Metheny, Madame Chaloff, and Albin Czak (a classical guitarist). Peter returned to San Diego in 1978 and formed a jazz group called The Dance Of The Universe Orchestra that featured Kevyn Lettau, John Leftwich, and Peter's brother, Tripp Sprague on saxophone.

Peter has recorded many of his own albums on the Concord, Xanadu, and SBE record labels, and has been a guest artist on many other records. Chick Corea, Hubert Laws, David Benoit, and Sergio Mendes are only but a few of the many great artists Peter has worked with. His debut with the Chick Corea band was a series of concerts at Disneyland on Memorial Day weekend. In a review the following day in the Los Angeles Times, Leonard Feather called Peter "...One of the emergent great guitarists." Peter also worked with Chick on the film score to the movie "The Cat Chasers", starring Kelly McGillis.

One of Peter's musical groups called Blurring the Edges released their CD and it was awarded the best contemporary jazz recording of 1994 from the San Diego Music Awards. His CD Nikki's Rose was nominated for the Best Jazz CD in 2000 by the SDMA. Sprague was voted the Best Jazz Musician of the Year 2000 by the San Diego Music Awards organization. Peter's group Pass The Drum released their debut CD in 2003 and it was nominated for CD of the year by the SDMA. The San Diego Reader voted Peter the Best Jazz group for the 2002 Best Of issue. Peter is also involved with producing other artists and has been part of over one hundred and fifty CD projects. He runs a recording studio called SpragueLand and this is where you'll find him wearing the hat of producer, engineer, guitar player, and arranger. Peter composed and performed a twenty minute guitar concerto in May, 2000 with the Grossmont Symphony Orchestra and also with the San Diego Symphony in May 2002. Sprague has his own website at PeterSprague.com. To find out about Peter's most current projects, check the page on his website called The Sky.


Peter's Website: www.petersprague.com

Peter's Performance Schedule: www.petersprague.com/eye/ear.html

YouTube of Peter







Keep informed about San Diego Events!
Sign-up for our weekly Eblast by clicking here:
Sign Me Up!