Calendar
<
February, 2020
>

Recommended
Coming Soon...
Friday, Feb 28
All Day
Ongoing and Extended Events
5:00 AM
28th Annual Kuumba Festival
3:30 PM
Talk: Black Studies and the making of Communities
6:00 PM
Music: Antonio Carlos Jobim Tribute
7:00 PM
Música En La Plaza: Los Montaño
7:00 PM
Stage: Dream Hou$e
7:30 PM
Stage: Orestes 2.0
8:00 PM
Film: Jojo Rabbit
8:00 PM
Stage: Hurricane Diane
8:00 PM
Stage: She Loves Me
Saturday, Feb 29
All Day
Ongoing and Extended Events
11:00 AM
28th Annual Kuumba Festival
2:00 PM
Stage: Safa's Story
2:00 PM
Stage: Orestes 2.0
2:00 PM
Spoilers Book Club: Native Son
3:00 PM
Stage: Little Rock
6:00 PM
Music: Dromia & Trio Zheni
7:00 PM
Stage: Safa's Story
7:00 PM
Stage: Dream Hou$e
7:30 PM
Stage: Orestes 2.0
8:00 PM
Film: Jojo Rabbit
8:00 PM
Stage: Hurricane Diane
8:00 PM
Stage: She Loves Me
9:00 PM
Music: Los Pericos, Los Estrambóticos & Ecno
9:00 PM
Spanglish At Finest City Improv
Sunday, Mar 1
All Day
Ongoing and Extended Events
11:00 AM
28th Annual Kuumba Festival
12:00 PM
7th Annual Mariachi Festival
1:00 PM
Music: Kembang Sunda Gamelan
2:00 PM
Acting Shakespeare Panel
2:00 PM
Stage: She Loves Me
3:00 PM
Los Angeles Balalaika Orchestra
7:00 PM
Music: Irving Flores Afro-Cuban Jazz Quartet
7:00 PM
Stage: Dream Hou$e
7:00 PM
Stage: Hurricane Diane
7:30 PM
Music: Miguel Zenón Quartet
Monday, Mar 2
All Day
Ongoing and Extended Events
7:30 PM
Stage: Winston Churchill
8:00 PM
Music: iLe
Tuesday, Mar 3
All Day
Ongoing and Extended Events
6:30 PM
Talk About Series: Venezuela - What Does It Mean To Live in a Failed State?
7:00 PM
Stage: Hurricane Diane
7:30 PM
Stage: Winston Churchill
Wednesday, Mar 4
All Day
Ongoing and Extended Events
7:00 PM
Film: Platform
7:00 PM
Stage: Hurricane Diane
7:30 PM
Music: ABBA Mania
Thursday, Mar 5
All Day
Ongoing and Extended Events
3:00 PM
Kumeyaay Rock Art in the San Diego Region
6:00 PM
Talk: Diversity in Medicine Lecture
7:00 PM
USD Mariachi Showcase Opening Night
8:00 PM
Stage: House of Joy
8:00 PM
Stage: Hurricane Diane
Friday, Mar 6
All Day
Ongoing and Extended Events
9:00 AM
Amnesty International Annual Human Rights Conference
5:00 PM
A Celebration of Persian Arts and Culture
5:00 PM
Contemporary Chinese Photography in Conversation
6:30 PM
USD Mariachi Student Showcase
7:00 PM
12th Annual Brasil Jazz Festa
7:30 PM
Stage: Orestes 2.0
8:00 PM
Stage: House of Joy
8:00 PM
Stage: Hurricane Diane
8:00 PM
Stage: She Loves Me
Saturday, Mar 7
All Day
Ongoing and Extended Events
9:00 AM
Amnesty International Annual Human Rights Conference
6:00 PM
Stage: The Cabinet of Tia-Juana
6:30 PM
USD Mariachi Professional Showcase Grand Finale
7:00 PM
Italian Film: Investigation of a Citizen Above Suspicion
7:30 PM
Stage: Orestes 2.0
8:00 PM
Stage: House of Joy
8:00 PM
Stage: Hurricane Diane
8:00 PM
Stage: She Loves Me
9:00 PM
Stage: The Cabinet of Tia-Juana
Sunday, Mar 8
All Day
Ongoing and Extended Events
9:30 AM
Amnesty International Annual Human Rights Conference
11:00 AM
National City International Mariachi Festival
1:00 PM
Finding Difficult Passengers on the Eillis Island Manifests
2:00 PM
Documentary Film: Beyle
2:00 PM
Stage: She Loves Me
7:00 PM
Stage: Hurricane Diane
Monday, Mar 9
All Day
Ongoing and Extended Events
4:00 PM
Talk: A Journey Through Turbulent Times - China and America
Tuesday, Mar 10
All Day
Ongoing and Extended Events
7:00 PM
Stage: House of Joy
Wednesday, Mar 11
All Day
Ongoing and Extended Events
7:00 PM
Stage: House of Joy
Thursday, Mar 12
All Day
27th Annual Latino Film Festival
All Day
Ongoing and Extended Events
8:00 PM
Stage: House of Joy
The Participant Observer Recipe of the Month is Greek Kotosoupa Avgolemon. This delicious, easy-to-prepare but hearty soup is flavored by the multi-purpose Avgolemono sauce made of eggs, lemon and chicken broth.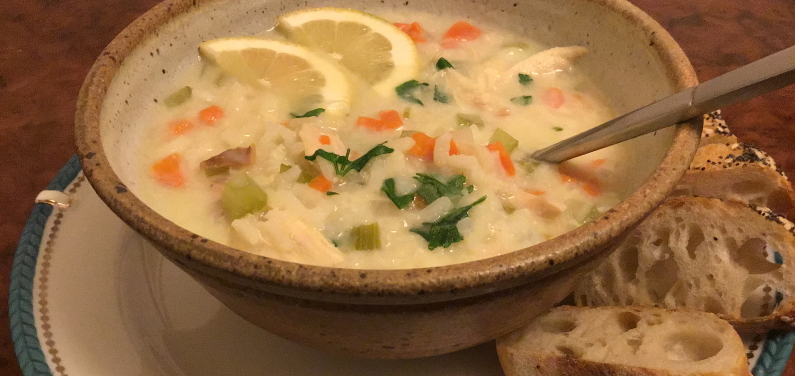 The flavor of Avgolemono Soup (Kotosoupa Avgolemon) comes from a sauce comprised of eggs, lemon and broth. This combination of ingredients forms the basis for many sauces found in Greek, Turkish, Arab, Sephardic Jewish, Balkan, and Italian cuisine. It is thought to have originated with Sephardic Jews expelled from Spain. At that time the sauce more commonly used verijuice (sour juice made from unripe grapes or crab apples), pomegranate juice or the Seville (bitter) orange juice. Today using lemon juice is the standard. The sauce is used to thicken soups or as a standalone sauce to smother warm dolmas (stuffed grape leaves), artichokes, chicken, lamb or fish. It also forms the basis of the Greek Easter Soup, Magaritsa. Avgolemono Soup can use either orzo (a pasta that looks like rice), rice (short grain like Arborio rice) or pastina.

Kotosoupa Avgolemon is relatively quick and easy to make but there are some pitfalls to be aware of. The number one problem to avoid is the Avgolemon sauce curdling. The easiest way to avoid curdling is to use only egg yolks and make sure that the eggs are room temperature. For the chicken, rotisserie chicken (particularly Costco chicken) works just fine. You may use either dark meat or white or a combination of both (recipes vary). Otherwise you can boil a whole chicken in a gallon of water for 40 minutes using the resulting broth for the soup.
Ingredients:
2 cups shredded chicken
1 cup finely chopped carrots
1 cup finely chopped celery
1 medium onion chopped finely (about a cup)
2 garlic cloves, finely chopped
5 cups chicken broth
2 bay leaves
1 cup rice or orzo (see note above)
Salt and pepper
6 tablespoons freshly-squeezed lemon juice
3 large egg yolks
Coarsely chopped Italian parsley
Preparation:
To Begin:


Shred the chicken.
In a large pot bring the chicken stock to a boil.
Add the shredded chicken, carrots, celery, garlic and bay leaves to the stock and simmer for 1/2 hour.

Make the Avgolemon Sauce:


Separate the yolks from the whites in the two room-temperature rice.
In a mixing bowl, whisk the egg yolks until frothy.
Add the lemon juice and whisk again.
Slowly pour while whisking a cup of hot chicken stock into the egg and lemon mixture.

Continue Making the Soup:


Add rice to the soup and simmer for an additional 20 minutes.
OR

Add orzo to the soup and simmer for an additional 10 minutes.
Turn off heat and remove from stove.
Slowly stir Avgolemon sauce into the soup.
Garnish with coarsely chopped Italian parsley and lemon slices.

Serve the Kotosoupa Avgolemon with warm crusty buttered bread of your choice.

Καλή όρεξη! (Kalí óreksi!)

Recipe by T. Johnston-O'Neill
Photos by Shari K. Johnston-O'Neill
Keep informed about San Diego Events!
Sign-up for our weekly Eblast by clicking here:
Sign Me Up!
Today's Date
IN PRINT SINCE 2006
Music From Everywhere!

Published By:
Music of the Month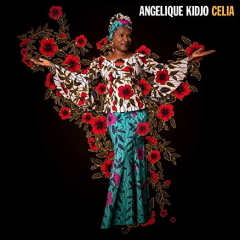 Celia
by Angelique Kidjo
Participant Observer Staff
Section Editors, Writers and Contributors: Sharon Payne, Ana Alvarez,
Cecilia Xinyu Cai, Jaehyeon Ahn
Spanish Translations: Ana Alvarez, Programming: Rachel Duncan
Associate Editors: Christa Parrish, Katie Tonellato
Editor in Chief: Tom Johnston-O'Neill
Orgs and Causes in San Diego
Join Our Team!