San Ysidro's Independence Festival is the only Fourth of July celebration held at the Mexican-U.S. international border. In this vibrant binational community, patriotism and classic Fourth of July traditions are reimagined with a Mexican twist.

By Alyssa Jorgensen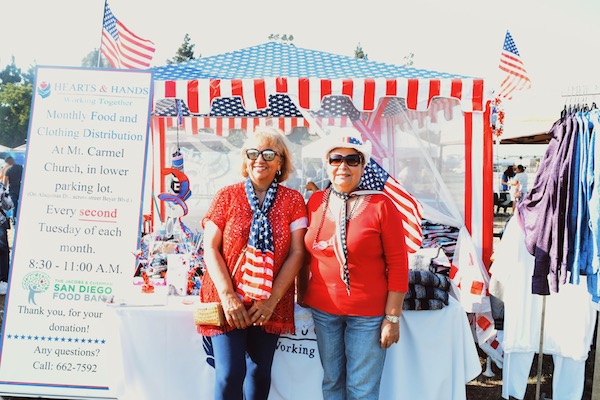 Just two miles north and an exit away from the Mexican border, on the fray of the enduring binational borough of San Ysidro, California, hundreds of United States flags fly in unison.

It's the Saturday before America's 241st birthday, and crowds of the community's Mexican-American residents have gathered at Cesar Chaves Park to celebrate its sixth annual "Independence Festival at The Border."

This junction between San Diego and Tijuana, known for its Port of Entry that oversees over 30 million border-crossings a year, sets the scene for the only Fourth of July Celebration held along the entire two-thousand mile expanse of the Mexico-U.S. border. The core mission of the event: to give platform to an alternative expression of American patriotism.

"Most Fourth of July festivities don't actually represent the true cultural fabric of our country," says Jason M-B Wells, the chief executive of the San Ysidro Chamber of Commerce and head organizer of the event. "Half of San Diego itself is comprised of people of some kind of Mexican descent, but still they are very patriotic and very American. This festival is a chance to celebrate America for what it really is: diversity."

The call for a more inclusive rendering of the holiday shows. Hot dogs and apple pies have been traded in for white tents selling authentic Mexican tacos, tamales and chilaquiles. The typical canon of Springsteen classics and flag-waving country anthems has been replaced by the spirited sounds of Western Mexican mariachi and more contemporary Latino fusion music. Among the food stalls and vendors is a full-sized Lucha Libre wrestling ring and live graffiti art. Close by, festival-goers pose with a Tijuana Painted Zebra, or Zonkey—a common tourist attraction of Tijuana.
Yet the festival still holds true to more mainstream Fourth of July traditions. The day closes with a classic red, white and blue fireworks show, and everyone and everything seems dressed in American stars and stripes.

"I wear red, white, and blue today and have an American flag flying at my home because I love this country," says Estella Corona, a volunteer for the San Ysidro-based nonprofit Hearts & Hands. As a Tijuana native who has called San Ysidro home for over fifty years, the unique nature of the Independence Festival at the Border speaks to her own binational identity.

"I was born in Mexico, but my children were born here. I have taught them to love Mexico because that's where I'm from, and to also be proud to be Americans."

San Ysidro's ambassadorial identity is the fruit of its long history as a link between Mexico and the United States. For millions of annual tourists, it is home to the gigantic Las Americas Outlet malls and historic Rancho Period monuments. For its thousands of locals, it is a place cherished for its art, culture and strong sense of community.

Media coverage of San Ysidro, though, has been overshadowed by illegal immigration and cartel activity, reducing the community to a caricature of crime and violence. Jason Wells, the lead organizer of the festival, says he hopes the event will challenge this prejudicial reputation.

"It's unfair to pin the issues of the border crossing on the San Ysidro community as a whole," Wells says. "This event really builds on the benefits of San Ysidro's location on the border, as much of the border crossing is a positive thing for our community. There are so many ways to talk about San Ysidro without mentioning drugs or tunnels."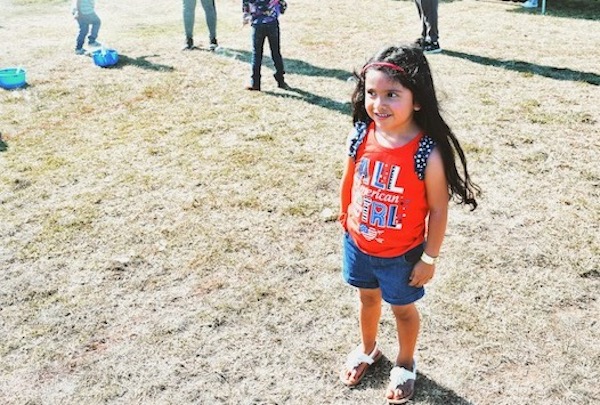 Wells' attitude towards contentious border-politics and their affect on public perception is shared by the Mexican mural artist who goes by the name "Mex," whose live graffiti art is a highlight of the festival.

"Here at the border, you can't choose a side because we are a part of everything," says Mex. "You have to be open to everything and anybody."

Building off this philosophy, the finished mural shows an American bald eagle on one side of a large, rectangular canvas, and a Kumeyaay style skull on the other. (The Kumeyaay are the indigenous, Yuman-language speaking people of northern Mexico and the southwestern United States.)

"The Kumeyaay are the original keepers of the land," says Mex. "We do live here in the U.S., but this is their land, and we give our respect to them."

This representation of the coexistence of cultures, and the reverence of past and present, is what Mex describes as the crux of the day's celebration.

"Here, we are both Mexican and American. The eagle and the skull together is what we're about. There are no walls, and there shouldn't be no walls. We are all the same human race. And through the art and through the music, it's a free world."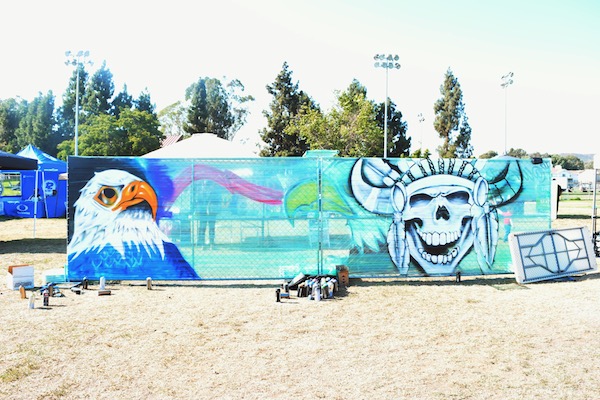 Keep informed about San Diego Events!
Sign-up for our weekly Eblast by clicking here:
Sign Me Up!