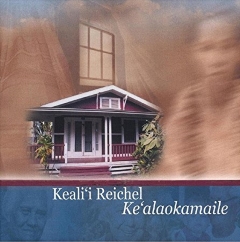 Buy at Amazon
The Participant Observer World Music CD of the Month is Ke`alaokamaile by Keali'i Reichel

Whether it's ukulele music, the island exotica of Martin Denny, the lounge crooning of Don Ho, or the slack key acoustic guitar tradition, many styles of music have emerged from the jeweled necklace in the Pacific known as Hawaii.

Over the course of five albums, popular singer Keali'i Reichel (pronounced kay-ah-LEE-ee rye-SHELL) touches on both commercial adult contemporary songcraft and traditional ukulele and hula dance accompaniment--he was a noted hula dance instructor and cultural historian before becoming a professional musician/ The Grammy-nominated Ke' Alaokamaile is the singer's tribute to his family, singing about his ancestors and his own life so far. While there a gloss on many of these contemporary songs (even when sung Hawaiian) that no doubt gives them a broad pop appeal--Reichel also does a sentimental but somewhat empty version of Sting's "Fields Of Gold"--the traditional songs are strong enough to prove Reichel's versatility. Purists will likely have problems with some of Ke'alaokamaile, but Reichel's legions of fans will swallow it whole. -Tad Hendrickson (Amazon Review).