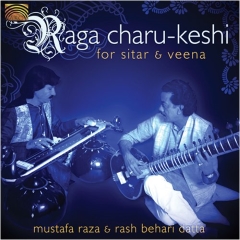 Buy at Amazon
The Participant Observer World Music CD of the Month is Raga Charu-keshi for Sitar and Veena by Various Artists

A jugalbandi is a performance of otherwise solo instruments, a duet (usually) in other terms. In this recording, the sitar of North India (Hindustani) tradition is atypically combined with the veena of South India (Karnatak) style. Rash Behari Datta studied sitar through the Patilia gharana school and later the guru lineage of Ravi Shankar; Mustafa Raza learned vichitra veena in the Moradabad gharana, which includes his uncle, the sarangi maestro Sabri Khan. The particular raga here is Charu-Keshi, of the Karnatic system; the final movement (gat) occurs half-way after the slow improvised alap and is in teental, a rhythm of 16 beats.

The sound combination is of special interest since the metallic timbres are so similar, though the veena is more throaty baritone to the sitar's crisp tenor. While the sitar is held like a folk guitar, the veena lies flat and is played like a Dobro slide or resonator guitar of Western country music. Musically, the mood is devotional, with feeling of longing, moving into the fast, passionate gat. I would place this as a late evening raga.

The album is very, very good: exceedingly well-performed and moving. If you enjoy classical Indian music, then here is profound and delightful addition.—Dr. Debra Jan Bibel (Amazon Review).