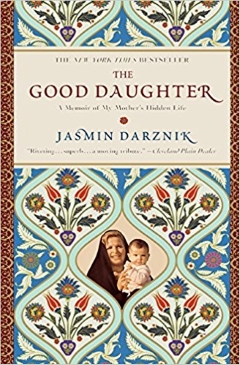 Buy at Amazon
The Participant Observer Book of the Month is The Good Daughterby Jazmin Darznik

A book about mothers seems the right choice for May, the month in which Mother's Day falls. We offer you The Good Daughter, a New York Times bestseller about mothers and daughters in Iran and the U.S.
The Good Daughter: A Memoir of My Mother's Hidden Life by Jasmin Darznik is a beautiful book describing the lives of four generations of Iranian women. The story begins with an Iranian-American daughter, Jasmin, finding an old photograph of her mother as a child bride, standing next to a man she had never before seen. Eventually Jasmin's mother sends her ten cassette tapes, telling the story of her life in Iran. Told with sharp introspection and obvious care, Darznik tells her mother's story in a way that provides a rich tapestry of life in Iran in previous generations. The Good Daughter is a richly detailed memoir of a mother, told by a daughter who, as an adult, learned of her mother's secret past . . .